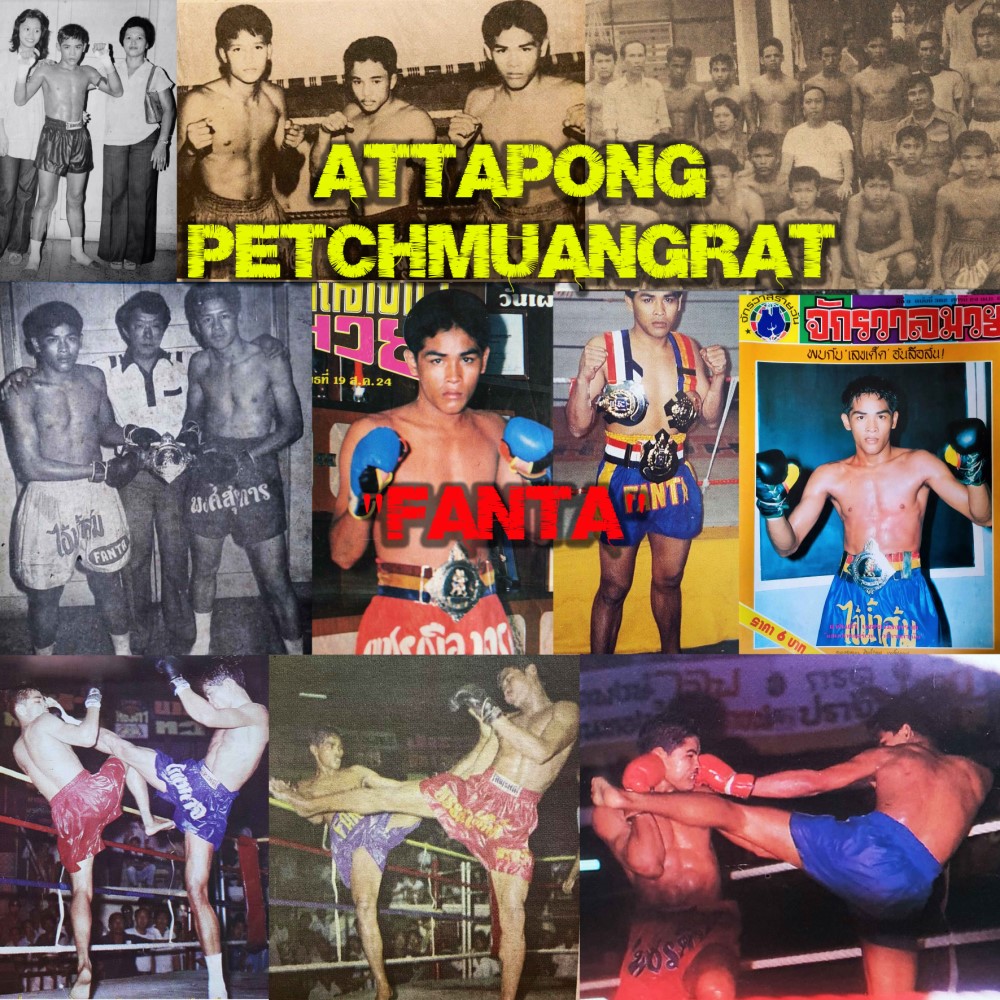 ATTAPONG PETCHMUANGRAT
« FANTA »
Attapong Buaban was born on September 26, 1961 in the city of Lopburi (City known to have many monkeys) in the central region of Thailand. His first fighter name was Attapong Pornphitsanu, he also fought under the name Attapong Phitsanulok.
Attapong was nicknamed "Fanta" because his first Thai boxer nickname was "Aynamsom" (Orange juice). Then fans nicknamed him Fanta because of the Fanta Orange Soft Drink. His little brother was also a fighter with a soft drink nickname, his name was "Sprite" Pornphitsanu.
Attapong started boxing in the Pornphitsanu camp. Then, he joined the Petchmuangtrat camp and took the fighter name of Attapong Petchmuangtrat.
The Petchmuangtrat camp belonged to Mr. Narris Romyanon and was in Bangkok in the district of Ruamchok in Soi Chokchai 4. Mr. Narris Romyanon was a military officer and an important promoter in the stadium of Ratchadamnoen in the 80s. He had the rank of lieutenant. But many foreign promoters and managers who worked with him nicknamed him "Captain Narris".
Attapong represented for several years the Petchmuangrat camp, a camp in which were the champions Wanpadet (Radja Champion, Lumpinee champion) and Somsong (Radja Champion). Attapong won the Radja stadium belt in 126 lbs (57 Kg) at 20 years old. In 1981, he beat Singphatong Pongsurakan for the Radja title.
In Thailand, Attapong defeated great champions such as Narongnoi Kiatbundit (Radja Champion in 126 lbs and 130 lbs), Sakad Petchyindee (Radja Champion in 118 lbs and 140 lbs, Lumpinee champion in 135 lbs), Wanlop Pichitsamut, Rakchai Ha Phalang, Bowee Chor Waikul, Nakhonsawan Suanmisakawan. He met the great champion Krongsak Boranrat three times, Attapong won twice and Krongsak beat him once. Attapong also had three fights against legendary champion Radja Jomtree Petchyindee, Attapong won once and Jomtree beat him twice.
Attapong quickly gained weight, he started to fight in 140 lbs then in 147 lbs. Attapong therefore often left to fight abroad, especially in Europe, to face foreign champions who were heavier than most Thai fighters.
In 1984, Attapong had a big fight in Hong Kong against the legendary American champion Don Wilson. Don Wilson beat him on points. But the American weighed several kilos more than the Thai and the fight was done according to the rules of Kick Boxing.
Fanta loved to taunt and play with his opponents. In the ring, his bluster was appreciated by the European public.
In the 80s, in Europe, Attapong was a terror of the rings, he beat the Dutch Muzaffer Yamali (KO), André Brilleman (KO), Peter Van Os (KO), the Japanese Inaba (KO), the English Keith Nathan (KO), Korean Lee Kun Yin (KO).
Attapong lost points to French champion Guillaume Kerner in New Zealand and Dutch champion Rick Van Der Vathorst in Holland. His defeat by KO against Rick Van Der Vathorst was a bit contentious. The Dutchman had hit Attapong twice in the head with his foot while the Thai had a knee on the ground…
Attapong carried out, in the big stadiums of Bangkok and abroad, 82 fights for 65 victories and 17 defeats. He won one belt from the Radja in Thailand and two world champion's belts abroad.
This great champion is now a trainer in New Zealand.
BY SERGE TREFEU