KAOLAN KAOVICHIT "BEST BOXER OF THE YEAR 1998 THE SPORTS WRITERS ASSOCIATION OF THAILAND"
Temps de lecture :
7
minutes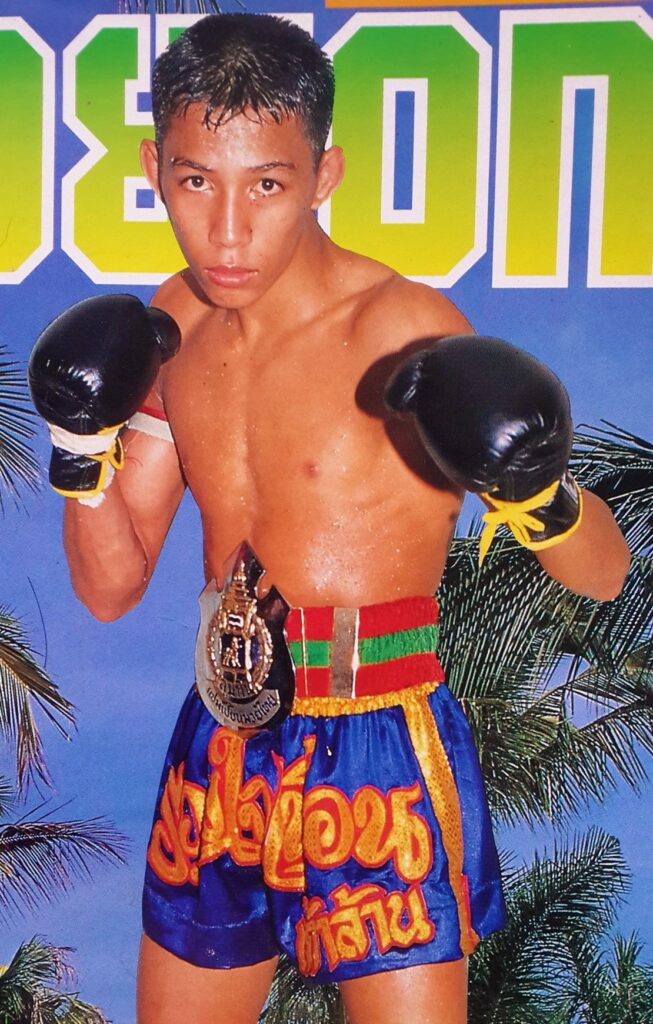 INTERVIEW WITH KAOLAN KAOVICHIT "BEST BOXER OF THE YEAR 1998 THE SPORTS WRITERS ASSOCIATION OF THAILAND"
by Serge TREFEU (2023)
Serge TREFEU: Hello Kaolan, how are you?
KAOLAN: Very well thank you
How old are you ?
I am 44 years old
What region of Thailand are you from?
I am from Songkhla in the south of Thailand
Are you married, do you have children?
Yes, I have 3 three children, two boys and a girl
Your children do Muay Thai?
No (Laughs), they like team sports more like volleyball
You have brothers and sisters ?
I have one brother and one sister
Was your brother also a boxer?
No, I'm the only boxer in the family
At what age did you start boxing?
I started boxing at the age of 11 years
You made your first fight at what age?
At 11 years, a few months after starting my training and I lost by knockout…
You really lost by KO this first fight, you were not demotivated by this first very hard defeat?
No (Laughter), then I won the other fights. But that's how boxing is, once you win and the next time you lose. I started with a defeat but then the victories followed!
How much money did you win in your first match?
I won the sum of 300 baht
How did you discover Muay Thai?
There was a boxing camp right next to my house, I saw the boxers training every day
What was this camp called?
The Kaovichit Gym
This camp is where you started Muay Thai?
Yes, at Kaovichit Gym where I took the fighter name of "Kaolan Kaovichit"
There were champions at Kaovichit Gym?
There were great champions who were trained in this small camp like Denkaosan (WBA Boxing world champion)
How many years have you fought for Camp Kaovichit?
About six years, I made a hundred fights for this camp
At what age did you come to Bangkok?
At 16, I went to the Kiatbanchong Gym camp in Bangkok
Which boxers there were in this camp?
At the time, it was one of the best camps in the country, there were Jaroensap, Oley, Jaroenthong, Samranthong, Isaara, Jaroenwit, Denmeechai, Ekkarat, many great boxers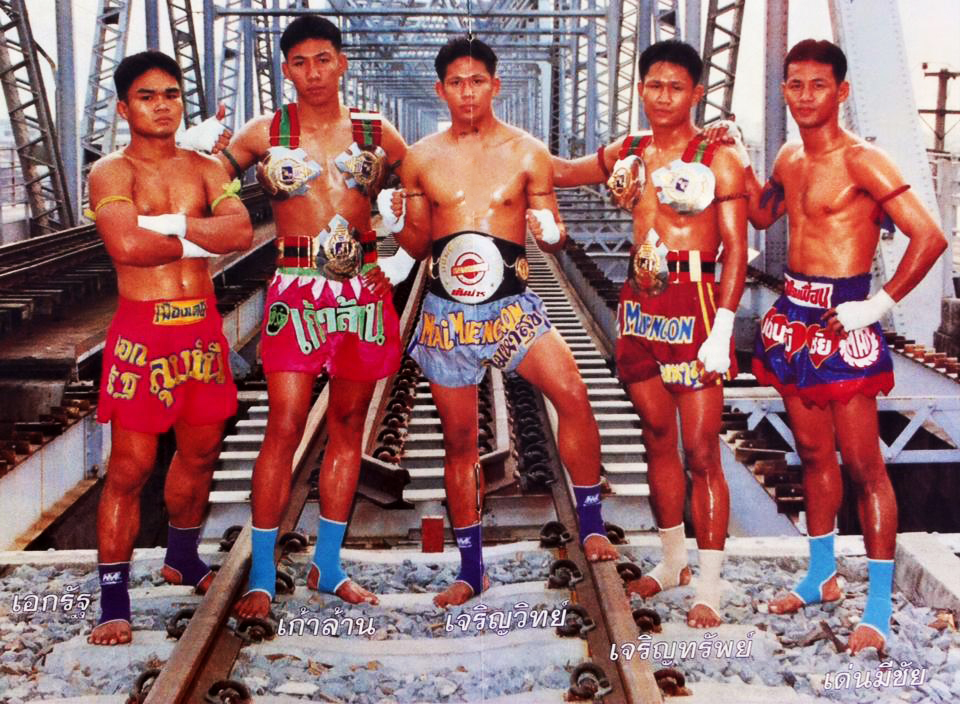 You trained with the stars Jaroensap, Oley and Jaroenthong?
Yes, of course, I used to practice with them and we slept in the same rooms at the Kiatbanchong
How old were you when you first fought in the big stadiums in Bangkok?
15 years old, in the 108 lbs category at Lumpinee stadium
What titles did you win?
I fought the first time for the Lumpinee belt in 108 lbs against Sankeng Sor Weerakul and lost in points. Then, in 1996, I met the great champion Thongchai Thor Silachai for the Lumpinee title in 115 lbs and beat Thongchai.
In 1997, I fought for the Lumpinee belt in 122 lbs and lost by KO against Ritthichai Lukjaopordam.
In 1999, I met Samkor Kietmontep and beat him for the belt of the Lumpinee in 135 lbs. I lost the title of the Lumpinee, three months later, against Kunsuk Phetsuphapan, he beat me by KO.
In 2000, I faced the star of the time, Namsaknoi, for the belt of the Lumpinee in 135 lbs and lost points against him.
In 2001, I beat the great champion Pajonsuk Lookprabat for the WMTC world title in 147 lbs and I beat Pajonsuk again in 2003 for the Lumpinee belt in 147 lbs!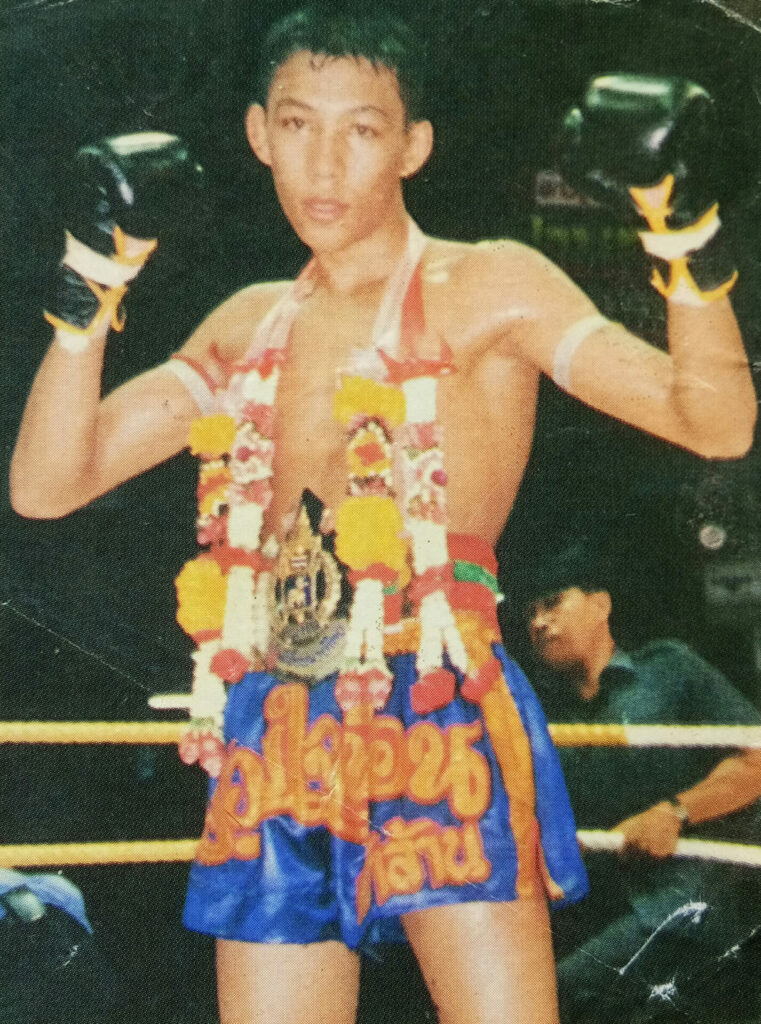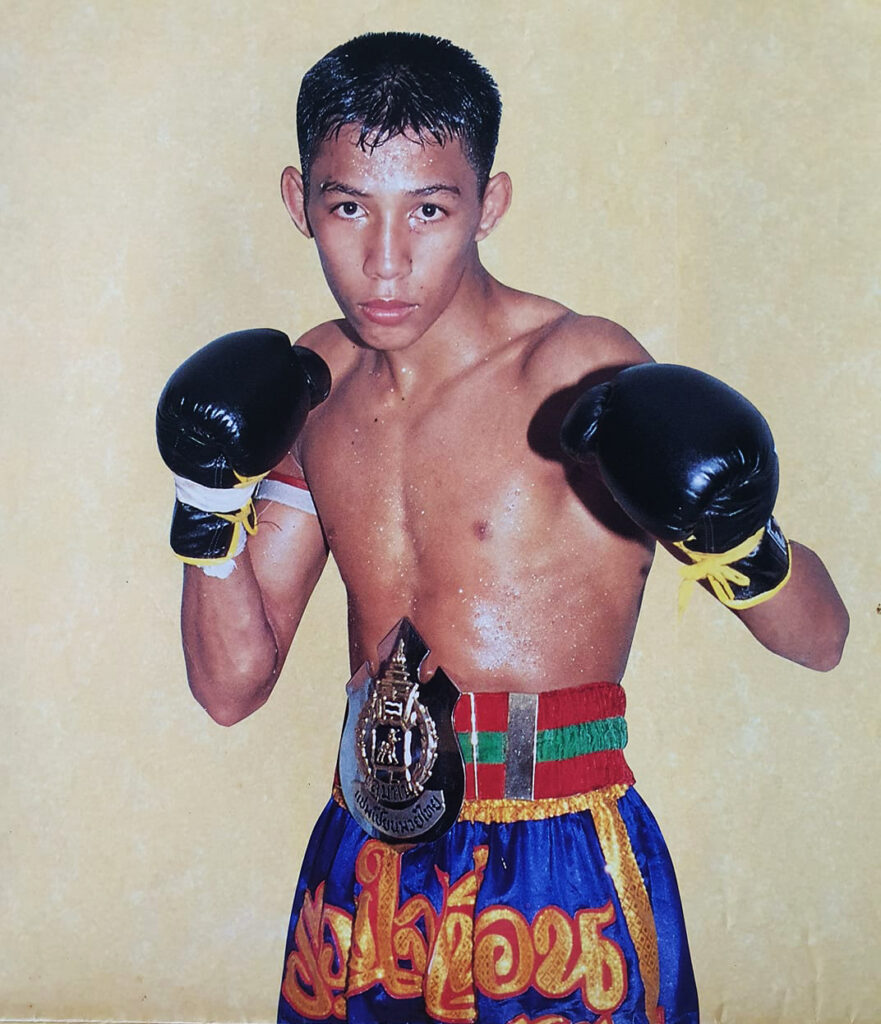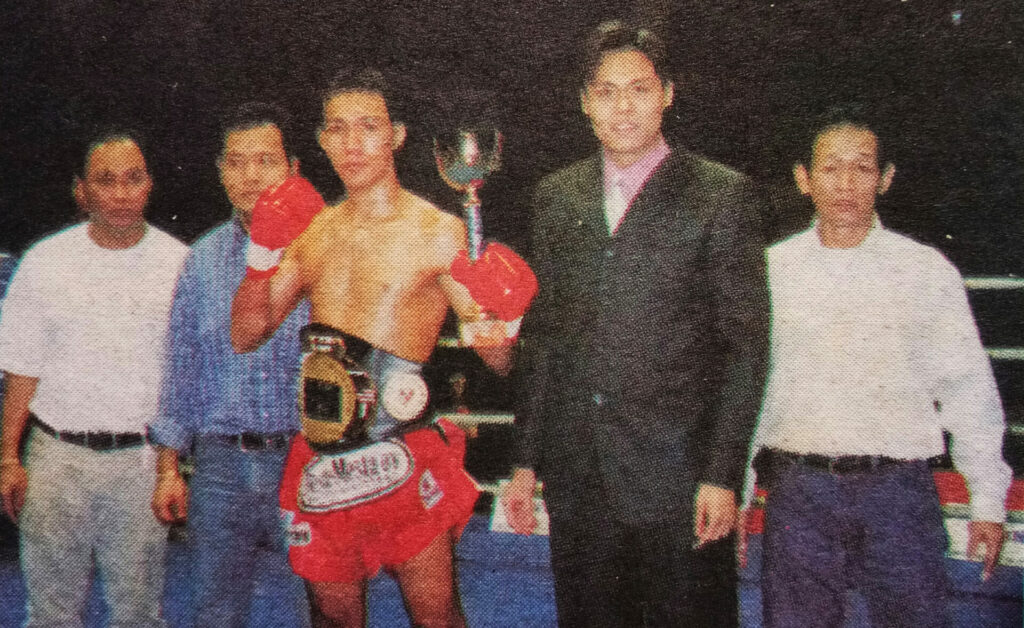 How many fights have you done?
I did almost 300 fights for around 250 wins and 2 to 3 draws
You won a lot of knockouts?
Not much, I won just 5 or 6 fights by KO
What was your fighting style?
I was a Muay Khao (Strong in knee)
What was your hardest fight?
Against Thongchai, his blows were very powerful
What is your best boxing memory?
My victory against Thongchai because he was the best champion of the time and when I faced him I was not given favorite for this match
What are some known fighters you've faced?
Thongchai (Win), Nungpichit (Win), Matee (Loss), Nungubon (Loss), Namkabuan (Win), Therdkiet (Win), Samkor (3 wins, 1 loss), Orono (Win), Lamnamoon (Win), Pajonsuk (3 wins, 1 loss), Namsaknoi (2 losses), Rambojiew (1 win, 1 loss), Dany Bill (Win), Morad Sari (Loss), Albert Kraus (Loss), Sato (Loss)
Have you ever fought abroad?
I have fought several times in Japan, I fought for the first K1 World Max tournament in 70 kg in 2002. I arrived in the final and lost to the Dutchman Albert Kraus. I fought against Sato (Yoshihiro Sato, winner of the K1 World Max tournament in 2006 and 2007) for a world champion belt and lost in points.
I fought in the United States and also in France
Who did you fight in France?
I met Morad Sari, it was in 2001. I lost points but the fight was done in Kick Boxing style…
Do you know any French fighters?
Farid Villaume is my friend, he came to train at the Kiatbanchong Gym. I know Dany Bill and Morad Sari
Who do you think is the best foreign fighter today?
I don't know, there are a lot of foreigners now fighting in Thailand. But at the time, for me, the two best foreign fighters were Ramon Dekkers and Dany Bill
And the best Thai fighter?
Today, I would say Tawanchai P.K. Saenchai Gym, he is very strong!
Did you make a good living from boxing?
Yes, I was able to buy a house for my family and a car too
Who was your promoter?
My promoter was Songchai Ratanasuban
What was your purse at the time?
In Thailand, my purse was 200,000 baht. In Japan, I won much bigger purse!
After your boxing career, what did you do?
I became a coach in several boxing camps
Today, you are a coach in which camp?
I am a coach at Singha Mawynn Gym in Bangkok, I have been working in this camp for three years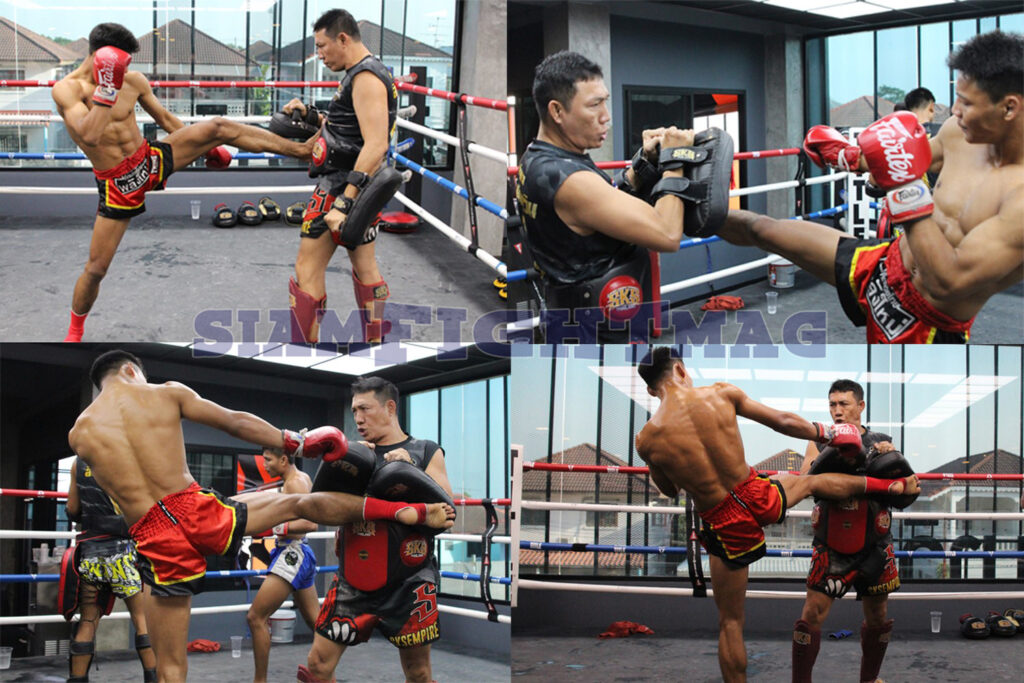 Thank you so much for the interview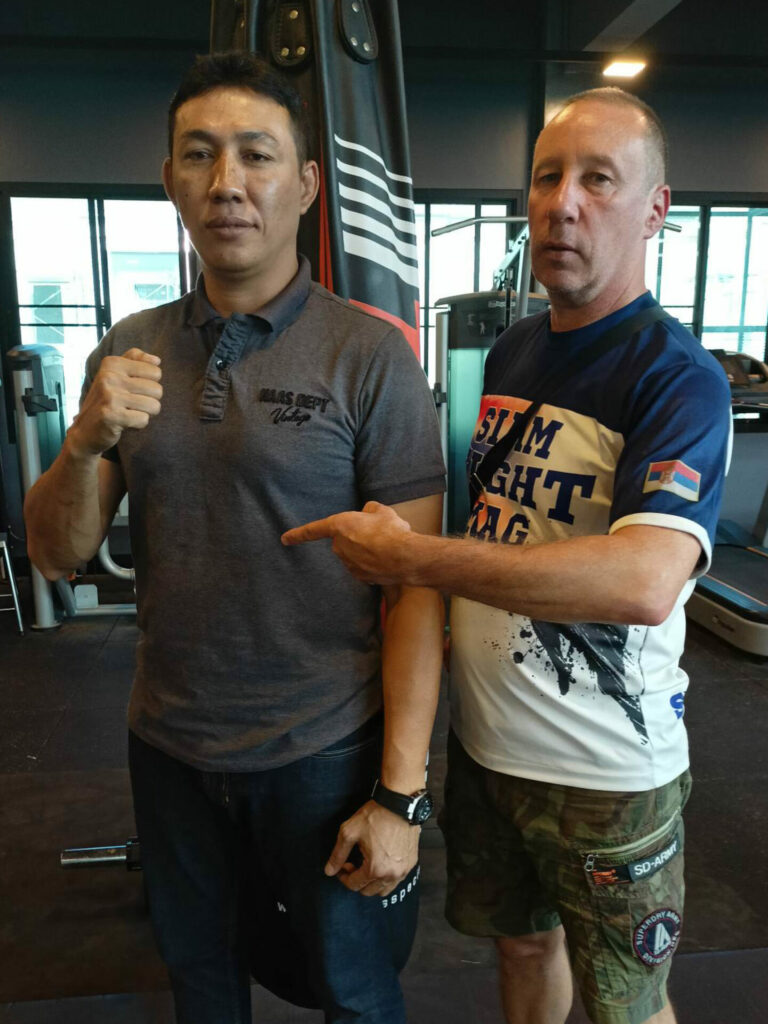 Kaolan Kaowichit was once one of the best fighters of the 90s and 2000s, he was a formidable "Muay Khao" who had a boxing style similar to the 2010 champions Yodwicha and Petchboonchu.
Nicknamed "Khun Khao Kradouk Phi" (The Skeleton Ghost Knee Stroke), Kaolan beat the greatest stars of his time and won three Lumpinee belts in three different categories.
In 1998, Kaolan was voted "Best Boxer of the Year" by the prestigious Sports Writers Association of Thailand!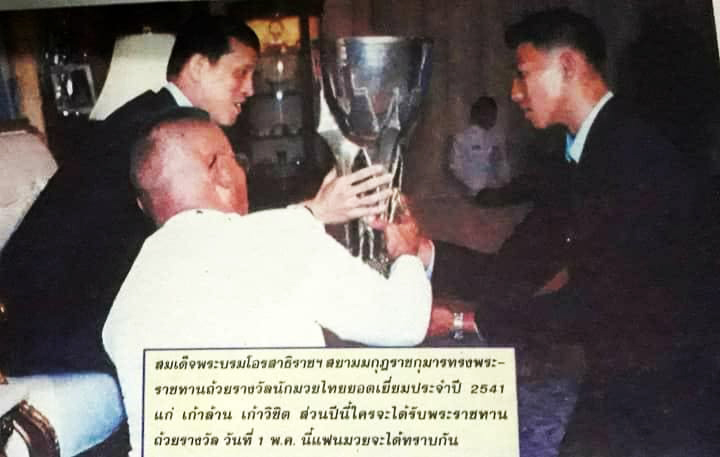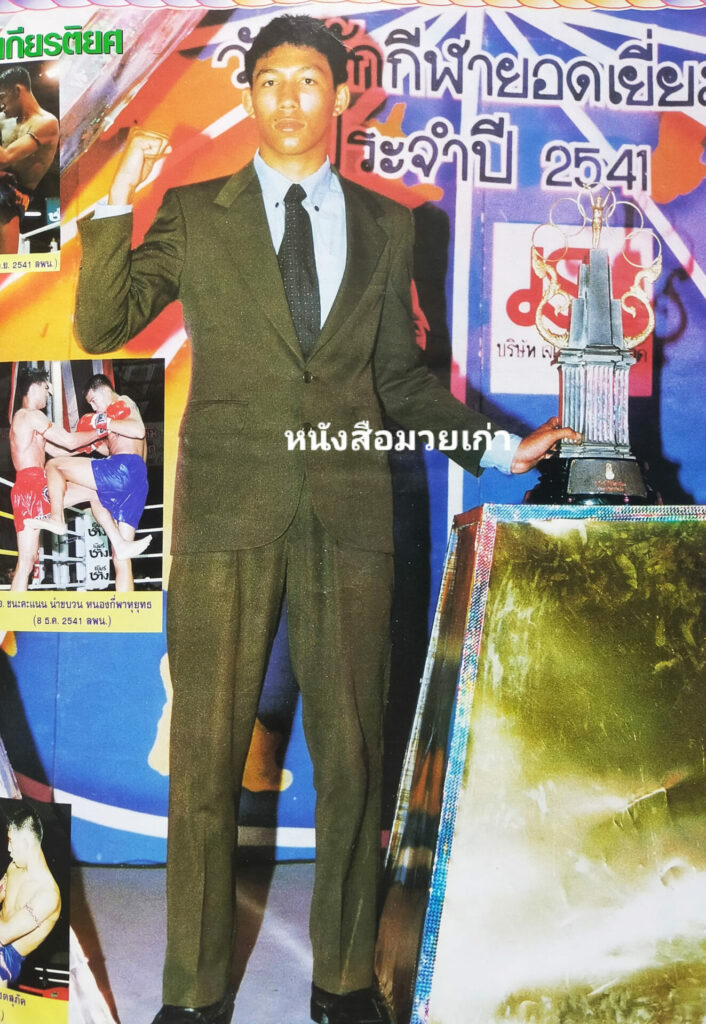 In 1995, Kaolan defeated Ekachai Or Chaibadan (Lumpinee Champion in 105 lbs).
The same year, the young Kaolan challenged Matee Djediphitak (126 lbs Lumpinee Champion, 126 lbs WMC World Champion) nicknamed «Keng Mangkon» (The Dragon's Tibia) and «Say Mongkon» (The left-handed dragon) who beat him to the points. It was also in 1995 that Kaolan made his first fight for an important title. He met Sankeng Sor Weerakul who was reigning Lumpinee champion in 108 lbs. Sankeng beat Kaolan and kept his belt.
On 26 March 1996, Kaolan faced the great champion Nungpichit sityodtong (Lumpinee champion in 112 lbs) and beat him to the points.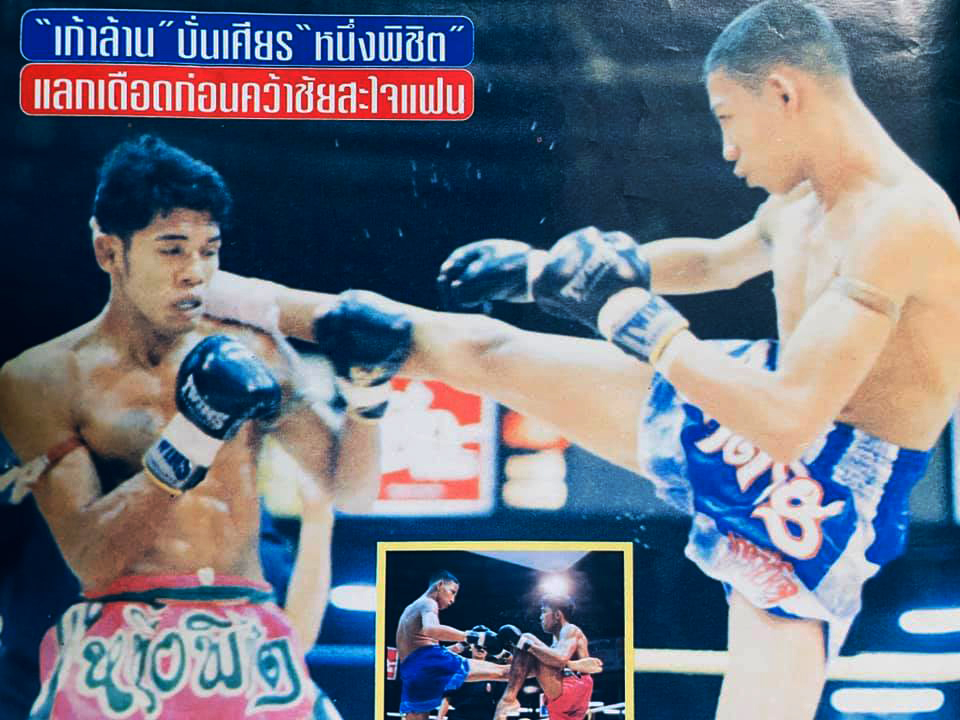 On Tuesday, September 24, 1996, at Lumpinee Stadium, Kaolan fought again for a Lumpinee title. He faced then-star Thongchai Thor Silachai for the Lumpinee title in 115 lbs.
Thongchai was a ring terror who had just knocked two ring legends Thukatathong Por Pongsawang (112 lbs Lumpinee Champion) and young Saenchai Sor Kingstar (Best Boxer of the Year in 1999 and 2008) who was 17 years.
Thongchai was Lumpinee champion in 105 lbs, 108 lbs, 112 lbs and 115 lbs, Radja champion in 115 lbs, WMC world champion in 115 lbs and was voted «Best boxer of the year in 2001».
Kaolan had a beautiful and trying battle with Thongchai. He beat the legendary Thongchai. At 18 years, Kaolan became Lumpinee champion in 115 lbs!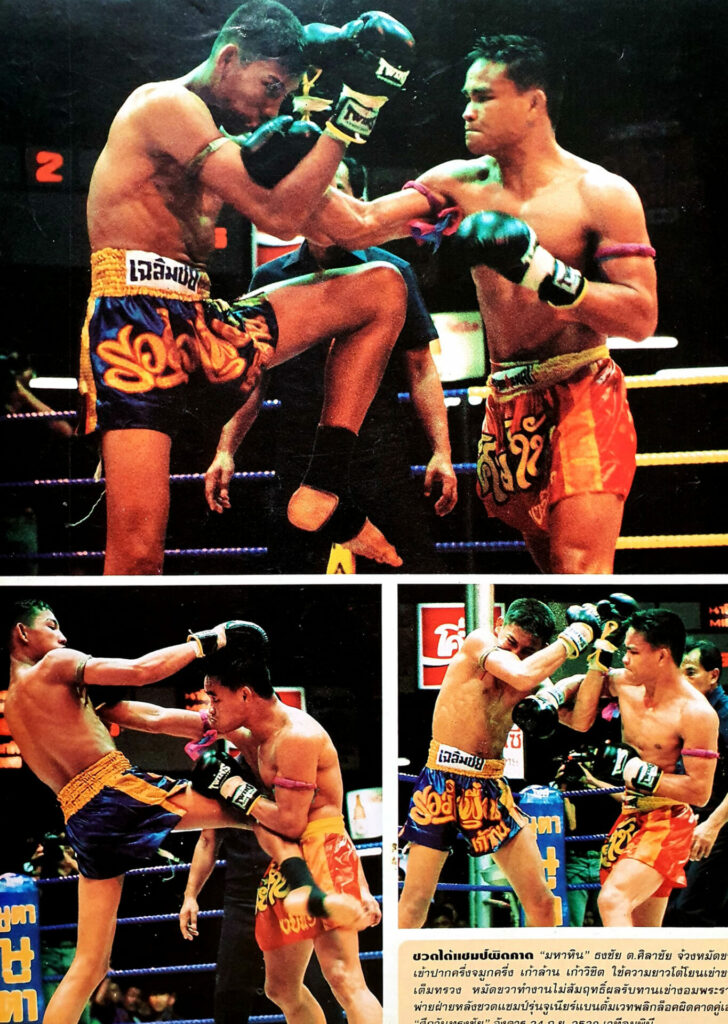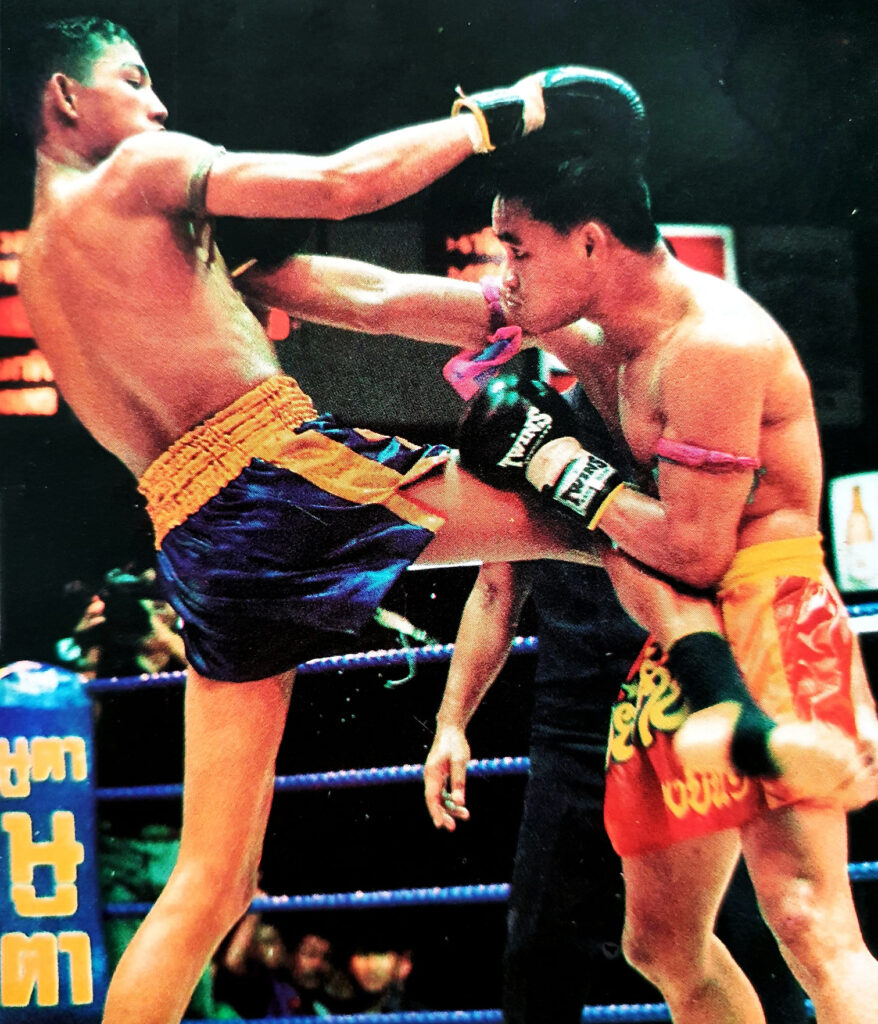 A month later, Kaolan suffered a hard defeat by KO against another star of the moment, Nungubon Sitlerchai (Lumpinee champion in 105 lbs, 112 lbs, 115 lbs, 118 lbs).
On 28 March 1997, at the Lumpinee stadium, Kaolan won against Daodan Sor Suchart (Winner of the Red Shark Tournament).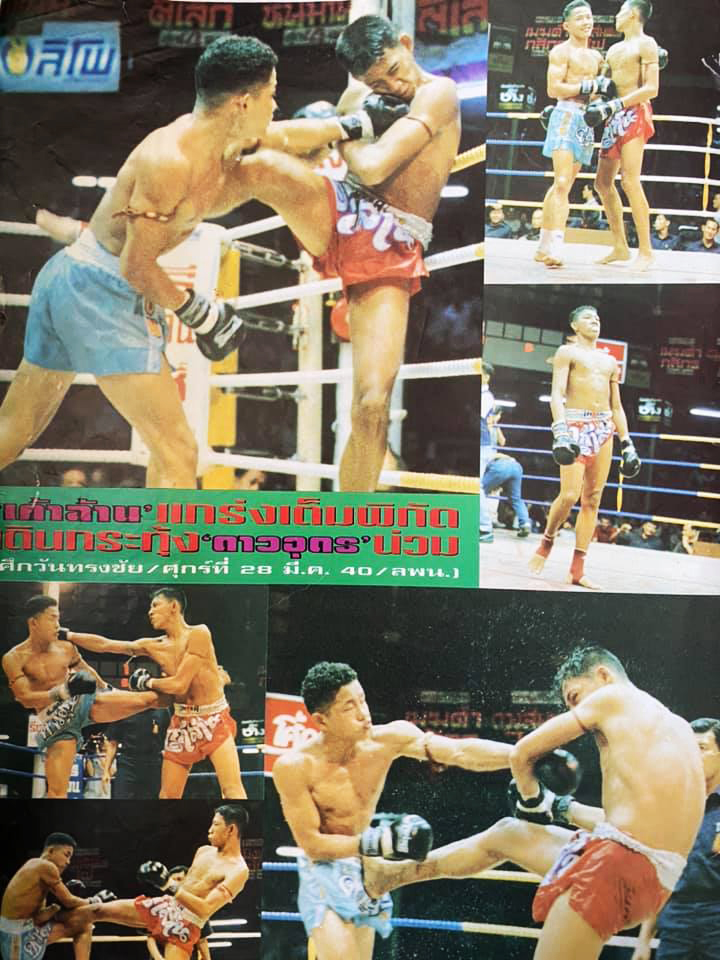 On 23 May 1997, Kaolan tried to steal his Lumpinee title from Ritthichai Lukjaopordam. Kaolan lost by KO, Ritthichai kept his Lumpinee belt in 122 lbs, a belt he won against Nungubon Sitlerchai…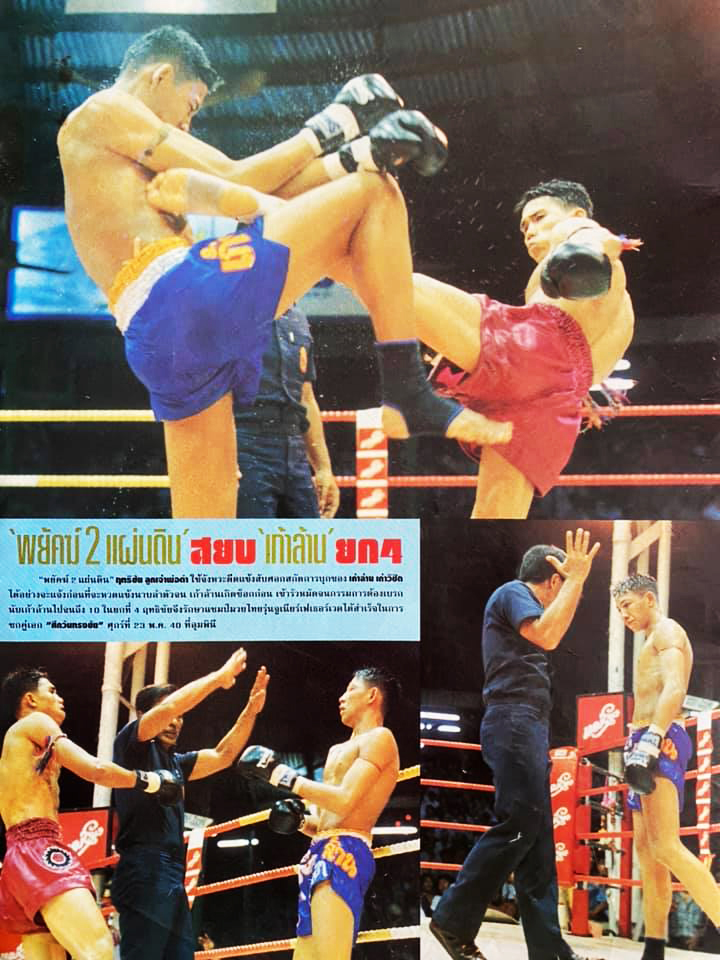 On 3 March 1998, at Lumpinee Stadium, Kaolan drew against Lumpinee No. 1 Bakjo Sor Pannut.
This year, Kaolan has made great performances by beating the stars of the rings such as Rambojiew, Lamnamoon and Namkabuan.
On 11 September 1998, at Lumpinee Stadium, Kaolan defeated the bull Rambojiew Por Thubtim (Winner of the Mitsubishi 130 lbs tournament in 1997) who had beaten him a few months earlier.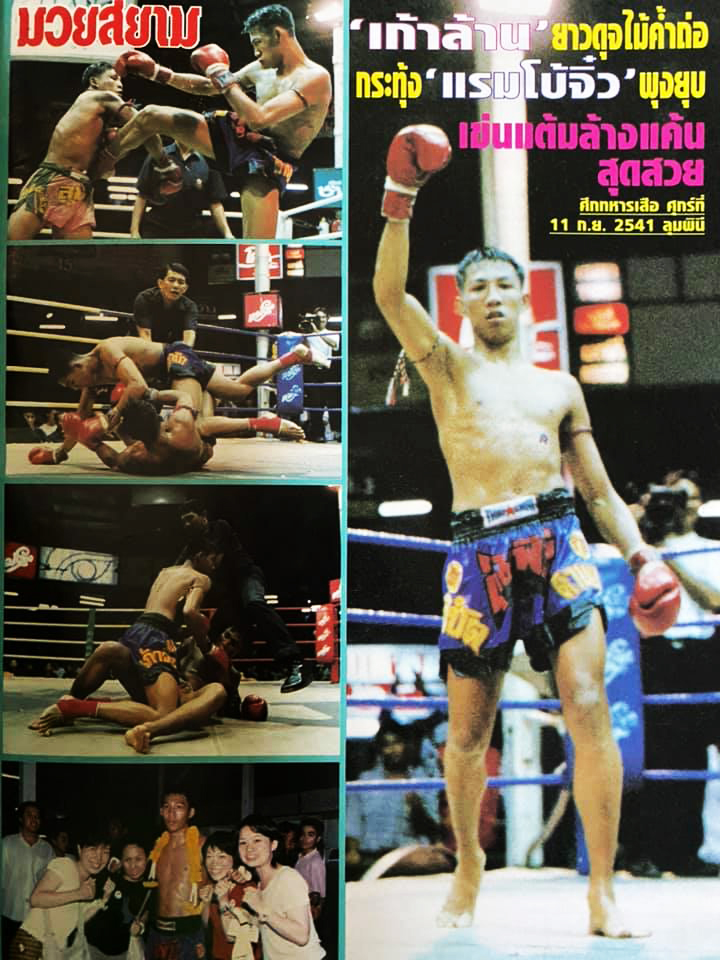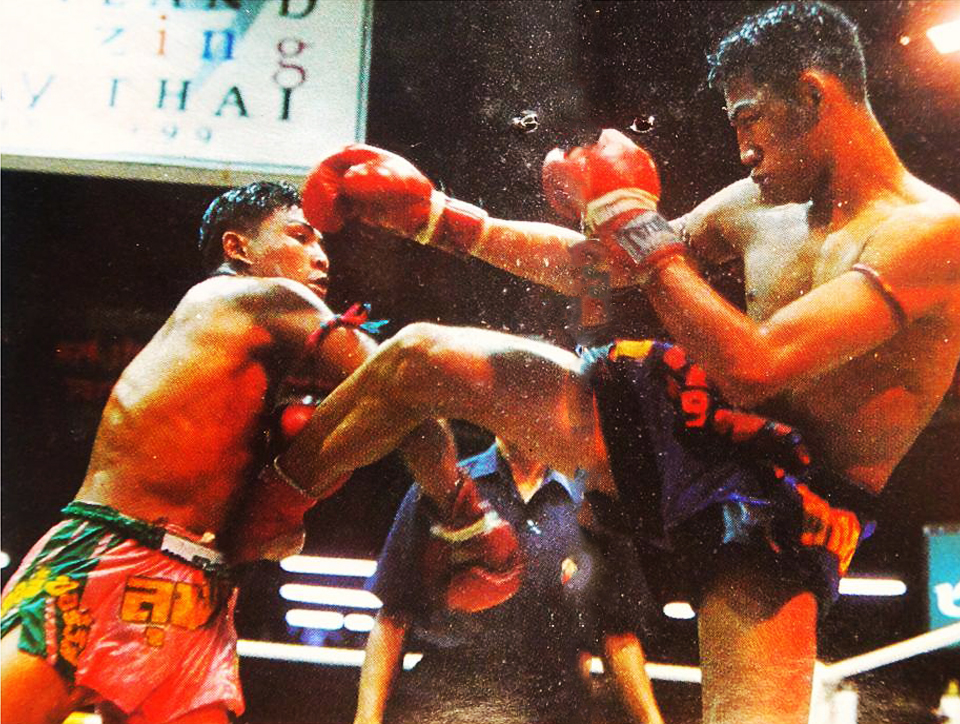 On October 30, 1998, he defeated the great champion Lamnamoon Sor Sumalee (Lumpinee Champion in 115 lbs, in 126 lbs, in 130 lbs) nicknamed "Khun Khao Weetan" (The knee kick of the vampire).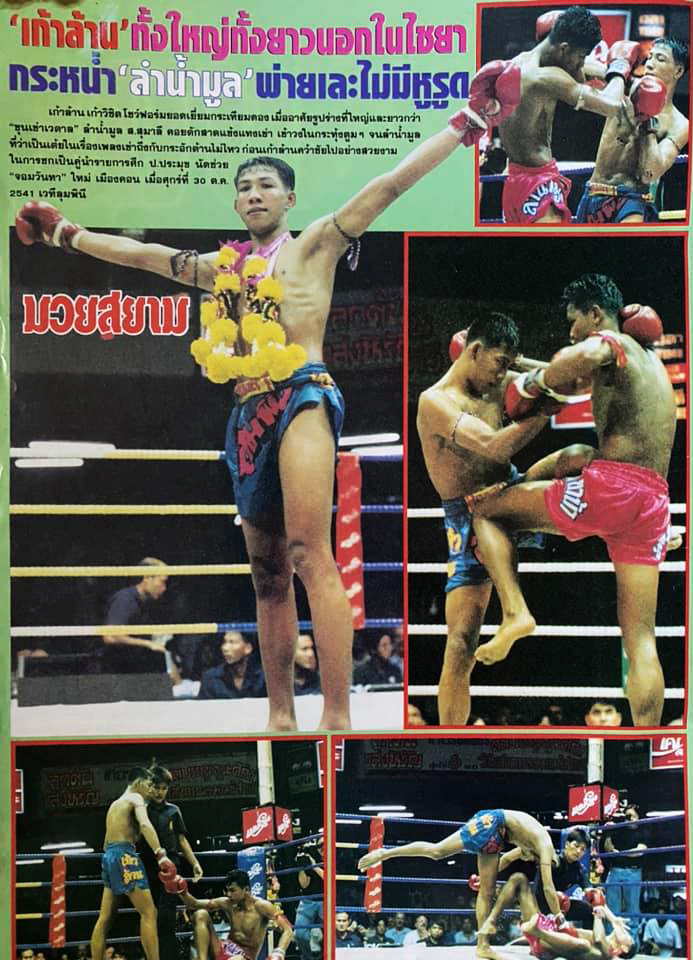 On December 8, 1998, Kaolan won against the legendary Namkabuan Nongkee Pahuyut (Lumpinee Champion in 130 lbs, WMC World Champion in 130 lbs) nicknamed "The Ring Genius" and "Khun Khao Phanom Rung" (Phanom Rung's knee strike).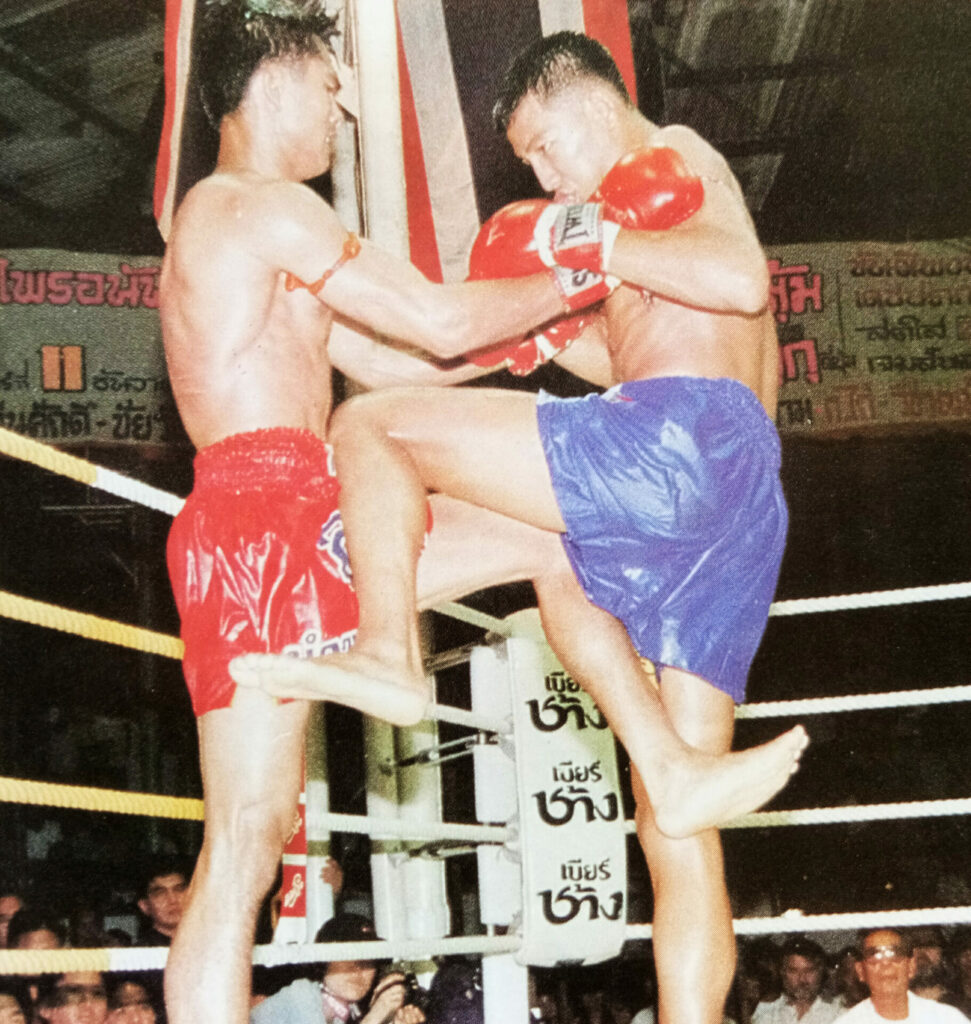 On February 10, 1999, at Radja Stadium, Kaolan took the luxury of beating the star Thedkiat Sitthepitak (122 lbs and 126 lbs Lumpinee Champion) nicknamed "Rachanhaeng Lumpinee."
On March 26, 1999, at Lumpinee Stadium, Kaolan met the terror of the rings of the moment, Samkor Kietmontep (122 lbs Lumpinee Champion, 130 lbs Lumpinee Champion, 135 lbs Lumpine Champion, 135 lbs Thailand Champion) nicknamed "Batman".
Samkor had already beaten Kaolan in points in 1997 and he had beaten all the stars of the moment such as Karuhat, Wangchannoi, Nungubon, Jaroensap, Mathee, Chatchai, Kaoponglek, Sangtiennoi.
Khun Khao Kradouk Phi" hung a second Lumpinee belt on his waist!
Kaolan and Samkor have faced off four times with three victories for Kaolan and one for Samkor.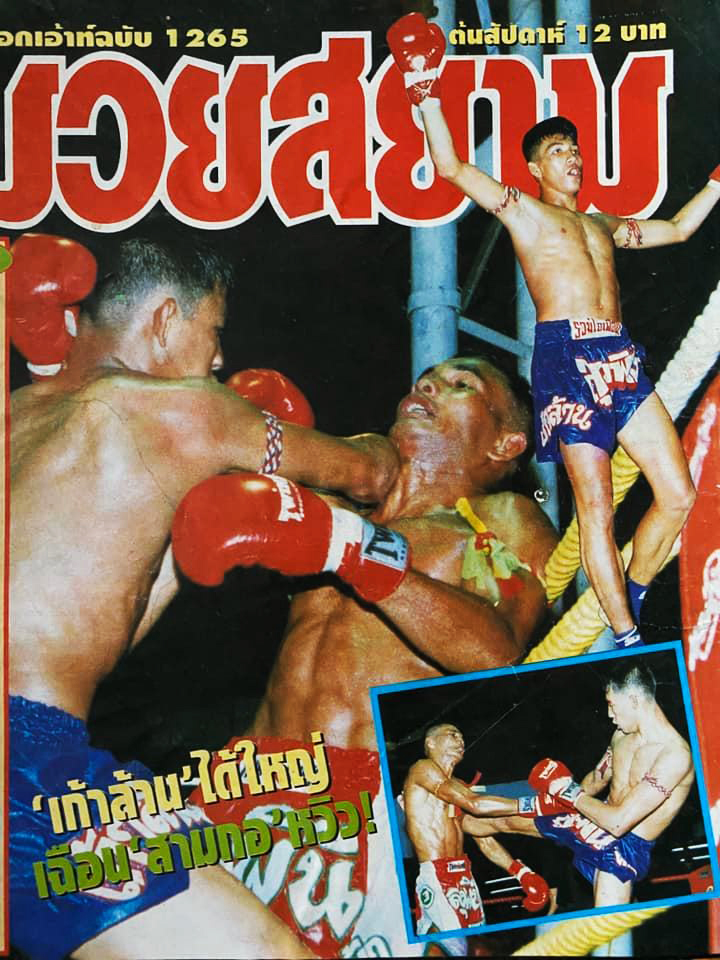 Five months later, on August 10, 1999, Kaolan lost his Lumpinee belt in 135 lbs against the powerful Khunsuk Phetsupaphan (Radja champion in 130 lbs, Lumpinee champion in 130 lbs and 135 lbs) who beat him by KO.
Kaolan and Khunsuk, nicknamed "Nakrop Roman" (The Roman Warrior) met four times and Kaolan only managed to beat Khunsuk once.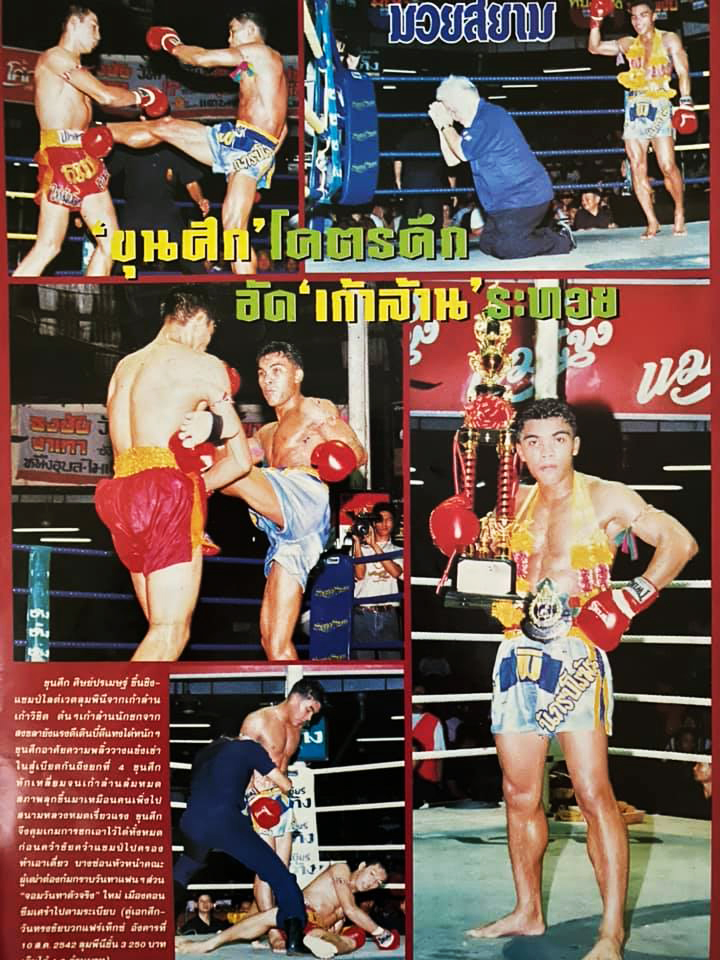 On April 25, 2000, Kaolan lost against the immense champion Namsaknoi Yudthagarngamtorn (Lumpinee champion in 112 lbs, Lumpinee champion in 130 lbs, Lumpinee champion in 135 lbs, WMC and WAKO World champion, Best boxer of the year 1996). They battled for the Lumpinee title in 135 lbs.
Kaolan lost again to Namsaknoi for the rematch in December 2001. A match that was voted "Best fight of the year"!
The two champions have become good friends. Today, Kaolan has become a trainer in the Singha Mawynn camp where Namsaknoi is also a trainer.
In June 2000, Kaolan defeated the iron head, Orono Por Muang Ubon (Lumpinee Champion in 135 lbs, Best Boxer of the Year 1994) nicknamed "Sam O" (3 O).

On July 8, 2000, Kaolan first flew overseas to the United States. In Las Vegas, during a big ISKA show, he beat the French champion Kamel Mayouf (European Champion) on points.

On August 4, 2000, in the stadium of Lumpinee, Kaolan met the rhinoceros of boxing rings, Dejpitak Sityodtong (Champion of Lumpinee in 147 lbs).
This Thai champion was very powerful physically, his fists and his legs were real steamrollers. He had beaten, a few months earlier, the great French champion Stephane Nikiema.
Muay Khao and Fimeuu Kaolan beat Dejpitak on points.
On December 5, 2000, in Bangkok, during the King's Birthday show, Kaolan made another performance by beating the Franco-Cameroonian champion, Dany Bill (World Champion).
Dany Bill was reputed to be the best overseas technical fighter of the 90s. A champion who beat Thai references like Nokweed Devy, Panomrunglek Chor Siwat, Nongmoon Chomputong, Orono Por Muang Ubon, Sangtiennoi Sor Rungroj and Dutch terror Ramon Dekkers.
On April 21, 2001, in France, in Kick Boxing, Kaolan lost against the solid French champion Morad Sari (World champion, Lumpinee champion).
On June 24, 2001, in Bangkok, Kaolan met champion Pajonsuk Lookprabat (Lumpinee Champion in 147 lbs, WMC, WPKL, IKKC world champion) for the WMTC world title in 147 lbs. Kaolan has won the WMTC world belt!
On July 20, 2002, Kaolan and Pajonsuk found themselves in the stadium of Lumpinee for the title of Lumpinee in 147 lbs. Pajonsuk beat Kaolan on points. An intense match in which Kaolan was twice wickedly opened in the forehead because of hard-hitting elbow strikes from Pajonsuk.
On March 8, 2003, Pajonsuk defended his Lumpinee belt in 147 lbs against Kaolan who took his title. Kaolan has become Lumpinee champion for the third time!
Kaolan and Pajonsuk have faced each other four times with three wins for Kaolan and one win for Pajonsuk.
In 2002, Kaolan made great matches in Japan. The Thai finished in the final of the prestigious K1 World Max tournament. In the 70 Kg category, he beat Chinese Zhang Jiapo and Japanese Takayuki Kohiruimaki (KO). Kaolan unfortunately lost by KO against the Dutchman Albert Kraus who was the big winner of this first K1 World Max tournament…
In 2003, Kaloan made other matches in Japan including a WKA World Championship against Japanese K1 star Yoshihiro Sato who beat him on points. But it was no longer the same Kaolan as at his peak…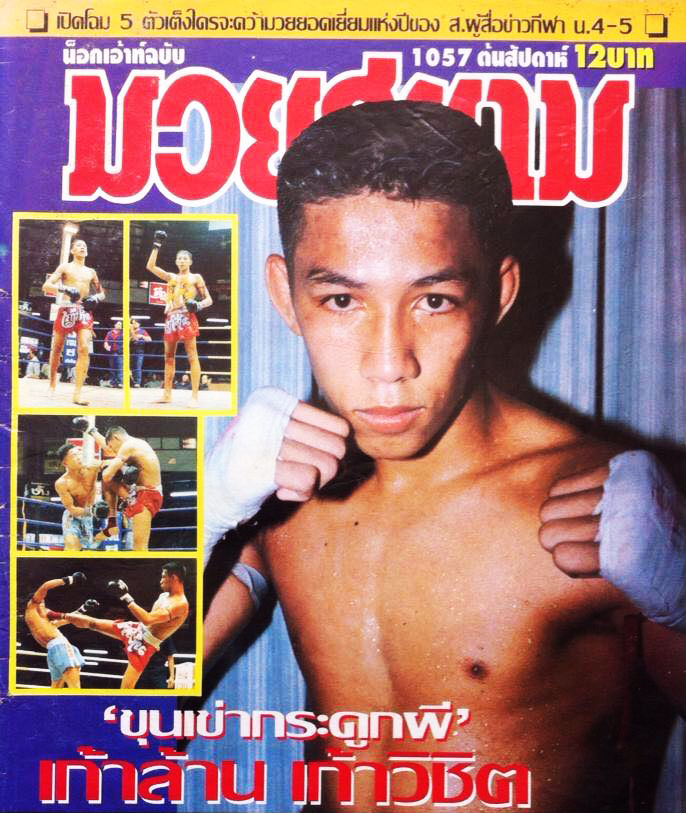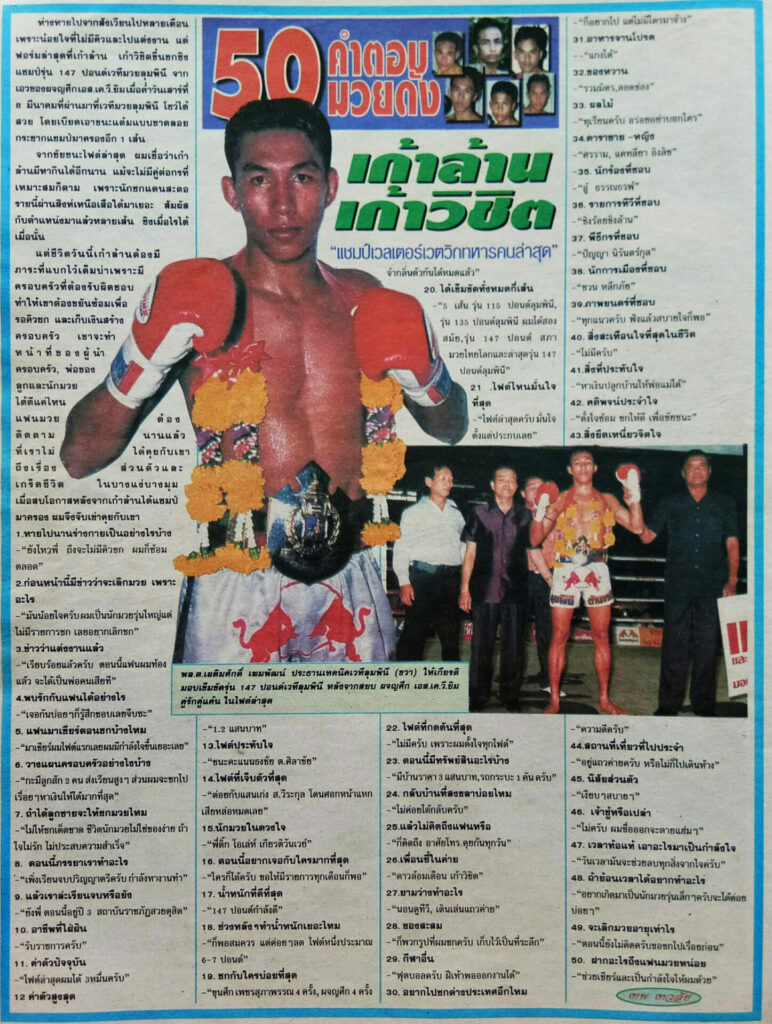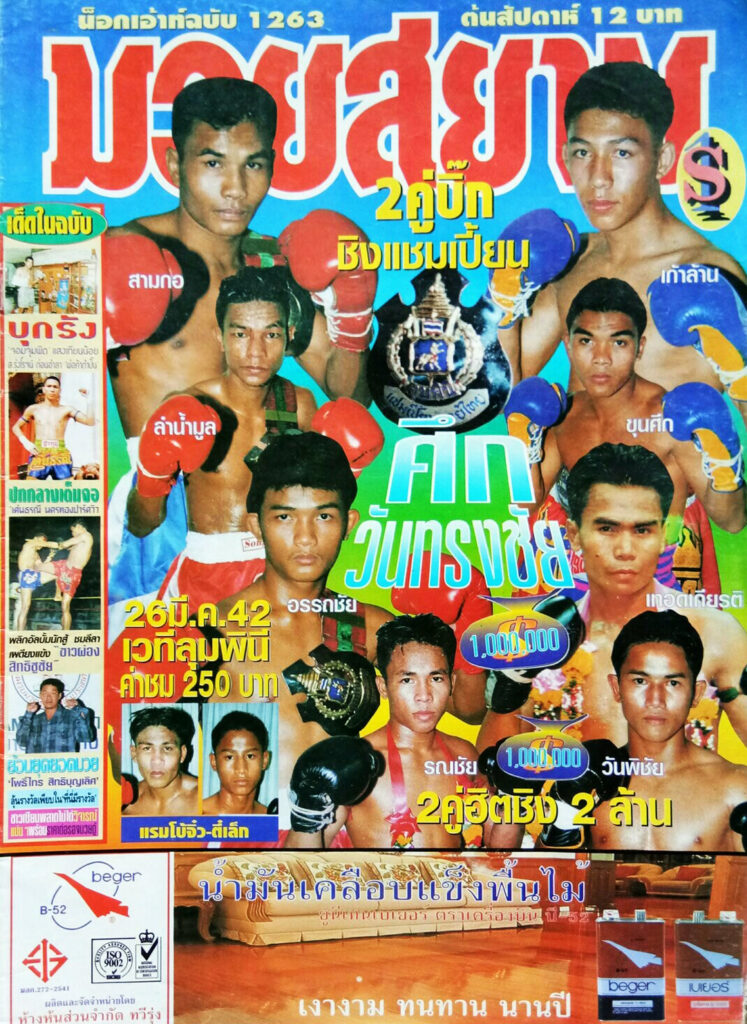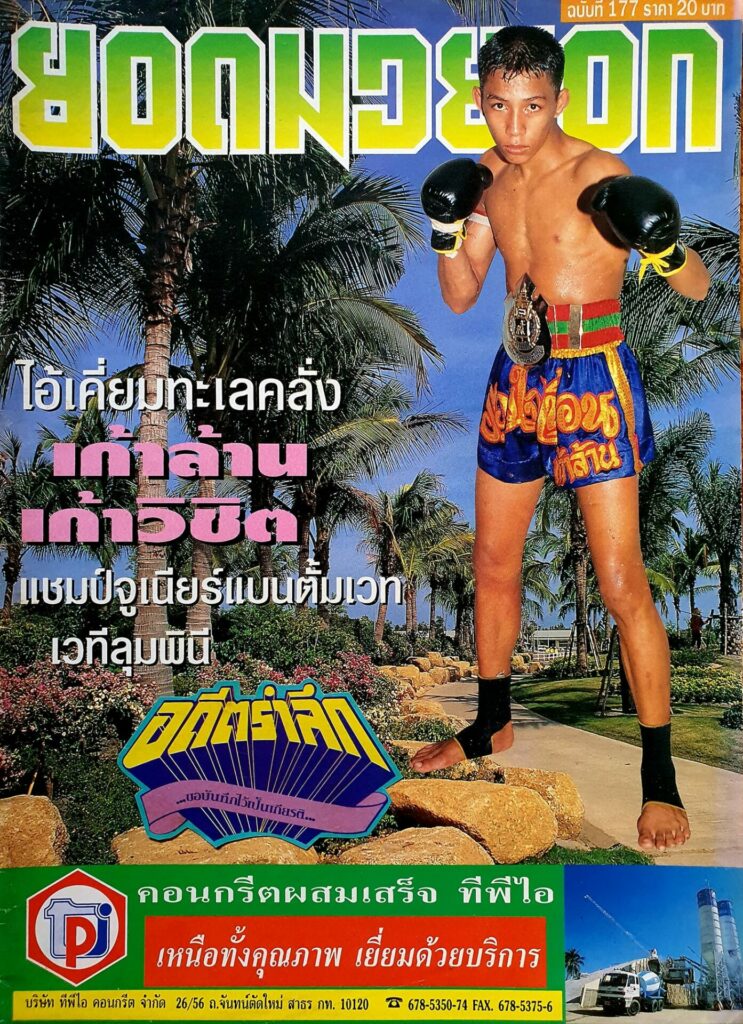 KAOLAN KAOVICHIT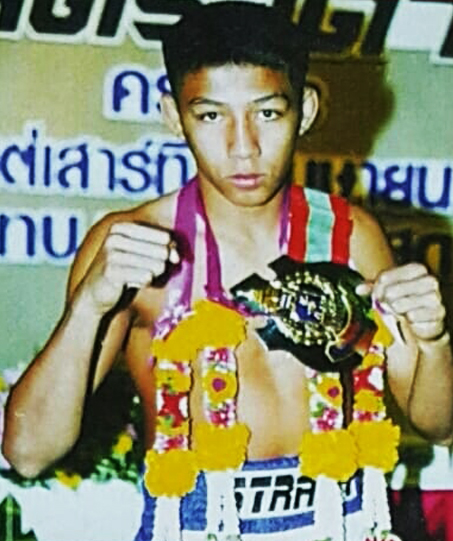 Real name: Jahormat Miyundichar
Nickname: Khun Khao Kradouk Phi (The Skeleton Ghost Knee Kick)
Date of birth: May 12, 1978
City of birth: Songkhla
Weight: 61 Kg – 67 Kg
Height: 1m77
Number of fights: 300. 250 wins, 47 losses, 3 draws
Title: Lumpinee Champion in 115 lbs (1996), Lumpinee Champion in 135 lbs (1999), Lumpinee Champion in 147 lbs (2003), WMTC World Champion in 147 lbs (2001)
Team: Kiatbanchong Gym