Temps de lecture :
7
minutes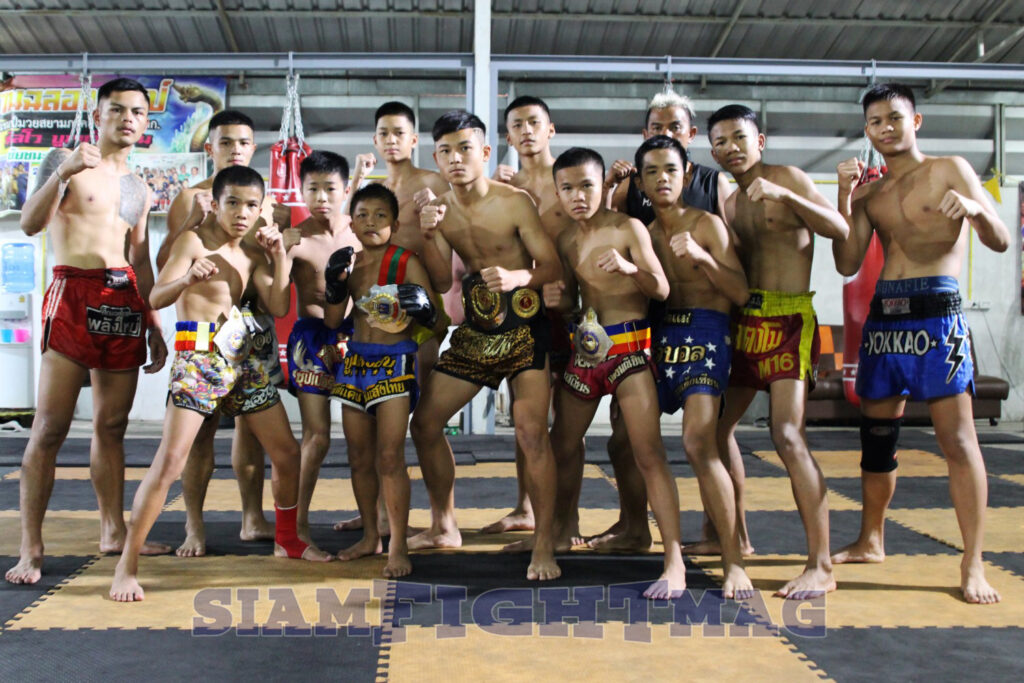 BOOMDEKSIEN GYM
Special report
by Serge TREFEU (2023)
The Boomdeksien Gym belongs to the 26-year-old graduate of Chetuphon Commercial College, Mr. Boom Apiprat, who is passionate about boxing, especially children's boxing. His camp was located in Udon Thani in the northeastern region of Thailand. It was one of the best camps in the Isaan region for children boxers.
In 2019, Boom Apiprat, in partnership with Sor Sangthai Gym, opened a new camp near Bangkok in Nonthaburi in the Rattana Lake View Village.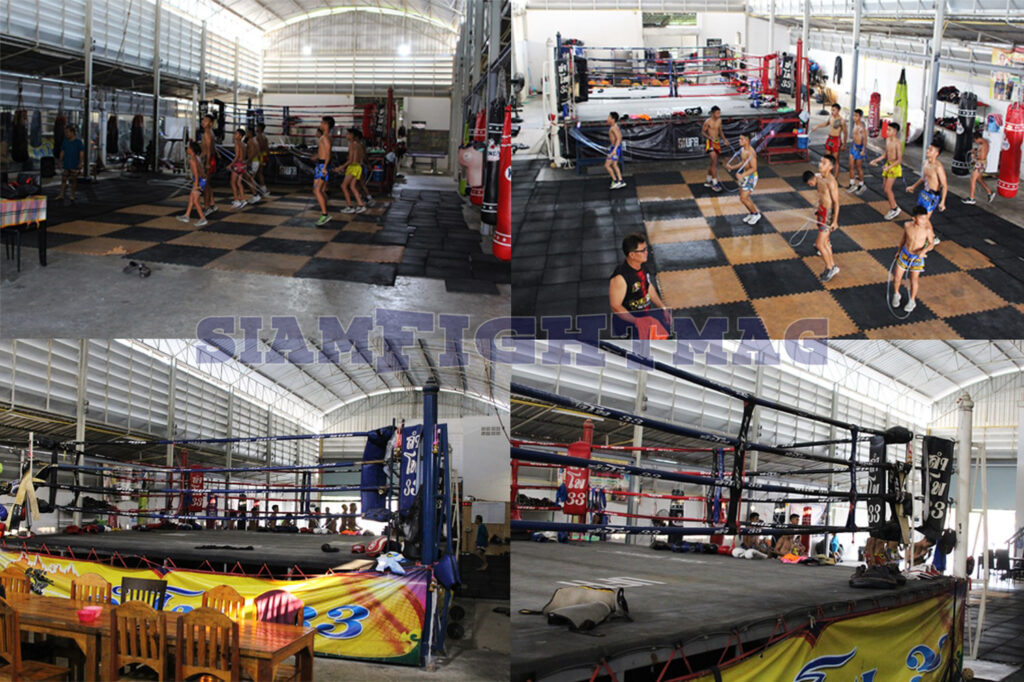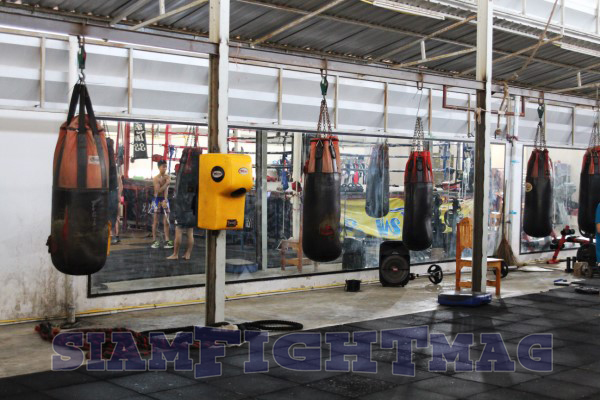 The Boomdeksien Gym camp is funded by a patron, a wealthy lawyer whose home is in Nonthaburi and is sponsored by the famous online gaming site UFAR1 (Bets on football matches and casino games). The camp is also called "UFA Boomdeksien".
"Boom" refers to the name of the owner "M. Boom Apiprat" and "Deksien" means "Talented children".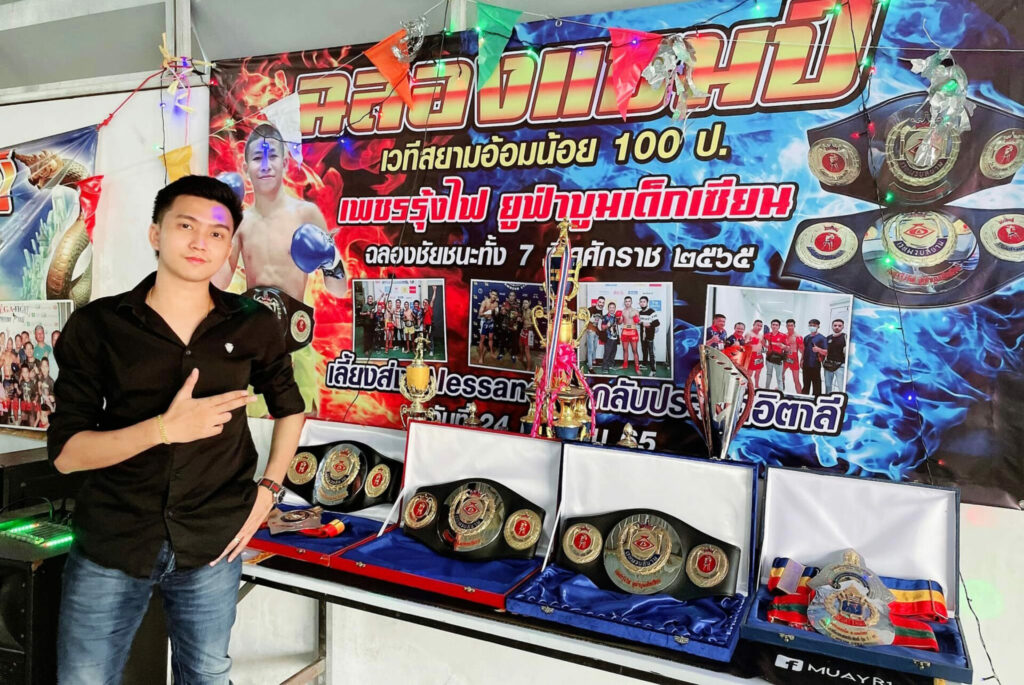 The Boomdeksien Gym has been selected for the "Best Camp of the Year 2022" award, thanks to the excellent results of his Team of great fighters.
Boomdeksien Gym was chosen by the jury in the final list of the 10 best boxing camps in Thailand in the year 2022, prestigious camps such as Parunchai Gym (Best camp of the year 2015 and 2017), Jitmuangnon Gym (Best Camp of the Year 2019), P.K. Saenchai Gym (Best Camp of the Year 2016), Boon Lanna Muay Thai Gym, Sor Jaruwan Gym, Dejrat Gym, Sor Chockmeechai Gym and Singha Mawyn Gym.
Boomdeksien Gym is in the final for this prestigious trophy with Sor Chockmeechai Gym and Singha Mawyn Gym, the big winner will be elected in April 2023.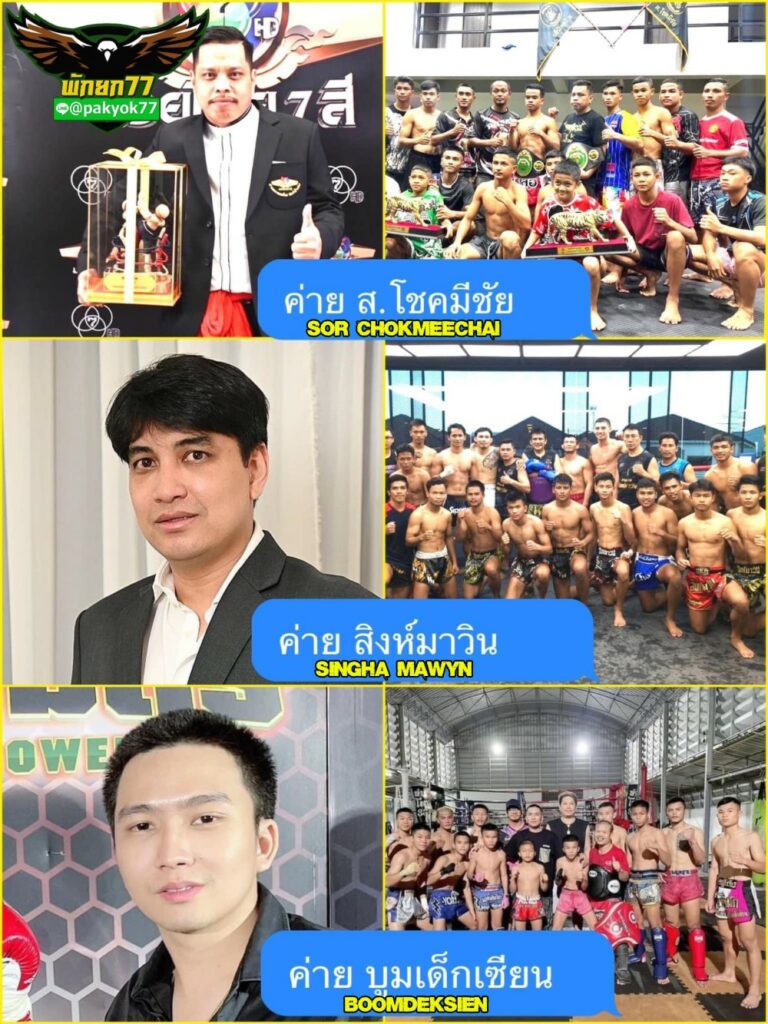 The Boomdeksien Gym camp includes about fifteen fighters of very high levels. The youngest of the Boomdeksien Gym fighters is 11 years and the oldest is 20 years.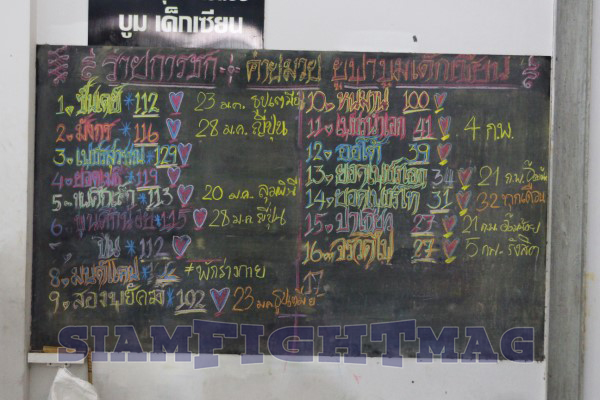 School children do a 10 km run in the morning before going to school and when they have finished their lesson, at 4 pm, they do a 5 km run before starting their training at 4.30 pm.
The boxers then continue with 15 minutes of jumping ropes and 15 minutes of shadow boxing. They are coached by two experienced coaches, Ajarn Thepkon Kaennorasing (Boxing specialist, 100 Boxing fights and 50 Muay Thai fights) from Khon Kaen and Khru Dam Hadao (200 Muay Thai fights) from Korat.
Former ring star Karuhat Sor Supawan (112 lbs and 122 lbs Lumpinee Champion) sometimes coaches the young champions.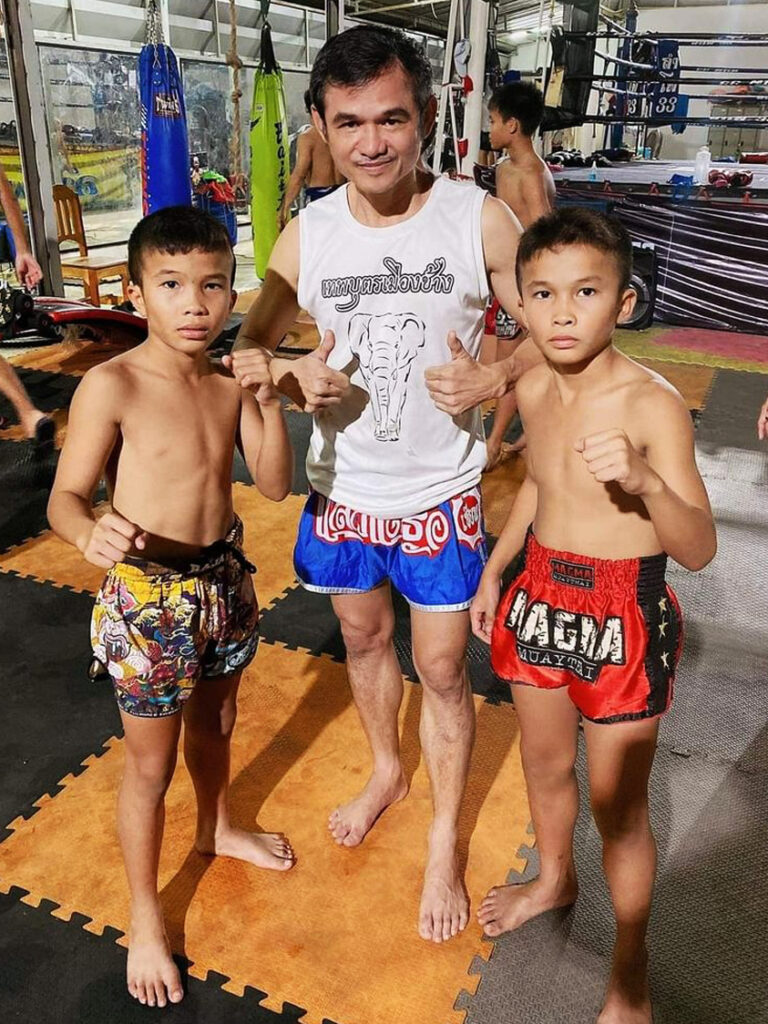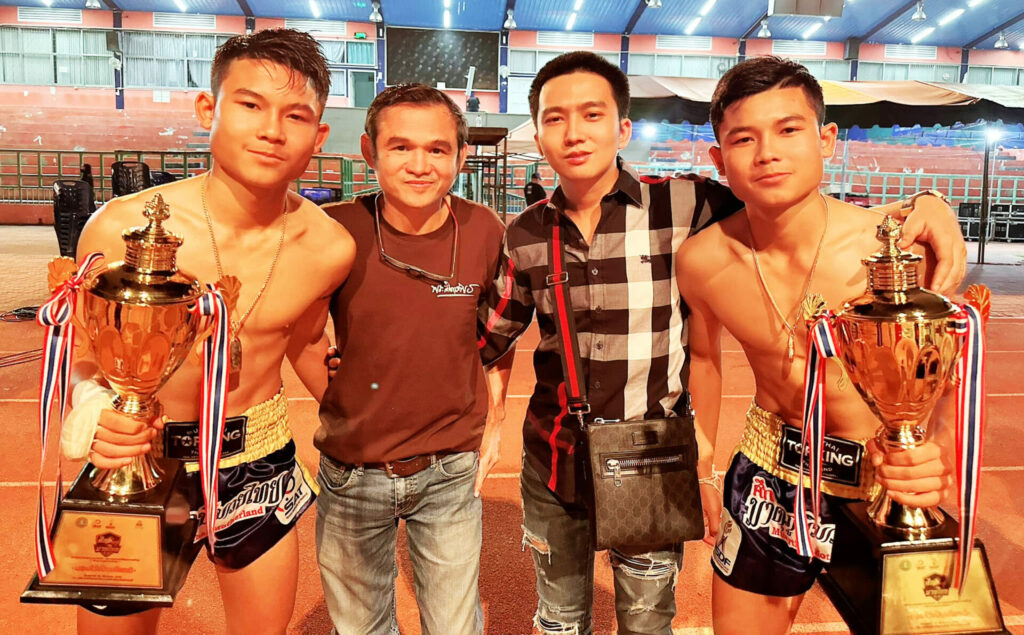 Coaches take turns taking the boxers to the paos. For boxers preparing for fight, they undergo an intensive round of paos that last 15 minutes, it is extremely long and trying. Boxers also do several 5-minute rounds of punching bags.
All boxers meet in the ring to perform a 30-minute clinch session. They complete their spartan training with typical strength exercises, sets of push-ups and abs, and 10 back and forth rope climbing, on a 10-metre high rope.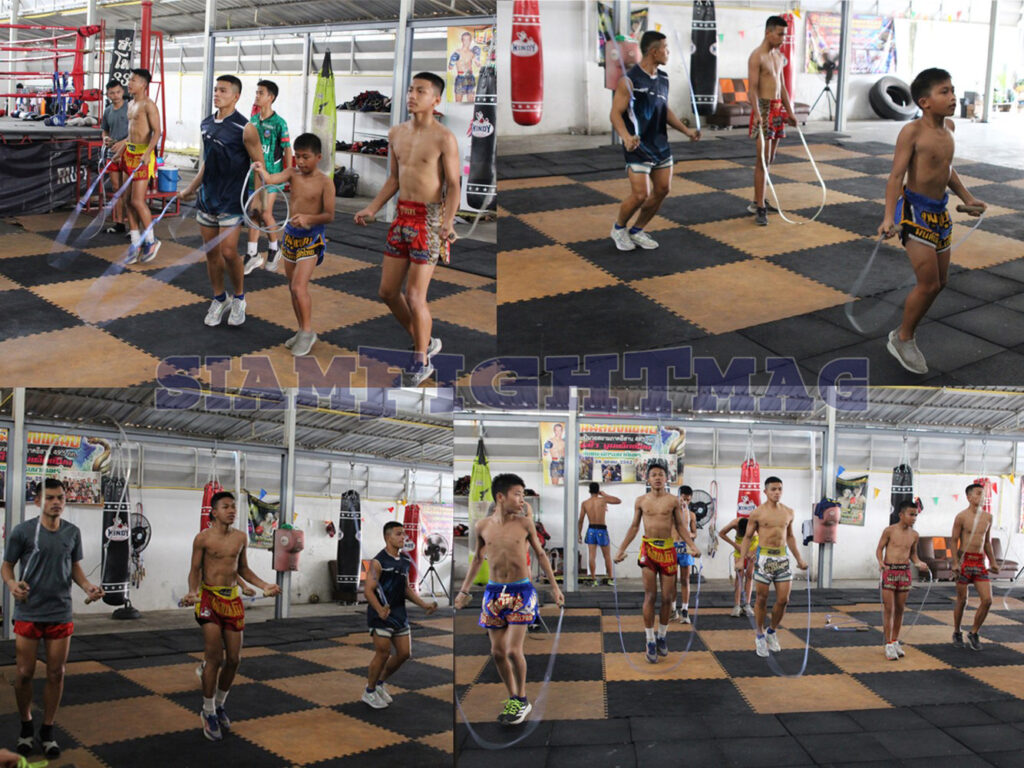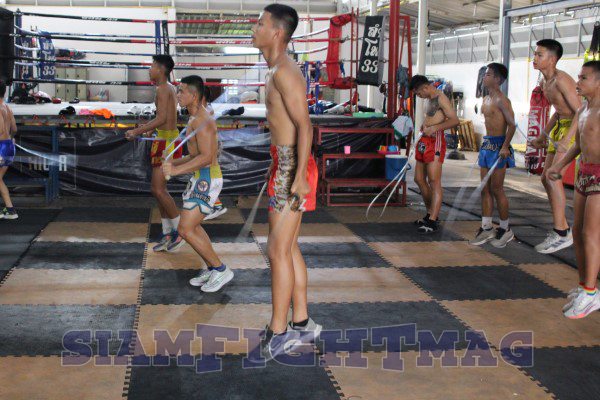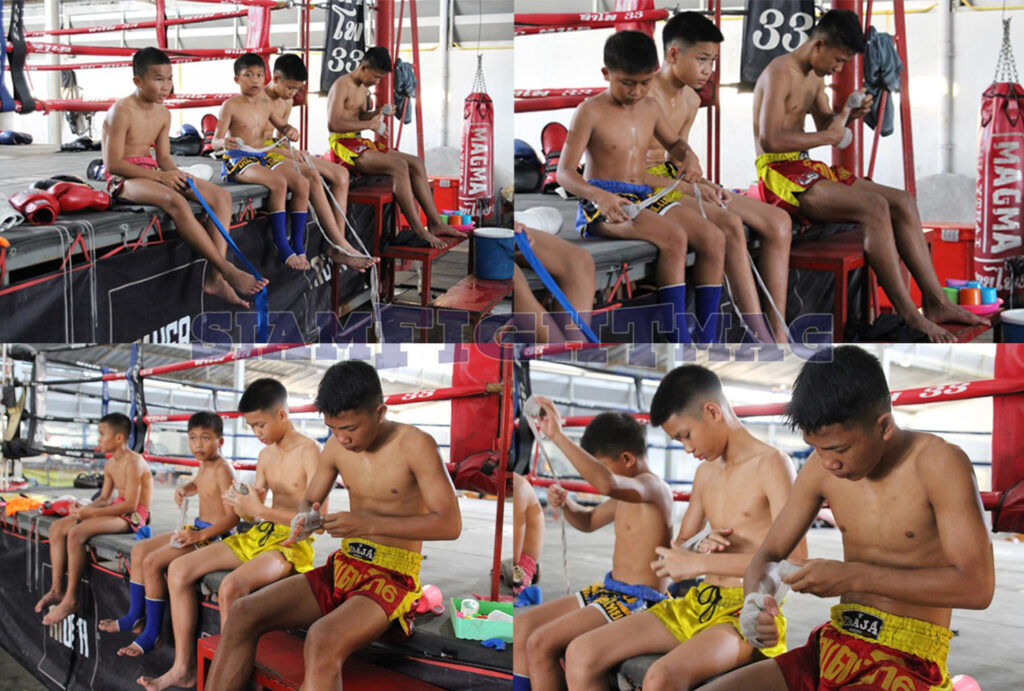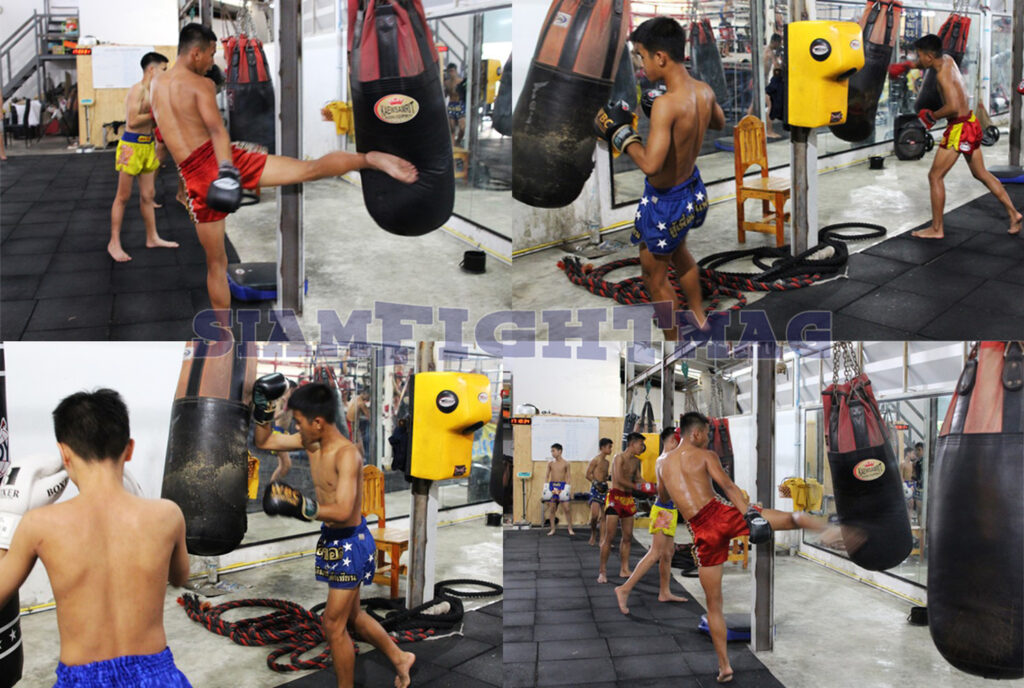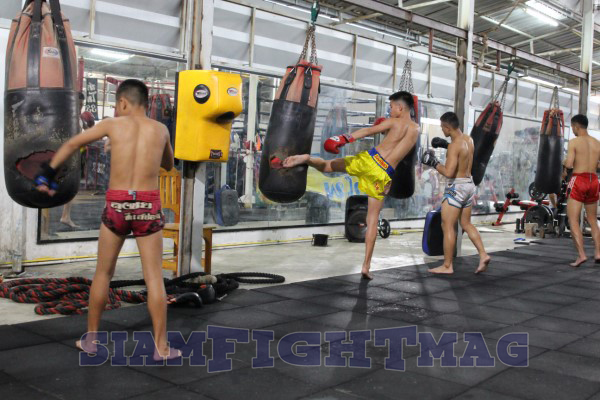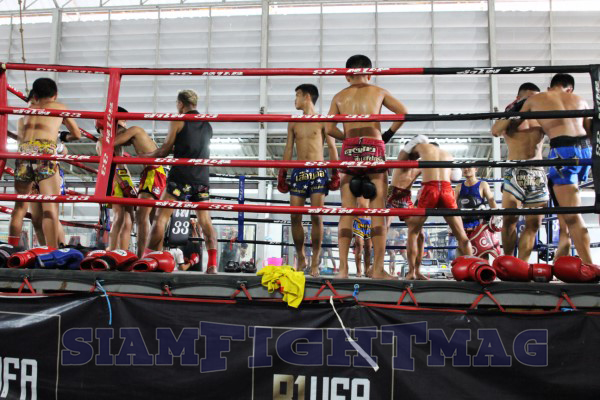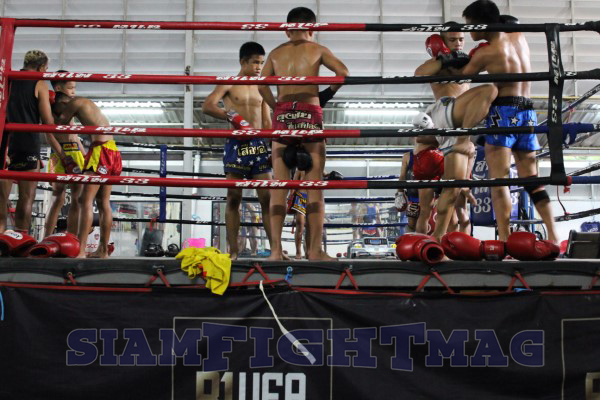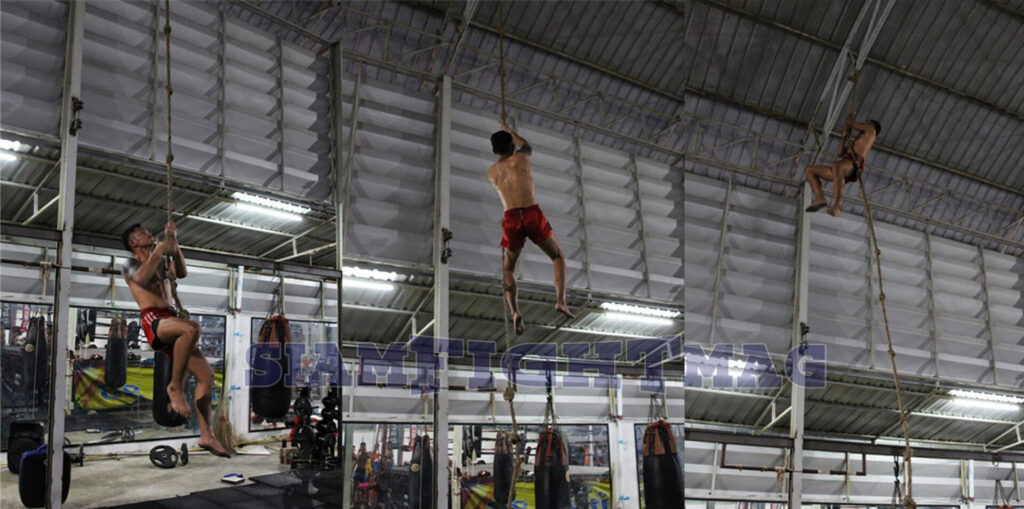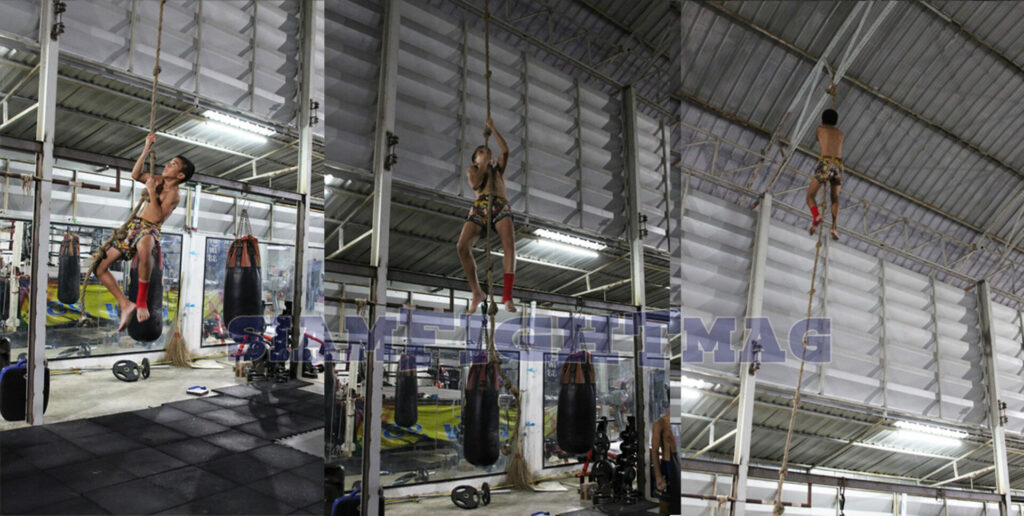 During the important weight loss before their fight, the Boomdeksien boxers inflict themselves strenuous sessions to losing weight. The camp has a small sauna where the boxers, in sweat clothes, stay long moments to sweat. Then, to lose the last grams. They undergo a real torture session, locked in a car in full sun, sitting without moving, they lose litres of water. Boxers end their ordeal with a cold water bath and a massage with ice cubes. It takes a lot of will and determination to endure these terrible physical sufferings…
Very few foreigners have come to train at the Boomdeksien Gym. The young Australian phenomenon, champion Archie "Rocknrolla" Edwards (12-year-old Gold Medal at the 2022 WBC Youth World Championships) spent some time at the Boomdeksien in February and March 2023. In 2019, the young French champion Kamron Dimata (European Junior Champion, French Champion, Intercontinental Champion) trained at the Boomdeksien Gym camp which was in Udon Thani in the Northeast region, he even fought for the camp under the name of Kamronoi Siyandam (The little black wonder boy Kamron) Boomdeksien.
Two pairs of twin prodigies Yodpet Ek/Yodpet Oh and Kunsuklek/Kunsuknoi, as well as champions Phetrungfaï and Sandey are the stars of the Boomdeksien Gym. The camp also has good fighters Moonkaen, Jarowtfay, Auto, Petchsuwan, Phetnamek, Songpayak, Sanwo and Pacquiao.
Yodpet Ek Boomdeksien and Yodpet Oh Boomdeksien are two 14-year-old twin brothers (2023). They come from the town of Nong Bua Lamphu in the northeast region, a region that has already provided many great champions like Kapitan Petchyindee (Diesellek Petsiri) the current 154 lbs Lumpinee champion or superstar Yodsanklai Fairtex (Lumpinee Champion, WBC World Champion, WMC, WPMF).
Yodpet Ek and Yodpet Oh have a very different fighting style, Yodpet Ek is technical and aesthetic, it has a Fimeuu style. Yodpet Oh is rather a boxer who advances with a Muay bouk style.
These two phenomena are several times champions, they are among the most famous child boxers in the country.
Yodpet Ek (Winner of the Magma tournament in – 25 Kg, champion of Theprasit stadium in Pattaya in – 18 Kg), nicknamed "Faednunglaan" (The millionaire twin), made 86 fights for 75 wins, 9 losses and two draws.
Yodpet Ek holds the most important Dumpans (Bets between two boxing camps) records in recent years.
On July 15, 2018 in Nonthaburi (Kietpetch Promotion) in the 21 Kg category, Yodpet Ek Boomdeksien and Kreng Teeboonlay, both 9 years old, fought for a 600,000 baht Dumpan. A match broadcast on television with the presence of the number one promoter of Thailand, Mr. Peerapong Theeradejpong (Chun Kietpetch). A match won by Yodpet Ek.
In June 2019, Yodpet Ek beat the fearsome Jamsak Sitsaenchoeng at Rangsit Stadium in Bangkok, he won a large 30,000 baht prize for a boxer child offered in the ring from former ring star Karuhat Sor Supawan.
The wonder boy in the rings fought again for a huge Dumpan, in October 2019, in Isaan, with a Dumpan of 500,000 baht in play, Yodpet Ek won again.
On June 21, 2022, at Omnoi stadium, Yodpet Ek Boomdeksien faced Chakrit Yuttasurat Unanichan with a Dumpan of 4 million baht, victory for Yodpet Ek. Also, the parents of the twins received a car as a gift thanks to the victory of their offspring. It is until today the most important Dumpan in history for children's fights!
On February 19, 2023, at Omnoi Stadium, Yodpet Ek Boomdeksien met another little prodigy, Petchmuangsing Taiphetchaburi. They competed for the belts "IMC" and "Stage Of Youth" in – 35 kg with a Dumpan of 2 million baht. Petchmuangsing won the match.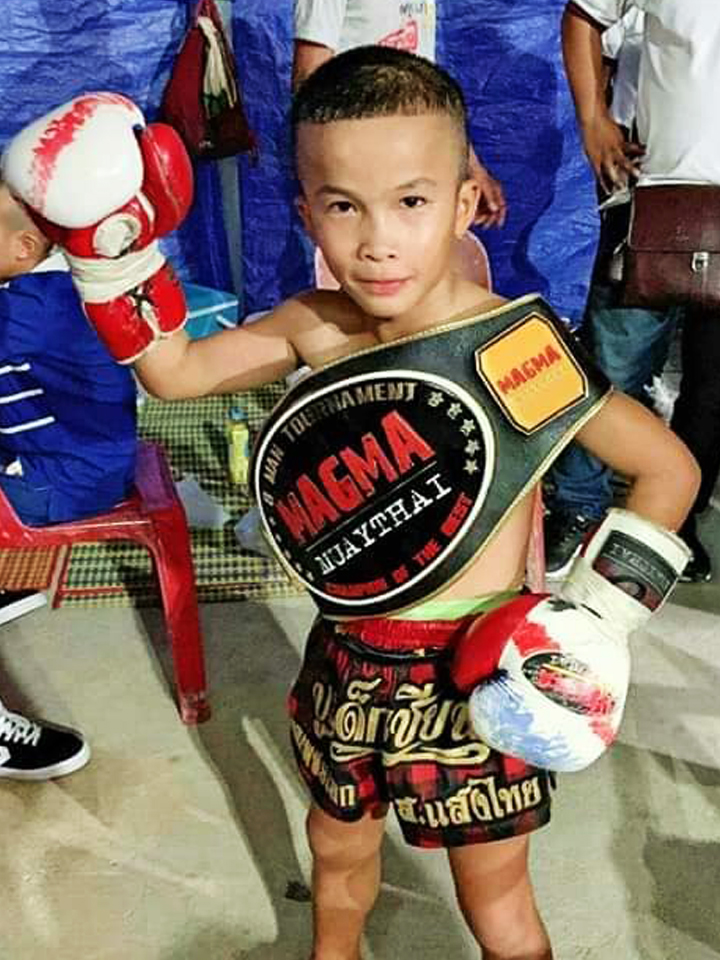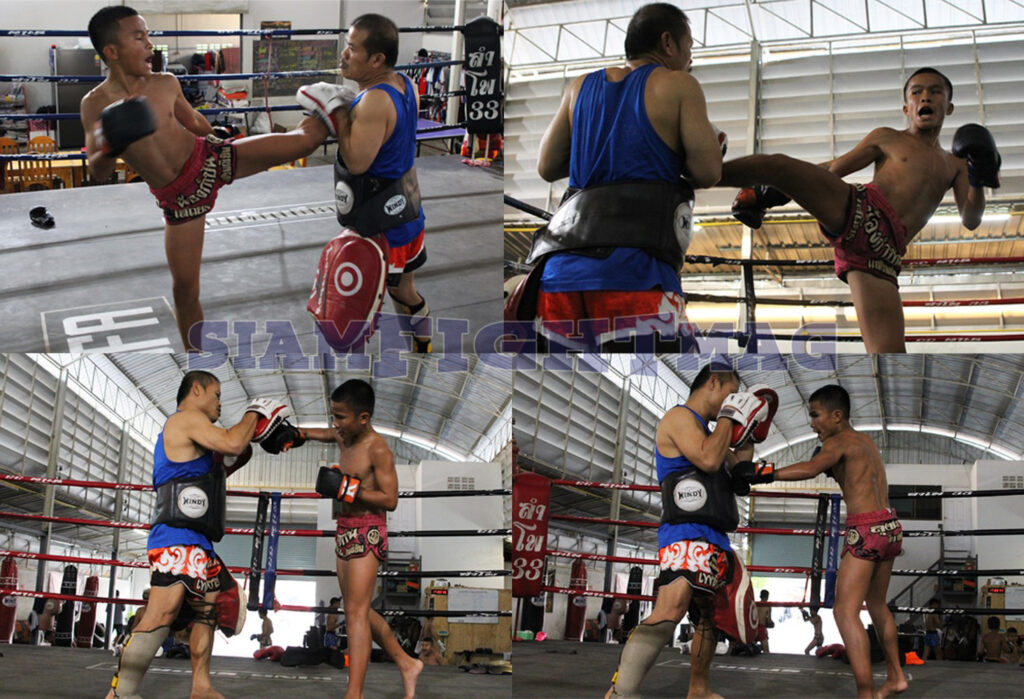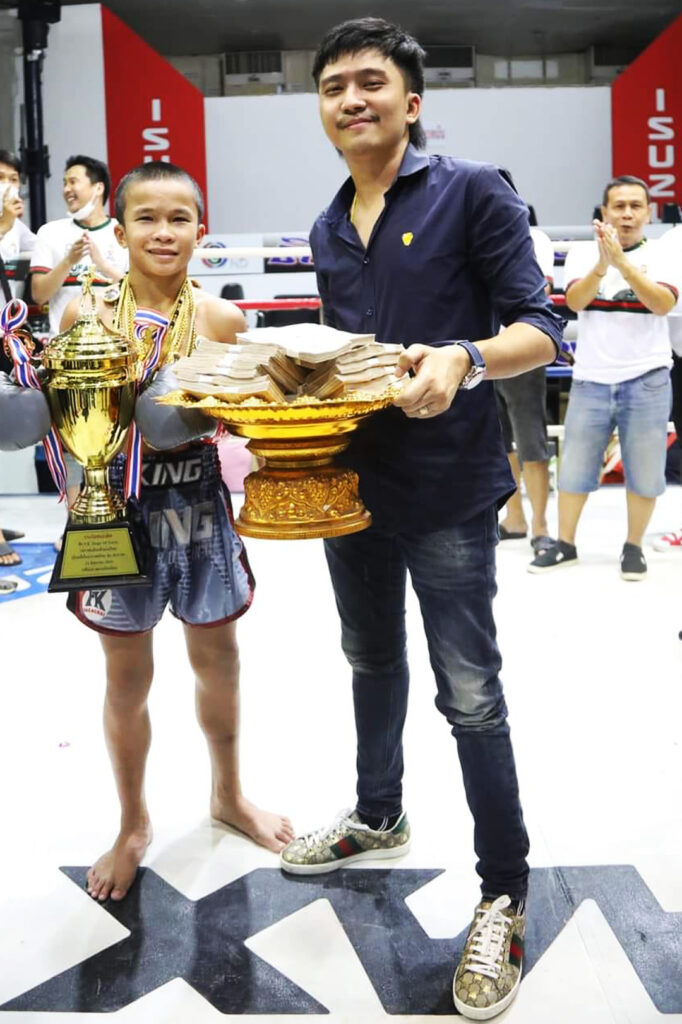 Yodpet Oh (WBC Junior Amateur World Champion – 31 Kg, Hat Yai International Boxing Stadium Champion – 30 Kg, Pattaya Theprasit Stadium Champion – 30 Kg and – 25 Kg, Siam Central Boxing Champion – 25 Kg), nicknamed "Faedtongkam" (Golden Twin), is also ranked in the Top 10 Children's Boxers of Thailand. Yodpet Oh has 78 fights for 68 wins, 8 losses and two draws.
Yodpet Oh fought against Yotfonluang Sitpetchchalukan at Udon Thani for a match with a 200,000 baht Dumpan on the line, winning at Yodpet Oh's points.
On May 19, 2022, in Pathum Thani, Royal Thai Air Force Stadium (Thupatemi Stadium), Yodpet Oh faced Lukrokpetch Dejrat with a Dumpan of 100,000 baht, Yodpet Oh defeated Lukrokpetch on points.
On March 19, 2023, in Nakhon Ratchasima Province, Yodpet Oh defeated Phetkaewkla TayPhetchaburi (2022 Phetchaburi Province Champion, 2022 Theprasit Stadium Pattaya Champion) after a terrible elbowing battle.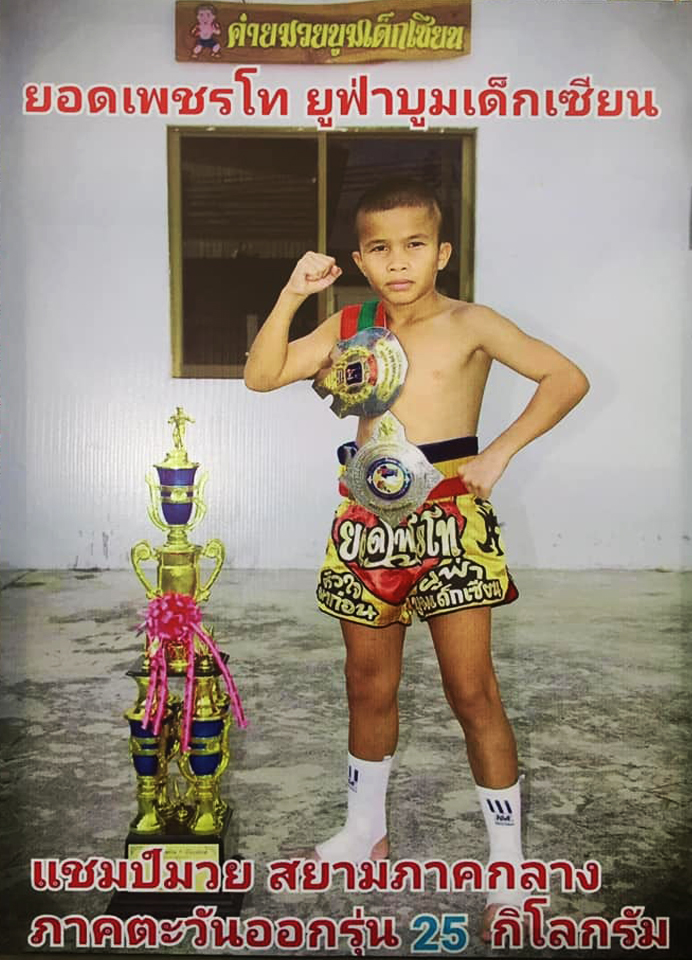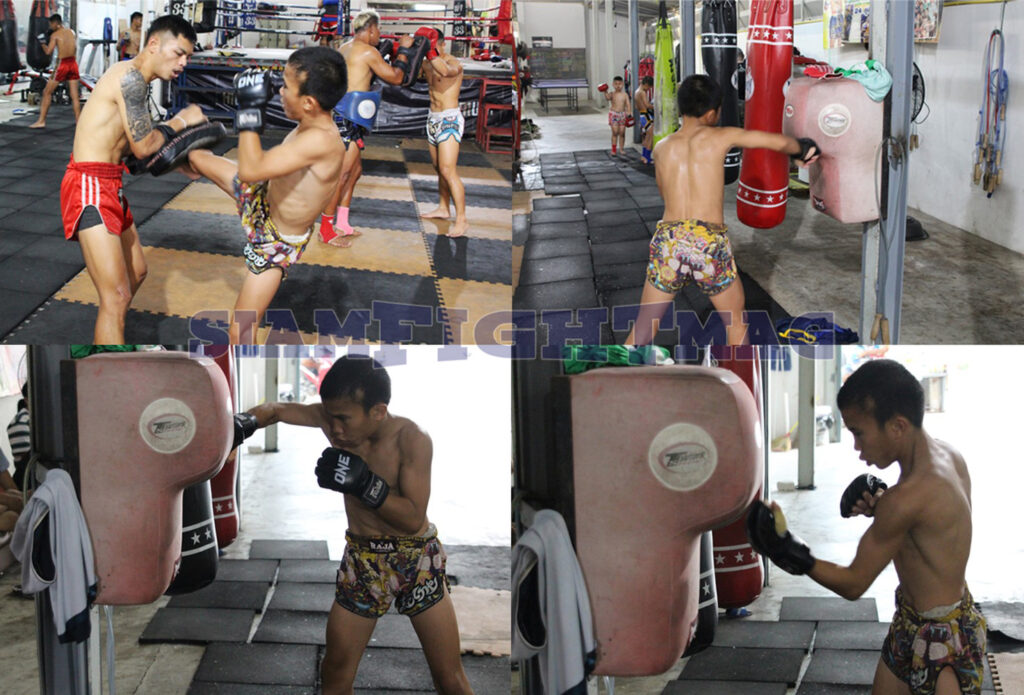 Kunsuklek and Kunsuknoi are two twins who are called by Muay Thai afioconados "Faed Narong Kong Djing" (The identical twins from hell), they are 17 years old and come from the region of Khon Kaen, one of the most prolific of great Thai fighters with champions like Krongsak Boranrat, Pud Pad Noi Woorawut, Phadetsuek Phitsanurachan, Kaoklai Kaennorasing, Wichai Rachanon, Somrak Kamsing, Karuhat Sor Supawan, Sangmanee Sor Tienpoh, Cherry Sor Wanich, Jocky Sitkanpai, Lomisaan Sor Thanikul, Robert Kaennorasing, Rolek Kaennorasing, Wangwiset Kaennorasing, Sameunoi Thor Bouleu, Thapaotong Eminentair, Lukchang Sitchang, Daendanay Ekawit.
Kunsuklek Boomdeksien, nicknamed "Faedjaonamtaa" (The twin with tears of joy) had 85 fights, 76 wins, 6 losses and 3 draws.
In 2022, Kunsuklek made 9 matches, all successfully won, he won the championship belts of Thailand and the stadium of Omnoi.
On September 3, 2022, at the stadium of Omnoi, Kunsuklek beat Dejpichai Nawy Andaman for the title of Omnoi in 118 lbs, he received of 50,000 baht as a bonus for this match and won the trophy for the best boxer of the evening.
On December 24, 2022, in the province of Ratchaburi, Kunsuklek defeated defending champion Dinueathong Muadpong191 and robbed him of his Thailand champion belt in 115 lbs!
Kunsuklek is undefeated for 4 years with a record 35 fight wins. His last two fights were made during the prestigious One Lumpinee evenings in the stadium of Lumpinee, he beat Phetbanrai Singmawinn (The current TV7 champion in 112 lbs), on January 20, 2023 and the experienced Koko Mor Rattanabandit (26 years old), on February 24, 2023.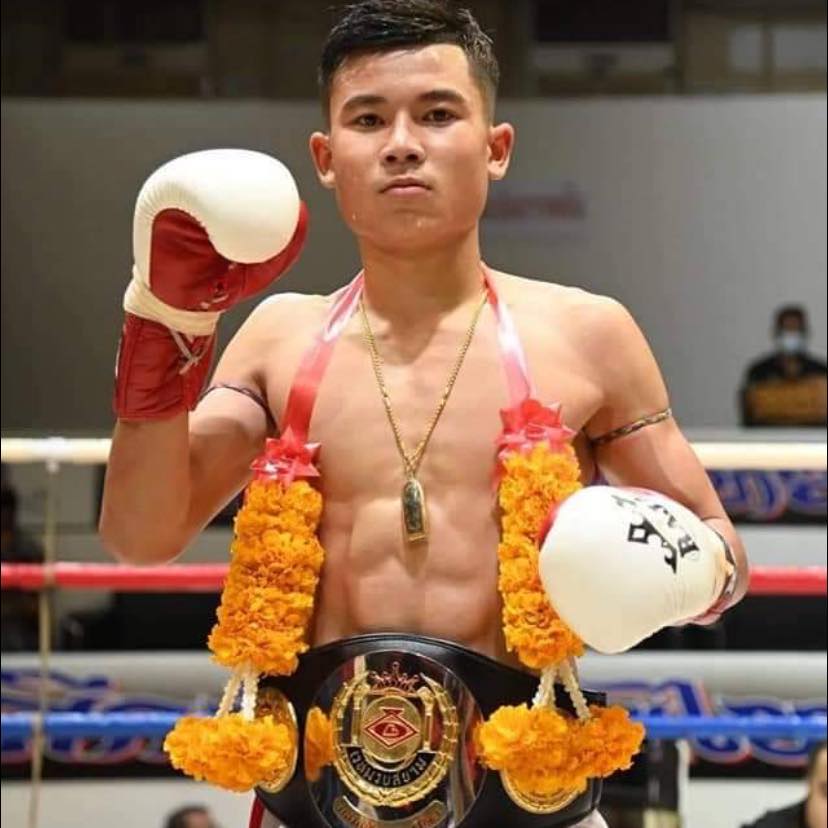 Kunsuknoi Boomdeksien, nicknamed Faedtheewada (The Twin Face of Angel), has more than 70 fights under his belt with only a dozen defeats.
In 2021, Kunsuknoi played 9 matches and won 8, in 2022, he played 7 matches with 6 victories and drew. 10 of his victories were won by KO!
On October 3, 2022, Kunsuknoi met Yodbawngam Lakhkibantheing for a match with a 2 million baht Dumpan in play. The fight ended with a draw. Kunsuknoi beat Yodbawngam for the rematch on November 20, 2022.
On December 24, 2022, in the province of Ratchaburi, during the same show where his brother won the Thai belt, Kunsuknoi beat Songchainoi Kiatsongrit. The boxer twins each won the "Best Fighter" trophy of the evening!
Kunsuknoi has not yet won a title but it will be soon…
For his last fight, Kunsuknoi unfortunately lost by KO. It was his first fight in the One Championship organization. On March 10, 2023, at the Lumpinee stadium, he was defeated in the first round by puncher Numsurin Chor Ketweena (28)…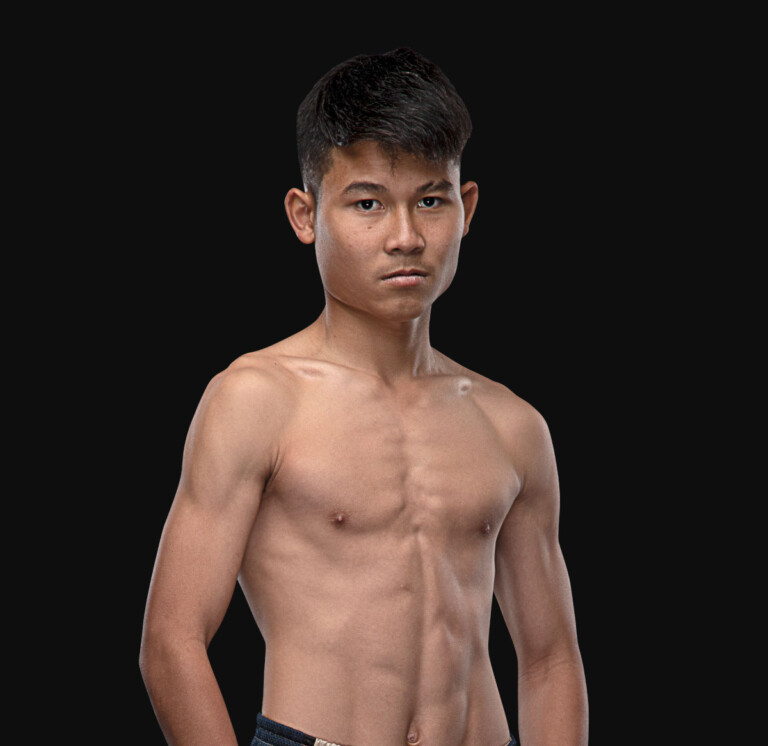 Phetrungfaï Boomdeksien is 17 years old and comes from Khon Kaen province like the Kunsuklek and Kunsuknoi twins.
On January 15, 2022, Phetrungfaï beat Sirichai Ennie Muay Thai for the Omnoi stadium belt in 100 lbs. This match was done with a dumpan of 200,000 baht won by Team Boomdeksien.
Phetrungfai lost his Omnoi belt on July 30, 2022 against Petchanda Kiatyyodying.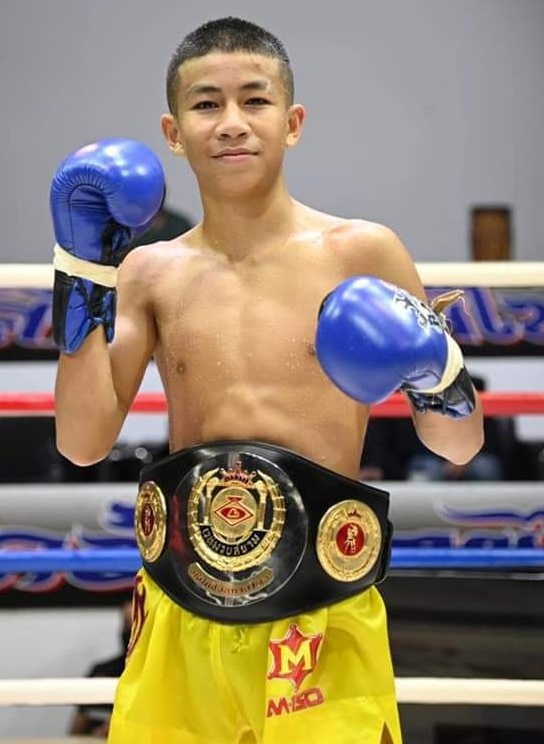 Sandey Boomdeksien is 25 years old and comes from the Northern region, the province of Chiangmaï. Nicknamed "Rambo Chiangmaï" he is a powerful fighter very strong with his punches.
On 26 May 2018, at Omnoi Stadium, Sandey beat Phetkangwan Phetmaneerat for the Omnoi belt in 112 lbs.
On May 3, 2022, at Sor Salachiph Stadium in Lopburi province, Sandey had a crazy fight against Chanrit Sor Kitkasem with a 900,000 baht Dumpan in play won by Team Boomdeksien!
On 19 November 2022, Sandey successfully defended his Omnoi belt against Patakhin Pakbangkakhao.
Sandey completed his last two fights in January and March 2023 at the Royal Thai Air Force Stadium in Pathumthani on January 23, he lost to Chokdee Magjandi and on March 8 at Radja Stadium he beat the strong Robocop Redkold Gym.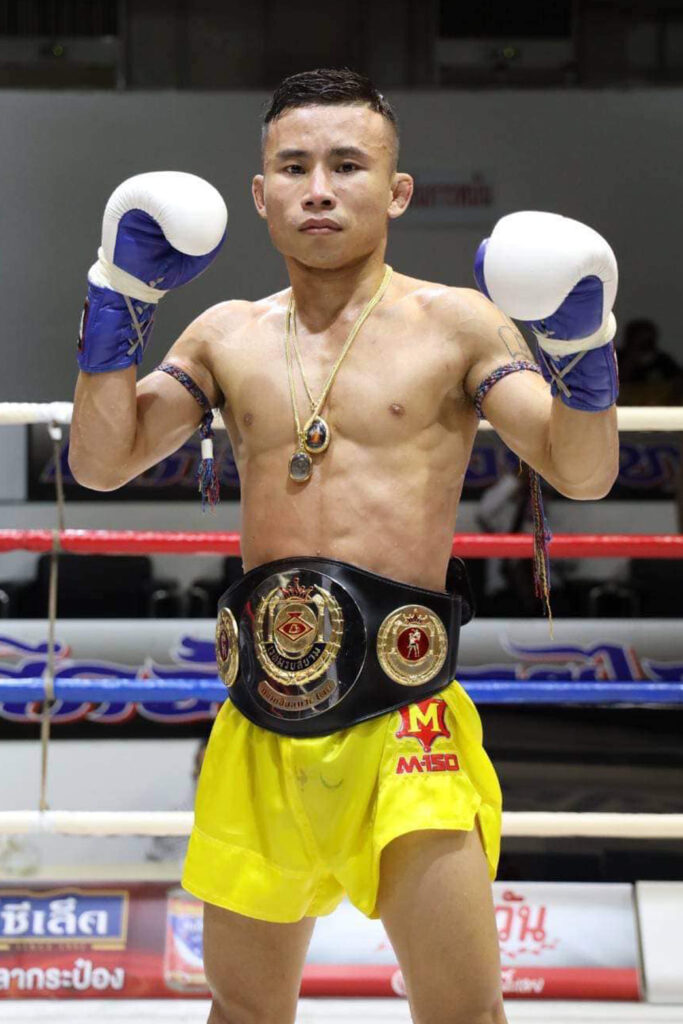 Moonkaen Boomdeksien is 16 years old and comes from the same region as the twins Yodphet Ek and Yodphet Oh from the town of Nong Bua Lamphu. Moonkaen has nearly 100 fights at only 16 years old. He won the Isaan Champion Belt in – 25 Kg. He also won the Udon Thani Province Belt.
He is a boxer very appreciated by punters for his very offensive style and his big mind.
In October 2019, at Nakhon Sawan, Moonkaen defeated by KO Phayaknoi Songphol KNC in a match with a 30,000 baht Dumpan on the play.
In December 2019, at Boxing Stadium in Rayong, Moonkaen beat Thirapong Dabres points for a 70,000 baht Dumpan.
On January 16, 2020, Monkaen fought with a 400,000 baht Dumpan at Bangkok's Radja Stadium. He met the Hanuman Pornchimplee technique that beat him to points. This is one of the few children's fights held at Bangkok's Radja Stadium with such a big Dumpan, an event organized by influential promoter Mr. Sommai Sakulmetta (Sor Sommai Promotion).
On September 14, 2020, at Rangsit stadium, Moonkaen beat by KO Yodwut Sor Kiatcharoensiri with a 100,000 baht Dumpan won by Team Boomdeksien!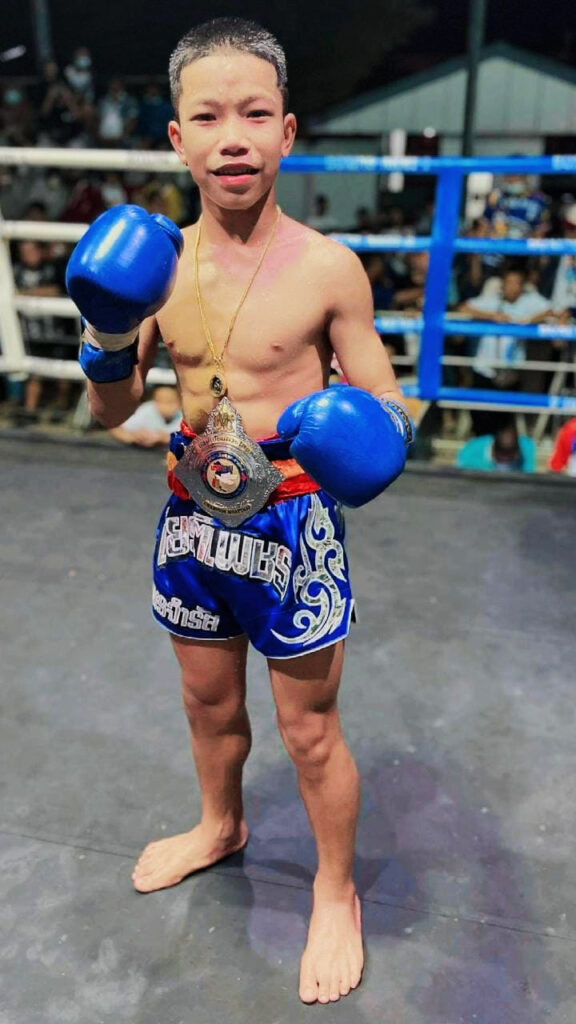 Jarowtfay Boomdeksien is 11 years old, he comes from the province of Roi Et, Auto Boomdeksien is 15 years old (Champion of the Central region, Undefeated for 4 years) and comes from the province of Pathum Thani, Songpayak Boomdeksien is 16 years old (Of his 9 fights in 2022, he won 6 including 3 by KO), he comes from the city of Samut Prakan, Petchsuwan Boomdeksien is 21 years old (Champion of the Udon Thani province), he comes from the province of Nong Bua Lamphu, Phetnamek Boomdeksien (Champion of the Center region) is 15 years old and comes from the province of Nakhon Ratchassima, Sanwo Boomdeksien (10 times champion of the North-East, in 2019 Sanwo fought for the champion belt of Isaan with a Dumpan of 460,000 baht , Sanwo is now at camp Teeded 99) is 20 years old, he comes from Khon Kaen city and Pacquiao Boomdeksien (Central Region Champion) who is 11 years old, he is from Chayaphum in the northeast region.