Temps de lecture :
5
minutes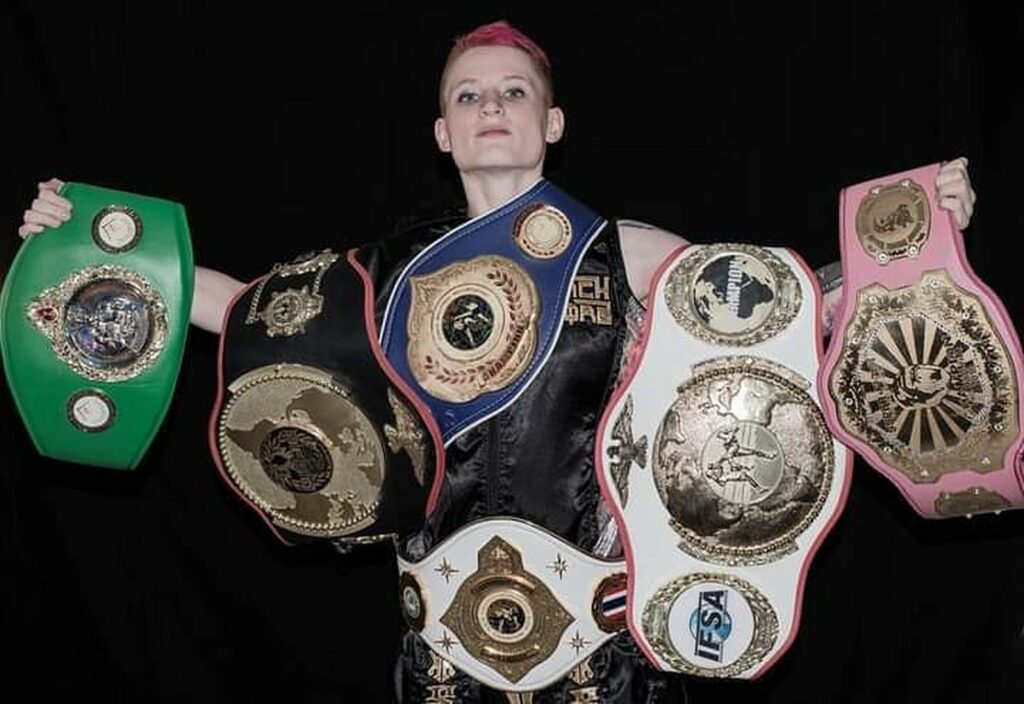 Interview of CINDY SILVESTRE
by Serge TREFEU (2022)
Hello Cindy, how are you?
Cindy Silvestre: I'm fine and you're fine!
What part of France did you grow up in?
I grew up in the High Jura, in a very small village of 80 inhabitants
What sports did you play before boxing?
I practiced high-level horseback riding, I was on a horse when I was 3!
Then, on a whim, I wanted to do boxing around the age of 13
How did you find out about Muay Thai?
I discovered the Muay Thai by watching videos of champions like Saenchaï, Ramon Dekkers, etc.
I didn't have any gyms offering Muay Thai around my house. I discovered the Muay Thai in the ring a bit by chance, because during a regional championship where I was engaged in Full-Contact fight, the only possible opponent was in Muay Thai. My coach at the time (ATBC) accepted this fight in Muay Thai (although I had never done it before), it was «on the job» as they say (Laughter).
Moreover, after this victory, this coach opened a section of Muay Thai without having ever practiced one (It's not good)…
What attracted you to this sport?
The clinch (Laughter). That's what I liked to watch the most, and that's what attracted me the most!
And that's always my favorite
In which gym did you start boxing? With which coach?
I started with Boxing at the Ring Atlétique Lédonien, and the coach was Serge Pantel. In this gym, there was also a Full-contact section that I joined little by little.
Then my gym was an ATBC leisure Gym. But I was going to learn Muay Thai in Thailand…
What champions were in that gym?
At the RAL, there were champions like Nicolas Fargette (In Boxing), or the Lacombe brothers in Full-Contact
Today, what gym are you in?
In France at Team Djérinté (91), and in Thailand «The Fight Club Muay-Thaï»
Were there any Muay Thai champions who inspired you at the beginning of your career?
Early in my career, I would say Saenchai and Pakorn
How old were you in your first fight and how was your first fight?
My first fight was in Full Contact, around 14/15 years old and I won.
My first fight in Muay Thai was precisely this famous championship without any practice before, and I also won
What was the first title you won?
Amateur: Champion of Franche-Comté Junior in 2011
Professional: 2016 WMO World Champion
You've been to Thailand a lot to train and fight, what year did you go to Thailand for the first time?
My first time in Thailand was in 2015
In which camps did you train in Thailand?
I went to camps like Lukpthufah, Yodyut Samui, Chuwatthana, Talingngam.
And now I spend a big part of the year at The Fight Club (Samut Prakan Province)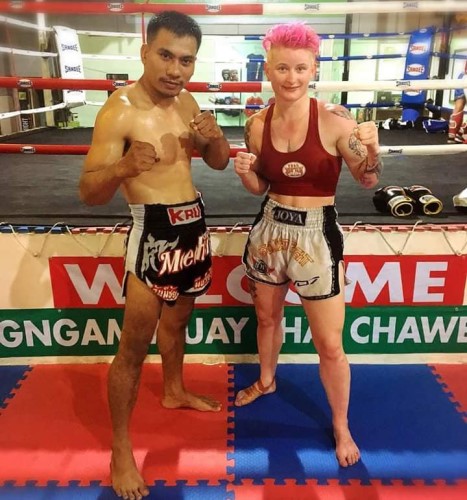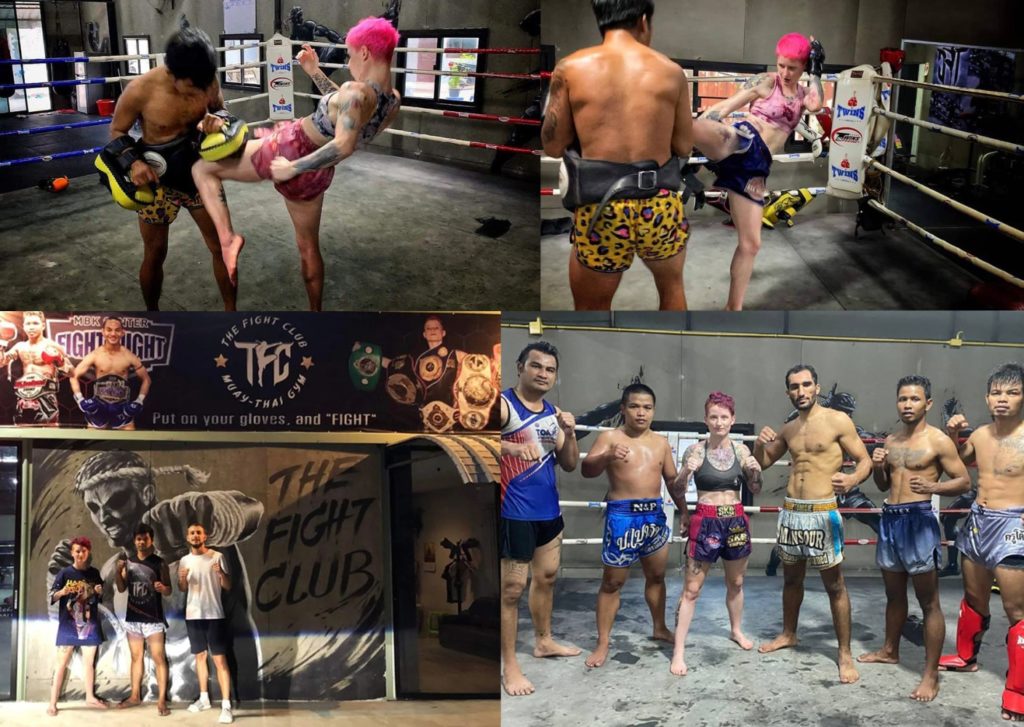 Were there any female fighters in those camps?
At Lukpthufah and Yodyut Samui, there were girls.
In the camp I'm in, the TFC, I'm the only girl…
Were your first training in these camps difficult, you easily adapted to Thai living conditions?
These are the French living conditions with which I have trouble (Laughter).
I've always loved the two workouts a day, the long clinch sessions, living at the camp, so I'm like a fish in the water
Can you tell us about your first fight in Thailand and how it went?
It was a WMO World Championship final, at 57 kg, at the time. The first round was complicated because the Thai was very heavy and I took a High Kick in the first few seconds. Then, for the next four rounds, I advanced on her and I overtook her in boxing, I won by decision!
How many fights you carried out in Thailand? In which stadiums?
In Thailand, I'd say about 15 fights.
I fought at National Stadium, Thai Fight, Super Field, Muay-Thai Hardcore, and IMTF in Ayuthaya
Women fighters now have the right to fight in the mythical stadium of Lumpinee, you would like to fight in this stadium?
I had a bit of a hard time getting into it, and I fight there on March 26….
What are the Thai fighters you've faced?
I don't remember some names, Non Par Surinam (Victory), Anlay Somglunkun (Victory), Thananchanok Kaewsamrit (Victory), PhayaSingh PhuketSinghMuayThai (Defeat), Petchjeeja Lukjaoporongtom (Defeat), Supphanika Tanchoem (Victory)
What do you think of Thai female boxers?
They cut well (Laughter). We always get the impression that they are no longer the same on the ring as on weighing.
Otherwise, it's a bit like everywhere, there are more and more different styles, Fimeu, Muay Bouk, Muay Pam, Muay Khao, each fight is different
Are you interested in Thai culture?
Yes, especially since I spend a lot of time there. I'm learning the language now
What are your favorite Thai champions?
Petchbonchu, Pakorn, Daraeg, Samson Issan, Rittewada
How many fights have you done so far?
In professional, 107 fights for 70 victories and 37 defeats.
In amateur and semi-pro, I have to have about 40 fights (All disciplines combined) with about 30 victories for 10 defeats
What has been your hardest fight so far?
Against Ruth Adshdown, I was a very young Pro and she was already the first woman to have a WBC Diamond belt.
She was very hard and powerful. I broke her nose on a poke in the fourth round, it was a very nice war, but she took the victory at the points…
Your best fighting memory?
My fight against Thanonchanok Kaewsamrit was a few days before the first lockdown. A fight planned at 51 kg, it was at 54 kg, the fight almost did not take place.
The best memory because the match went exactly as we had planned, a very nice victory against a superb Fimeu!
What's your favorite fighting technique?
The clinch! And the Low Kick, because I'm small with «stocky» thighs
You won several world titles, can you tell us which opponent and on what date?
WMO World Title in – 57 Kg against Nongoum Por Niramon in 2016, ICO Intercontinental Title in – 53 Kg 500 against Antonella Zizzi in 2016, WMO World Title in – 57 Kg against Anlay Somglunkun in 2017, ISFA World Title in – 54 Kg against Tamara Platter in 2017, WTFF World Title in – 55 Kg against Sarah Vuelnes in 2017, WMO World Title in – 54 Kg against Tchai Xnong in 2018, AFSO World Title in – 53 Kg 500 against Laura Torre in 2018, IMTF World Title in – 51 Kg against Supphanika Tanchoem in 2019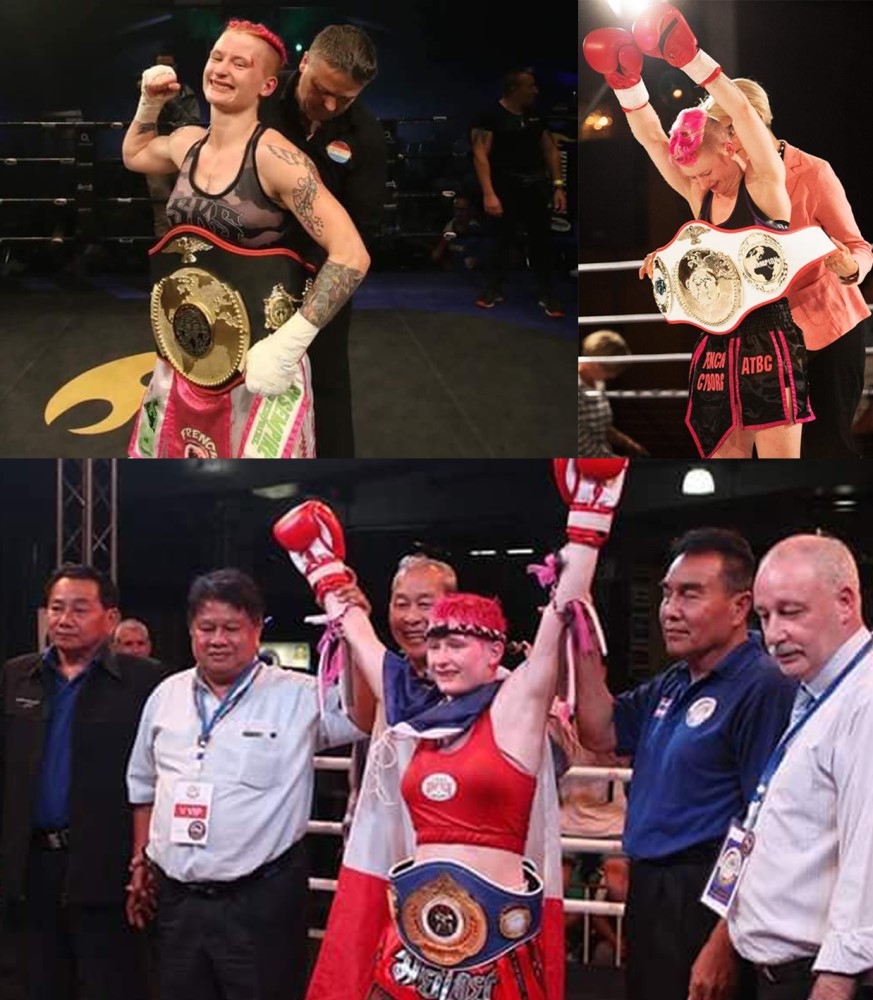 You are nicknamed «Cyborg», where does this nickname come from?
I was born very premature, I had to fight when I was little so I always had this «super heroine» side, and then when I am in a corner I answer «Yes, Yes, Yes» like a robot.
So when you mix the two it makes «Cyborg»!
Which are the strongest current female fighters in your category for you? Is there one in particular you'd like to face?
Among the 50-52 Kg in Muay Thai, there are Petchjeeja, Lara Fernandez, Dani Fall.
Among the 52-54 Kg in Muay Thai, there is Iman Barlow, Stamp Fairtex.
I would very much like my revenge against Petchjeeja. But otherwise I accept everyone between 50 and 53 kg, as long as the conditions are good for the two boxers
The two great champions Souris Manfredi and Anissa Meksen are in your category, would you like to face them?
I accept everyone in Muay Thai between 50 and 53 kg, as long as the conditions are good for the two boxers, so, if these fights are offered to me, I take
What do you think about the level of female Muay Thai in France?
Since I do a lot of international boxing, I admit I don't know 100% about French nakmuayin.
But I know we have future champions like Nour you interviewed, Célia Sarraute, and we also have some very good boxers like Anaëlle Angerville.
The French female Muay Thai, what it would take to be effective is «less protection», and judges of Muay Thai (I don't generalize, we still have some)…
For you, in France, aren't female fighters putting enough money forward in events?
I've been a professional since 2016, boxing 107 times, so there's room for girls.
We see more and more female fights even on the big promotions, and even 100% female shows, there is better.
I think it's important that each organization put at least two women's fights by event…
Do you work where you live with boxing?
I work next door, because I also want to flourish next to Muay Thai.
I am Corporate Relations Manager in an engineering school (So I can work remotely during the periods when I am in Thailand)
What are your goals for 2022?
Fight! By taking the most victories of course.
I've always liked my big fight rhythm, with very busy seasons, I've done almost all the organizations I wanted, I take every fight very seriously, so I want Fight.
To end up being the Number One of 50 Kg!
Do you want to add anything?
I'd like to thank you, it's an honor to have answered your questions.
I would like to thank my coaches (French and Thai) for all they do for me.
And I would like to thank all the people who support me (In every sense of the word especially when I'm on a diet «Laugh»), and who allow me to live this life
The Cyborg doesn't refuse anyone, Cindy Silvestre is a champion who loves challenges, big challenges don't scare her.
She faced formidable champions such as Thai Petchjeeja Lukjaoporongtom, the big winner of the Thai Fight 2021, Ukrainian Lena Ovchynnikova (WBC and WKF World Champion), English killers Iman Barlow (WPMF and S1 World Champion) and Ruth Ashdown (WBC and WBC Diamond World Champion).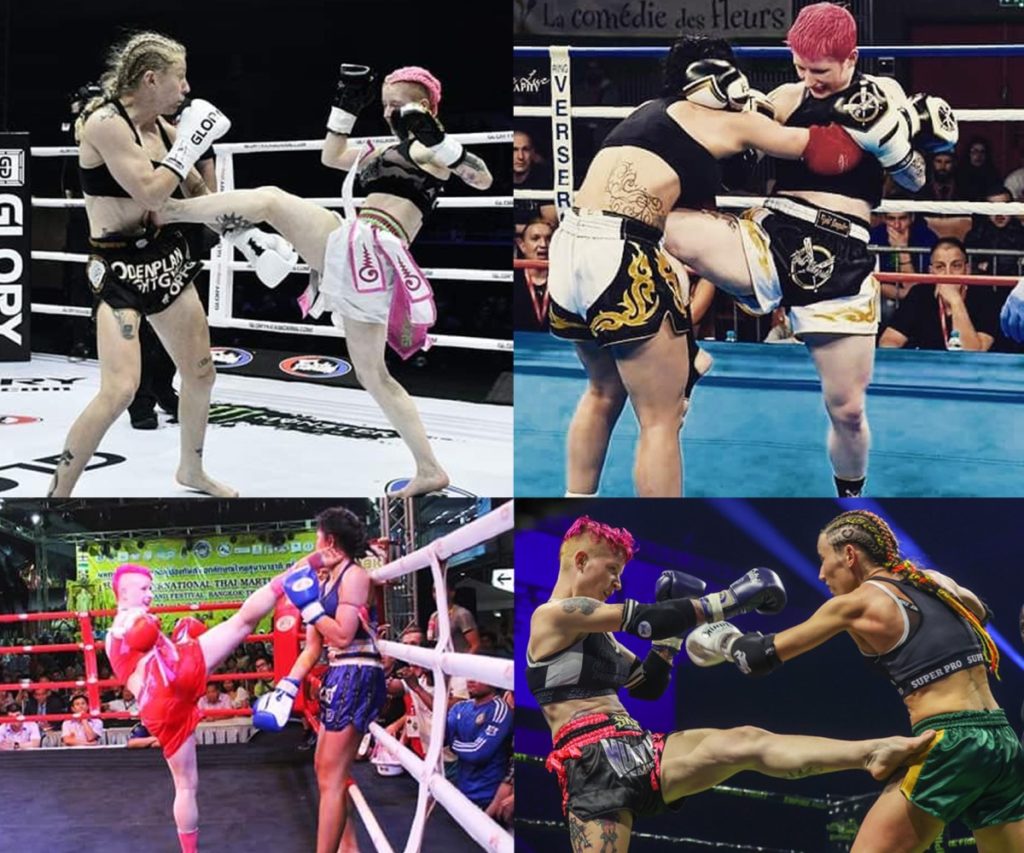 Cindy Silvestre is a bulimic of training, she does not hesitate to stay long periods in Thailand to fight as much as possible, she is a true lover of her sport.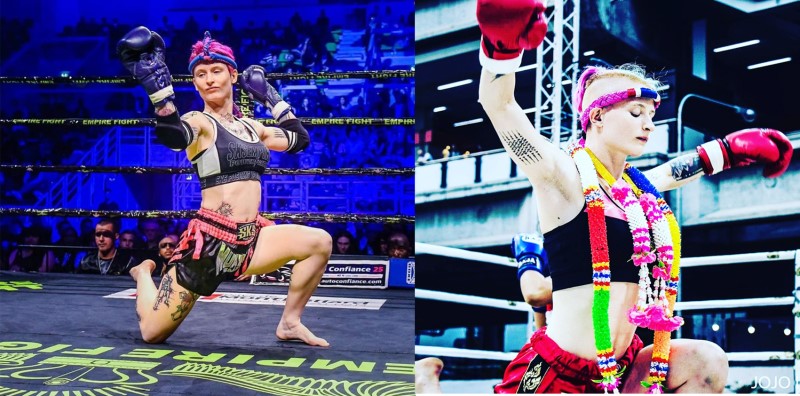 His next fight will take place in Bangkok's most famous stadiums, the Lumpinee stadium. A stadium that has long been forbidden to female combatants. The French champion intends to register her name in the temple of Muay Thai!
CINDY SILVESTRE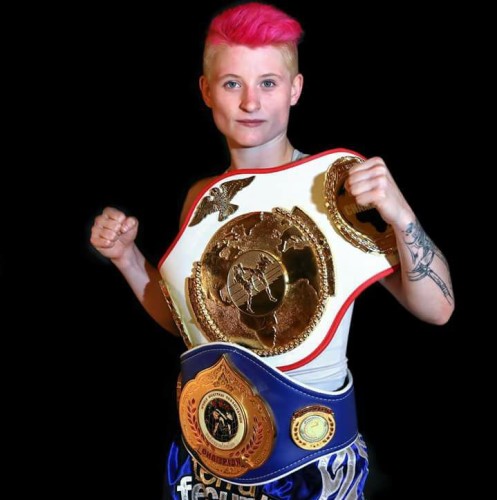 Date of birth: February 12, 1993
Weight: 53 Kg
Height: 1m60
Number of fights: 107. 70 wins, 37 losses.
Title: IMTF world champion in – 51 Kg (2019), AFSO world champion in – 53 Kg 500 (2018), WMO world champion in – 54 Kg (2018), WTFF world champion in – 55 Kg (2017), ISFA world champion in – 54 Kg (2017), WMO world champion in – 57 Kg (2017), ICO intercontinental champion in – 53 Kg 500 (2016), WMO world champion in – 57 Kg (2016)
Team: Djérinté and The Fight Club Muay-Thai