HIPPY SINGMANEE (Career 1980-1990)
Temps de lecture :
4
minutes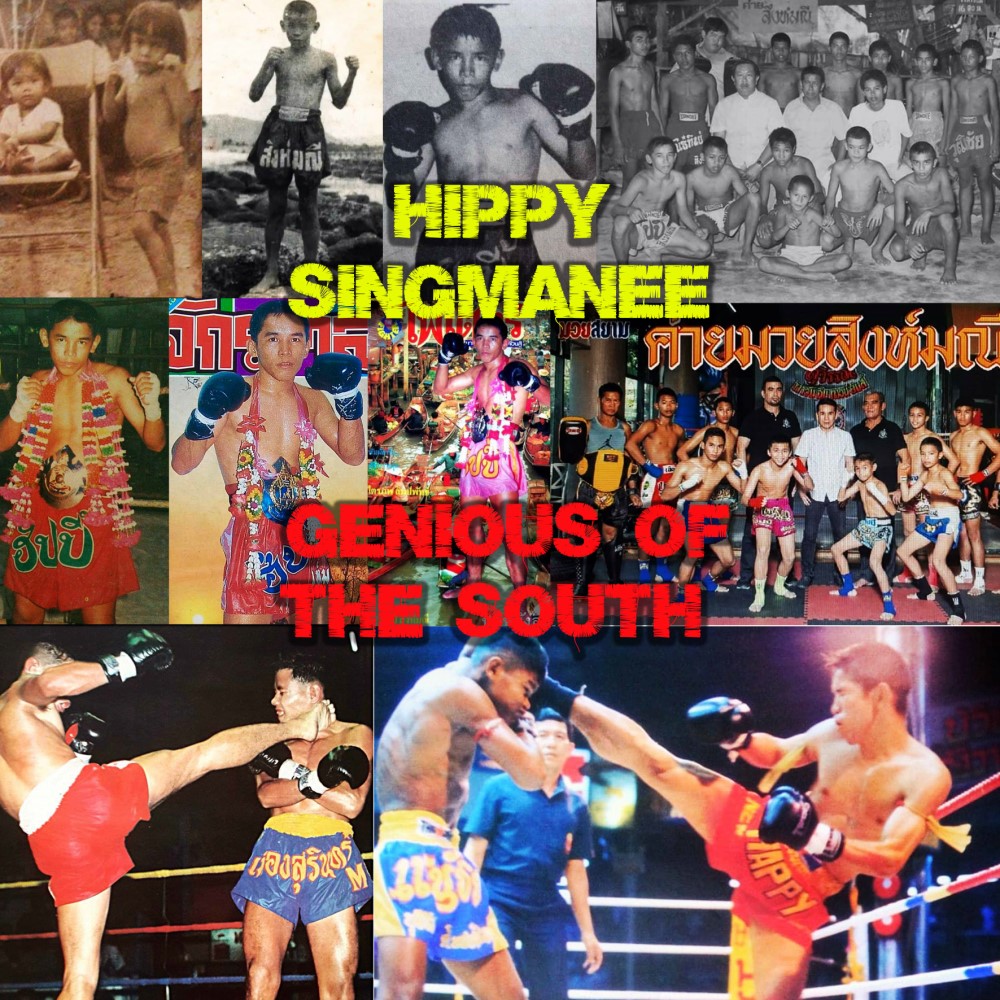 HIPPY SINGMANEE
« GENIOUS OF THE SOUTH »
Pichet Chuthong was born on August 14, 1967 in Thung Song in Nakhon Si Thammarat province, a region in southern Thailand.
Pichet Chuthong is part of a large family of eight children with four boys and four girls.
Pichet's father, Cherd Chuthong was a former boxer whose fighting name was Booncherd Singkanong, he created a boxing camp behind the family home he named the Singmanee Gym. His first fighters were his own children.
The Chuthong family was very poor, their house was in the countryside, surrounded by bamboo forests and banana trees. Behind his house, Cherd Chuthong had hung bags of fertilizer on old wooden posts, which he used as a punching bag for his little boxers. His children also trained by tapping into banana trees to harden their shins and especially to build a warrior mind. The structure of the Singmanee camp was archaic, the ground was in earth and there was no ring.
The young Pichet was the most vicious of the Chuthong family, they often fight at school. He was a young rebel who stood out from the other children because he had long hair and liked to dance, he loved to perform. Pichet grew up in the 1970s, a time when the «Hippies» phenomenon had invaded the world. In Thailand, and throughout Southeast Asia, there were many hippies.
The hippie movement was born in the 1960s in the United States. It is a movement that preaches love, peace and freedom. His slogan was Peace and Love. The men wore long hair to protest the enlistment of young people in the Vietnam War.
Cherd Chuthong nicknamed his son "Hippy" in reference to this long-haired community. « Hippy Singmanee » has become the nickname of the young fighter Pichet Chuthong.
His older brother was named Thungs Song (In reference to the city of Thung Song) Singmanee and his younger brother Kompayak (Tiger) Singmanee. Kompayak later became a great champion who conquered the belt of the Lumpinee stadium in 105 lbs!
Hippy made his first fight in 1978, the day of the «Peemai» (Thai New Year's Day), he was 10 years old.
Hippy was a wonder boy boxer. He quickly made a name for himself through his many victorious battles in the southern provinces of Thailand. He won, at a very young age, the southern champion belt for small weights against Dennarong Davy.
At 15 years old, in 1982, he did his first fight in the Bangkok area, in a small stadium in Samut Prakarn (30 Km from Bangkok). He beat champion Atit Sor Djensit.
On March 3, 1985, at the age of 18, he did his first fight in the big stadium of Bangkok, the Ratchadamnoen.
Hippy Singmanee was an exceptional fighter, not a puncher. But thanks to his superb techniques of nudging and High Kick, he was able to defeat many opponents by inflicting severe KO Technique.
In the 80s, Hippy was for many years one of the best fighters in his category, his dantesques fights against killers such as Rambo Pongsiri and Toto Por Pongsawang have become cult matches!
On July 26, 1988, at Lumpinee Stadium, Hippy faced the terror of the rings Pongsiri Por Ruamrudee nicknamed «Rambo». The two fighters made a terrible battle of middle kick that remained engraved in the annals of Muay Thai. Rambo won the match by points.
Hippy and Toto played an amazing match on October 6, 1989 at Lumpinee Stadium, one of the most spectacular matches of the year. Muay Bouk Toto did all the fighting with a broken nose and a bloody head. The match was won by Toto Por Pongsawang.
Nicknamed «Khod Muay Muang Tai» (The side from South), Hippy conquered two belts of the Lumpinee stadium in 105 lbs, a belt of the Lumpinee in 108 lbs and a belt of world champion.
His first belt, he won it on December 19, 1986 by beating Pungluang Kiatanan. A victorious rematch as Pungluang had beaten Hippy four months before. Hippy became Lumpinee champion in 105 lbs!
Hippy successfully defended his title against star Karuhat Sor Supawan (Lumpinee Champion in 112 lbs and 122 lbs). Karuhat was a ring genius who was nicknamed Aysiya (The Gifted).
But due to two consecutive losses by KO in major stadiums in Bangkok (Against Maewpa Sun Miskawan and star Langsuan Panyuthaphum), Hippy lost his Lumpinee title in 105 lbs…
On January 26, 1988, at the Lumpinee stadium, Hippy recovered his trophy by knocking out Seksan Sitchomthong (105 lbs Lumpinee Champion) in the third round!
On August 30, 1988, Hippy found Karuhat Sor Supawan for the Lumpinee title in 108 lbs. Hippy beat Karuhat and hung a new belt on his waist!
Hippy and Karuhat have always had big technical confrontations, they met four times with two wins for Hippy, one win for Karuhat and they drew.
Hippy successfully defended his Lumpinee belt in 108 lbs in 1989 against the legendary Namkabuan Nong Khee Pahuyut (130 lbs Lumpinee champion, 130 lbs WMC World champion) nicknamed «The Ring Genius». The two champions met twice with one victory each.
Hippy lost his Lumpinee title in 1990 in 108 lbs against the solid Tukthathong Por Pongsawang.
On 31 December 1989, in Paris, at the Carpentier Hall, Hippy Singmanee challenged the reigning European champion, French Jaid Seddak (World Champion, European Champion). This match counted for the world title, the match was very close and Hippy won the points, he won the world belt in – 53 Kg!
In 1986, Hippy beat Dokmaipa Por Pongsawang and Panomrunglek Chor Sawat (122 lbs Lumpinee champion).
Dokmaipa Por Pongsawang (108 lbs Lumpinee Champion, 115 lbs Lumpinee Champion, 118 lbs Lumpinee Champion) nicknamed "Saytokop" (The extremely powerful left leg) was a fierce fighter, Hippy and Dokmaipa met twice with two victories for Hippy.
In 1988, Hippy defeated two ring stars, Karuhat Sor Supawan and the terrible puncher Veeraphol Sahaprom.
Veeraphol Sahaprom (108 lbs, 112 lbs and 115 lbs Radja champion, WBA and WBC world boxing champion, 46 KO wins in Boxing) was one of the biggest punchers of the 1990s. Hippy met Veeraphol three times, won once and lost twice to the fearsome puncher.
The Hippy technician also beat the great champions Chainoi Muangsurin, Jaroenthong Kiatbanchong, Khunponoy Kietpetchnoi, Nungubon Sitlerchai, Chatchai Sasakul, Boonlong Sor Thanikul, Boonlai Sor Thanikul and Kaolan Kaovichit!
Hippy made 223 fights for 161 wins, 34 losses and 28 draws. He marked the 80s and the 90s with his breathtaking fights.
After his career, Hippy established his own camp in 2012, the Town in Town Gym which is also called Por Suwan Gym. His camp is located in the Wang Thong Lang district in the northeastern suburbs of Bangkok. The neighborhood of Wang Thong Lang is very lively at night, there are many nightclubs and bars. Camp Town in Town is a former hotel night bar that has been restored to a gym.
Today, Hippy teaches at his boxing camp in Bangkok. Hippy has also embarked a bit into combat promotion. In 2011, he was the promoter of the show that pitted two former stars of the rings, Sagat Petchyindee (55) and Pud Lao Lek (60), a match that took place in the south of the country in Surathani.
Hippy is the patriarch of a large family with eight children. His children all do a bit of boxing. But only his biggest boy has made a career as a professional boxer. He was called «Hippynoi Singmanee», later he joined the famous Sitsongpeenong camp in Bangkok and he fought under the name of Hippynoi Sitsongpeenong.
BY SERGE TREFEU