JAROENTHONG KIATBANCHONG (Career 1980-1990)
Temps de lecture :
7
minutes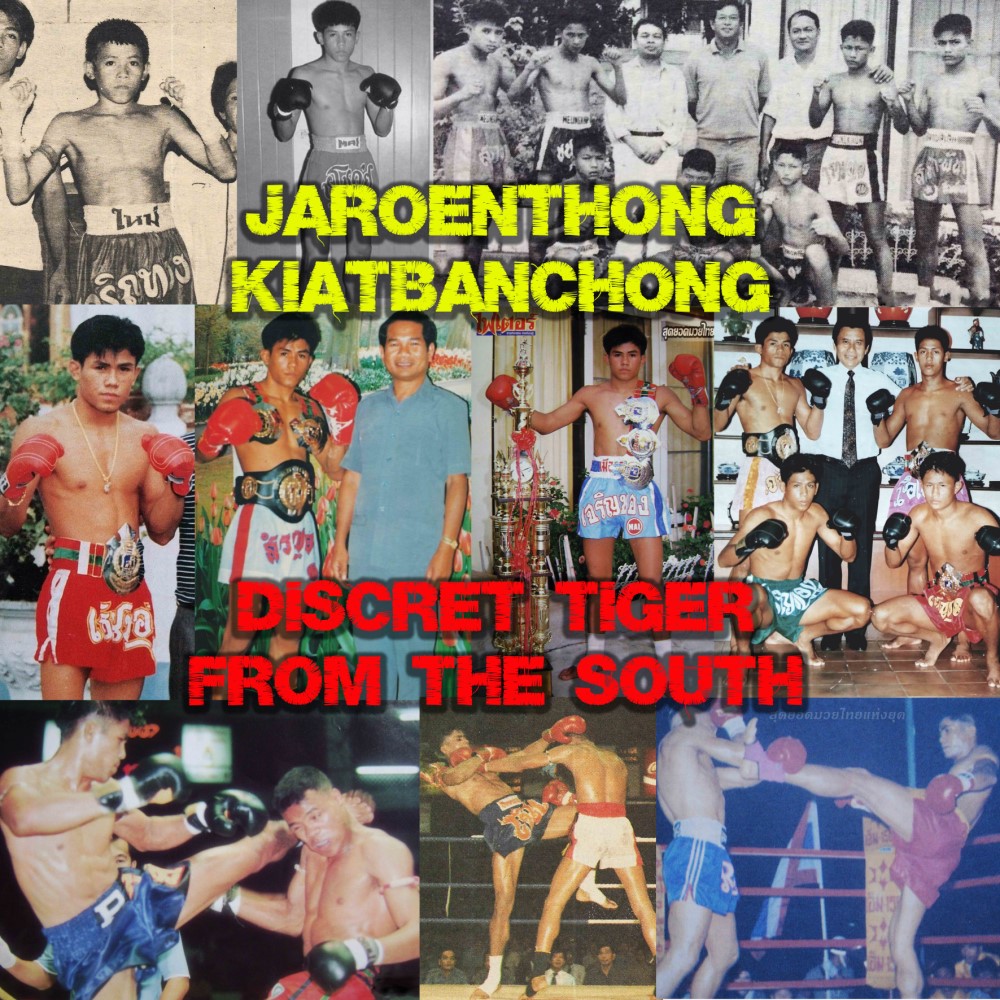 JAROENTHONG KIATBANCHONG
« DISCRET TIGER FROM THE SOUTH »
Jaroenthong Kiatbanchong whose real name Jaroen Chumanee was born on June 11, 1968 in the village of Thung Yai, a village located in the region of Nakhon Si Tammarat in southern Thailand.
Jaroenthong comes from a large family of nine children of which he is the seventh child of the family. He lost his father when he was a child. Her mother had to raise her nine children alone. His mother was an extremely courageous woman who worked hard in the rubber plantations to feed her many children.
His older brother, Chalamthong Kiatbanchong, was a good fighter and his younger brother, Samranthong Kiatbanchong, was a great champion. Samranthong was two years younger than Jaroenthong, he was the eighth child of the Chumanee family. Samranthong did not win a belt of big stadiums of Bangkok but he fought once for the title of the stadium of Lumpinee and once for the title of the stadium of Radja.
Unfortunately Samranthong died tragically in 2008, in a road accident, he was 37 years old…
Jaroenthong made his first fight at 12 years old and he won the sum of 100 baht.
He began his training at the Kiatbanchong camp in the Nakhon Si Tammarat region. Then, when he was a teenager, he left for Bangkok to study at Wimuttayaram Pittayakan High School in the Bangkok Noi district. Jaroenthong took the bus after school to go train in the Muay Thai School camp (Kiatbanchong Gym in Bangkok) in the Bangseu district.
Jaroenthong has spent his entire career in this famous camp whose teacher was Pi Mai Muangkhon (Chuchok Chukaewruang). At the time, the Kiatbanchong of Bangkok was one of the most famous camps in the country, there were great champions such as Oley, Samranthong, Issara, Jaroensap, Sayidkhan and even at one time the backpacker of the camps the puncheur Wangchannoi.
Jaroenthong was wonder boy in boxing rings, he won his first twenty fights in Bangkok, his first defeat in Bangkok was against the star Hippy Singmanee.
Jaroenthong won his first Lumpinee belt in 115 lbs against Payanoi Sor Thasanee.
Then, he won the Lumpinee belt twice in 126 lbs against the formidable Therdkiet Sitepitak and against the puncher Samransak Muangsurin.
Jaroenthong's record is 151 fights for 120 wins, 29 losses and 2 draws.
Nicknamed "Discreet Tiger from the South", his boxing style was technical and he had smart boxing. Moreover, he was very good with his fists because he often fought in Boxing. In Boxing, Jaroenthong won the Gold medal at the International Games in Surathani and the Bronze medal at the King's Cup.
His hardest fight was against the legendary Samart Payakaroon who beat him by KO…
His best purse, he received it for his fight against the great champion Saencheng Pinsinchai, a purse of 250,000 baht.
In 1987, Jaroenthong made seven fights with five wins, one draw and one loss.
He beat Kohpho Sichanyut, the great champions Paruhatlek Sit Chunthong (Lumpinee Champion in 102 lbs, 104 lbs, 108 lbs and 112 lbs) nicknamed "Gentleman of the ring", Nampon Nongkee Pahuyut (Lumpinee Champion in 112 lbs and in 126 lbs) nicknamed "Khun Khao Nay Peuaiye" (The rebuilt knee) and Denneua Denmolee (Lumpinee champion in 105 lbs, Radja champion in 112 lbs, Radja champion in 115 lbs).
He made a draw against Nampon and he lost by KO against the terrible puncher Wangchanoi Sor Palangchai (Lumpinee Champion in 118 lbs and 122 lbs, Best boxer of the year 1993) nicknamed "Aymat 33 Wee" (The searing punch in 33 seconds).
On December 29, 1987, in the stadium of Lumpinee, Jaroenthong fought against Payanoi Sor Thasanee for the title of Lumpinee in 115 lbs. Payapnoi (26 years old) had more experience than Jaroenthong (19 years old), he had conquered the title in 115 lbs in the two big stadiums of Bangkok, Lumpinee and Radja. He was a tough fighter against evil who was nicknamed Chalawan Phikat (The Destroying Crocodile). In this match, Jaroenthong was technically superior and defeated Payapnoi on points. Jaroenthong has won his first Lumpinee stadium belt!
In 1988, Jaroenthong made ten fights for six wins and four losses. He beat Panrit Luksrirat, Mono Singhakaosaen, ring legends Langsuan Panyuthaphum (Lumpinee Champion in 108 lbs, 112 lbs and 115 lbs, Best Boxer of the Year 1987) nicknamed "Khun Khao Ray Namdjai" (The blow of heartless knees), Chamophet Ha Phalang (5 Radja belts, 4 Lumpinee belts, Best boxer of the year 1985) and Panomtuanglek Ha Palang (Lumpinee champion in 122 lbs, Radja champion in 118 lbs, Radja champion in 115 lbs, Best boxer of the year 1986).
He lost to Panrit Luksrirat, Yodphet Sor Chitpattana and puncher Samransak Muangsurin.
On January 26, 1988, Jaroenthong defended his Lumpinee title in 115 lbs against Wisanupon Saksamut (25 years old). Wisanupon was one of the greatest champions of the 80s, he won the Lumpinee belt in 105 lbs, 108 lbs and 115 lbs. Jaroenthong lost the match and his Lumpinee belt against Wisanupon.
On November 25, 1988, Jaroenthong (20 year) met a Muay Thai monument, Samransak Muangsurin (29 year) who had beaten him a month earlier.
For the rematch match, the Lumpinee belt in 126 lbs was at stake. Samransak was the winner of the Lumpinee in 126 lbs, a belt he had won in April by beating star Chanchai Sor Tamrangsee. Samransak also won the title in 126 lbs in 1986 against ring legend Saengsakda Kitikasem. Samransak was a powerful fighter known as "Ay Matsaklek" (The Steel Fist) because he had phenomenal power in his fists. Jaroenthong had a great match and beat at Samransak points, he won his second Lumpinee title!
1989 was not a very good year for Jaroenthong who lost his Lumpinee title and lost hard twice by knockout in the first round against two legends all the same, Samart Payakaroon and Manasak Sor Ploenchit. Jaroenthong fought thirteen fights, won seven and lost six.
On January 6, 1989, at the Lumpinee stadium, Jaroenthong met the Lord of the Rings Samart Payakaroon (Lumpinee Champion in 102 lbs, 108 lbs, 115 lbs and 126 lbs, Best Boxer of the Year 1981, 1983 and 1988). Called «Payakmat» (The tiger), Samart was still at the top of his career. Jaroenthong was defeated in the first round…
On March 10, in Lumpinee stadium, Jaroenthong defended his Lumpinee title in 126 lbs against Muay Bouk Nampon Nongkhee Pahuyut. Nampon beat him on points and stole his trophy. The two champions met again a month later and Jaroenthong defeated Nampon by referee stoppage in the third round.
On October 6, Nampon defended his Lumpinee title in 126 lbs against Jaroenthong. Nampon won the match and retained his Lumpinee belt. Jaroenthong and Nampon have faced each other six times with three wins for Jaroenthong, two wins for Nampon and a draw.
Jaroenthong still beat great champions that year such as Phetdam Lukborai (Lumpinee Champion in 118 lbs) nicknamed "Khun Khao Kin Kone" (The knee kick that eats the person), Cherry Sor Wanich (Lumpinee Champion in 130 lbs) nicknamed Khun Khao Chalam Dam (The Black Shark Knee Kick) and Sombat Sor Thanikul (World Champion).
On December 31, Jaroenthong came to France to fight against the strong Dutch champion André Masseur whom he beat by KO. In Paris, for this match, Jaroenthong won the WMTC world belt in 135 lbs!
The year 1990 was the busiest for Jaroenthong, he made thirteen fights for eight wins, four losses and a draw.
On 19 January, Jaroenthong found Phetdam Lukborai and beat him in the points. A month later, they fought at the Lumpinee stadium with a dumpan bet of one million baht. Jaroenthong lost the match. Jaroenthong and Phetdam have faced each other seven times with five wins for Jaroenthong and two wins for Phetdam. The two defeats against Phetdam caused the Jaroenthong Team to lose important dumpan bets twice. Two million baht the first time and one million baht for the second lost match…
On April 24, in the stadium of Lumpinee, Jaroenthong defeated Thedkiat Sitthepitak (Lumpinee Champion in 122 lbs and 126 lbs) nicknamed "Rachanhaeng Lumpinee" (The King of Lumpinee).
Jaroenthong again beat the King of Lumpinee. A year later, on June 14, 1991, in the Lumpinee stadium, Therdkiat defended his Lumpinee belt in 126 lbs against Jaroenthong. Therdkiat lost the match on points and his Lumpinee belt. Jaroenthong won the Lumpinee belt for the second time in 126 lbs!
In March he lost to puncher Superlek Sor Isaan, in June he drew against Cherry Sor Wanich and in July he lost to Cherry in a match made in the United States.
A few months after having lost hard against the powerful Superlek Sor Isaan (Defeat by technical knockout) in the stadium of Lumpinee, Jaroenthong made the rematch against Superlek in New Zealand.
Superlek (Lumpinee Champion in 122 lbs and 126 lbs) was a ring destroyer who beat by KO great champions like Chandet Sor Prantalay, Cherry Sor Wanich, Namphon Nongkee Pahuyuth, Oley Kiatoneway, Grandprixnoi Muangchaiyaphum, also the Australian star John Wayne Parr.
Jaroenthong was not the favourites for this rematch match. Moreover, his 135 lbs WMTC world title was put into play for this overseas fight. Jaroenthong fought intelligently by technically mastering Superlek's aggressive assaults and won the points match. Jaroenthong kept his WMTC World Champion title!
Jaroenthong defended his world title again the same year against the Dutch European champion Tommy Van Der Berg. In Holland, he brilliantly retained his world belt against the Dutch champion.
On August 15, in the stadium of Radja, Jaroenthong was challenged by the champion of Radja, Rajasak Sor Vorapin (Champion of Radja in 115 lbs, in 122 lbs and in 126 lbs) nicknamed "Khun Khao Laweeyan" (The deadly knee blow or the reaper's knee kick). Rajasak who was champion of Radja beat on points the champion of Lumpinee Jaroenthong.
They did the rematch on September 25 at Lumpinee Stadium and Jaroenthong beat Khun Khao Laweeyan.
Later, Jaroenthong beat Rajasak again, once in Radja stadium and once in Lumpinee stadium!
During 1990, Jaroenthong also beat English European champion Bobby Bekker in Japan.
In 1991, Jaroenthong made big fights against stars Namkabuan Nongkhee Pahuyut, Wangchannoi Sor Palangchai and Nuathoranee Thongraja. Namkabuan (Lumpinee Champion in 130 lbs, WMC World Champion in 130 lbs) nicknamed "The Ring Genius" beat him twice on points. Wangchannoi beat him again but on points. Wangchanoi and Jaroenthong made it three matches with two wins for Wangchannoi and one win for Jaroenthong.
Jaroenthong lost on points against Nuathoranee (No. 1 Lumpinee) nicknamed "Ay Ret Dong" (The Mighty Rhinoceros).
Jaroenthong won the Lumpinee title in 126 lbs against Thedkiat Sitthepitak, he beat Rajasak Sor Vorapin again and beat the champion Panomrunglek Chor Sawat (Lumpinee Champion in 122 lbs).
In 1992, Jaroenthong defeated star Chanchai Sor Tamrangsee (Lumpinee Champion in 118 lbs, Lumpinee Champion in 126 lbs, TV7 Champion in 135 lbs) nicknamed Phud 2 (Second Poot) in reference to the legend of the rings, Phud Lao Lek. He defeated Rajasak Sor Vorapin and Phetdam Lukborai again. Jaroenthong also won against the formidable Muay Khao Thaweechai Wor Preecha (126 lbs Radja Champion) nicknamed Khun Khao Chalam Pheuk (White Shark Knee Kick).
On December 4, 1993, in a temporary boxing stadium of the Royal Thai Naval Academy, in the province of Samut Prakan (30 km from Bangkok), Jaroenthong met the Dutch terror Ramon Dekkers. The terrible puncher Ramon Dekkers had beaten by KO champions such as Khaled Hebieb, Andre Richard-Nam, Cherry Sor Wanich, Coban Lookchaomaesaitong, Joel Cesar, Mourad Djebli.
The match between Jaroenthong and Ramon Dekkers counted for the WMC world title in 140 lbs. The fight was extremely violent, Ramon Dekkers ended up with his face wide open following Jaroenthong's precise elbow strikes. Ramon Dekkers had sounded Jaroenthong well with his fists throughout the match. But Jaroenthong was technically superior to the Dutchman.
The final decision was very close, the Thai judge gave 48 points for Jaroenthong and 46 points for Ramon Dekkers, the Japanese judge gave 48 points for Jaroenthong and 48 points for Ramon Dekkers, the French judge gave 49 points to Jaroenthong and 48 points to Ramon Dekkers. Jaroenthong won a new world belt!
Jaroenthong still made some great fights in 1994, he lost on points again against Superlek Sor Isaan and against the bull Orono Por Muang Ubon (Lumpinee Champion in 135 lbs) nicknamed "Sam O" (3 O).
Jaroenthong has ended his formidable career in 1994. But six years later, he got back in the ring, in the United States, he beat the American champion Melchor Menor (Kickboxing World Champion).
In 2013, at the age of 45, Jaroenthong made two fights in the famous Toyota Marathon tournament. He beat Japan's Yukiya Nakamura and lost on points to Iran's Vahid Shahbzai.
Jaroenthong was a magnificent fighter, a boxer who mastered the art of dodging. This great champion often fought hard against champions he faced several times like Namphon (6 times), Cherry (4 times), Phetdam (7 times), Superlek (5 times), Therdkiet (3 times) and Rajasak (4 times).
Jaroenthong beat best in class such as Denneua Denmolee, Paruhatlek Sitchunthong, Langsuan Phanyutaphum, Dokmaipa Por Pongsawang, Nampon Nong Kee Pahuyut (3 times), Chamophet Ha Phalang, Wangchannoi Sor Palangchai, Panomtuanlek Ha Phalang, Phetdam Lukborai (4 times), Payanoi Sor Thasanee, Samransak Muangsurin, Therdkiet Sitepitak (2 times), Cherry Sor Wanich (2 times), Superlek Sor Isaan (3 times), Saencheng Pinsinchai, Rajasak Sor Vorapin (3 times), Chanchai Sor Tamrangsee, Sombat Sor Thanikul!
Jaroenthong is a multi-faceted boxer who has also tried his hand at politics, modeling and cinema. In politics, a few years ago, he ran in regional elections in his region of Nakhon Si Tammarat in the south, a region that is close to his heart because a large part of his family lives there.
Jaroenthong has always been generous to his native village of Thung Yai where he built a gymnasium, a sports centre called Jaroenthong Sports Center, a boxing stadium and a football field.
After his career, this great champion created his own Muay Thai school and over the years he opened 16 Jaroenthong Gym camps across the country, including in Hong Kong and Singapore.
This great champion became a formidable businessman who created a franchise under the name of his brand "Jaroenthong Muay Thai Gym", the franchisee can invest in small, medium and large boxing camp structures depending on the size of the site.
Many Thai showbiz stars come to train at Master Jaroenthong, also, world football stars have come to Jaroenthong Gym camps, such as the French Bixente Lizarazu and the Japanese Nakata Hidetoshi!
Jaroenthong has also shot in several films, the most famous of which are Chookdee and Yamada the Ayothaya Samurai.
In the film Chookdee about the life of the French champion Dida Diafat, he plays the role of Kowang, Kowang confronts the champion Dida Diafat in a clandestine fight which is one of the cult scenes of the film!
BY SERGE TREFEU