Temps de lecture :
3
minutes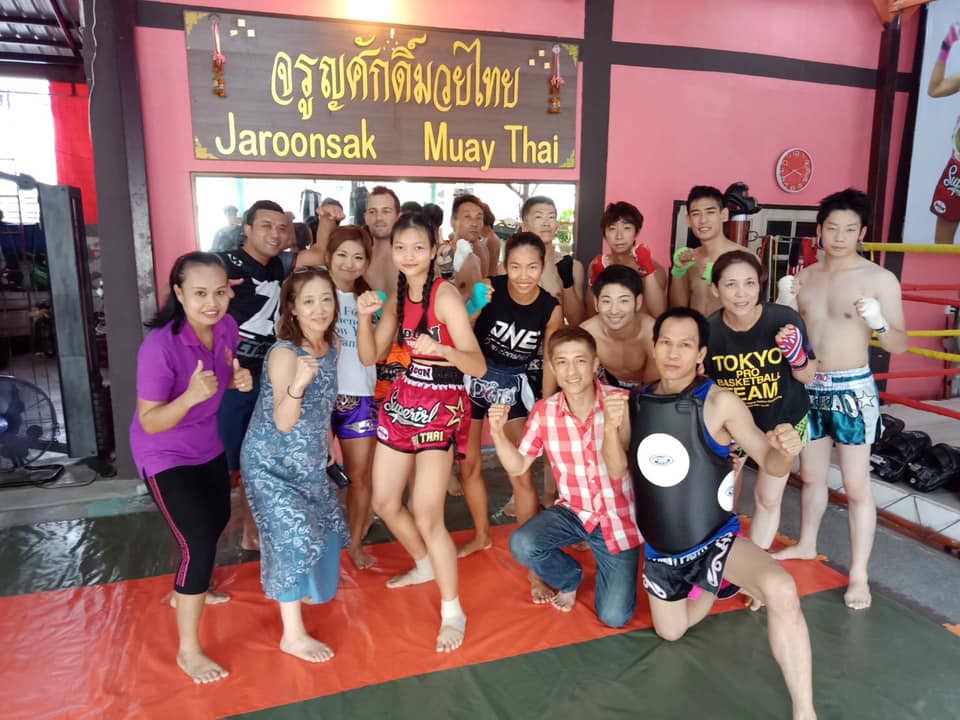 JAROONSAK MUAY THAI GYM
by Serge TREFEU (2022)
Jaroonsak Muay Thai Gym camp is located in the Bang Wa district, southwest of Bangkok. This camp opened in 2018.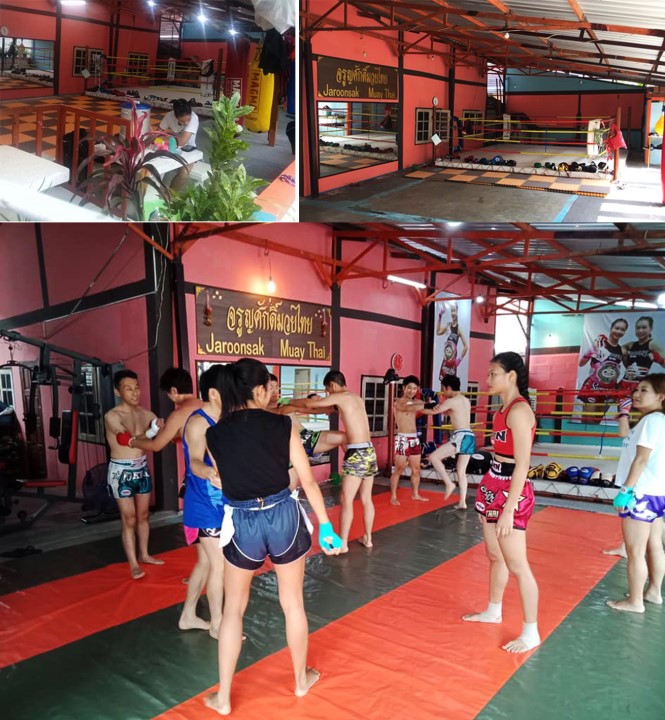 THE JAROONSAK MUAY THAI GYM HAS A NICE STRUCTURE WHICH INCLUDES A RING AND SOME PUNCHING BAGS
Jaroonsak Muay Thai Gym is owned by Khru Charoon Chanthasri (49 years). Charoon is a old fighter who represented the famous Sor Vorapin camp. In the 90s, Charoon fought under the name of "Charoonsak Sor Vorapin".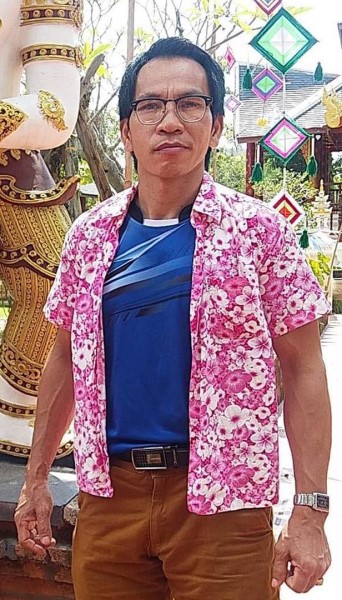 MR. CHAROON CHANTHASRI, OWNER OF JAROONSAK MUAY THAI GYM
Charoon Chanthasri only did about twenty fights because he didn't really train as a professional boxer. He was a university student and did not have enough time to train every day.
Charoon Chanthasri was very strong in Boxing technique. He met Wijan Ponlid (Si Satchanalai Taxi Meter, 115 lbs Radja champion) who won the gold medal at the 2000 Olympic Games in Sydney.
Charoon Chanthasri had two professional Boxing fights against renowned Thai champions, Fahprakorb and Saohin.
Fahprakorb Rakkiatgym (IBF Intercontinental and Pan Pacific Champion, 56 fights, 51 wins including 33 by KO) fought against the legendary Manny Pacquio for the IBF World Title (Manny Pacquio's Victory). Saohin Srisuk (65 fights, 51 wins including 34 by KO) won the PABA title, a title he defended victoriously a dozen times.
Charoon was more of a teacher than a fighter. After his boxing career, he created his own boxing camp to continue his passion for Muay Thai. Charoon Chanthasri and his wife lived in the Isaan region (North-East region). The couple left their homeland to settle in the capital.
Charoon Chanthasri trained a few boxers in a small structure before building his current camp. He started training fighters. But it wasn't easy to manage professional boxers. So he focused only on training his two daughters.
This excellent boxing coach is also an English teacher at the Santa Cruz Convent School in Bangkok. Coach at Jaroonsak Muay Thai Gym is his second job. He opens his camp around 5 pm to give boxing lessons and especially to prepare his two little wonders of the rings, Natkamon Chanthasri and Anna Chanthasri.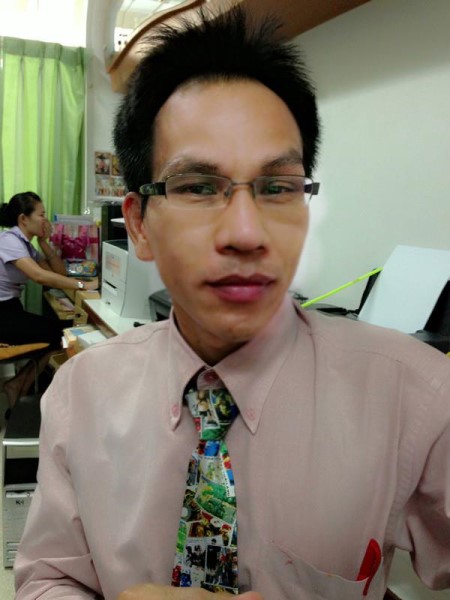 M. CHAROON CHANTHASRI HAS A MASTER'S DEGREE IN EDUCATION
Thanks to their father, these gifted boxing rings became very famous champions.
The eldest, Natkamon Chanthasri, at the age of 22, began boxing at the age of 8. At first, her father did not want her to play the sport. Young Natkamon begged her father who finally gave in and let her into the ring. She lost her first fight. This defeat did not discourage her. On the contrary, she continued to fight until she became a great champion.
When she started to be known in the Thai circuit. Her father found her a catchy fighter nickname. He named it "Wonder Girl" in reference to the music group, the Wonder Girls. This group of Korean singers K-Pop is very popular in Thailand.
Wonder Girl Jaroonsak, also known as Nong Nut, won the Thai Champion Belt in 118 lbs. In March 2019, she beat Palmy Or Sanitphan for the national title in 118 lbs. She defended her title victoriously by beating KO Nongbiew Thor Thepsutin in August 2019.
Wonder Girl was recruited by the manager of the famous Fairtex camp, Mr. Prem Busaraworawong. Wonder Girl joined the current ring star «Stamp Fairtex» (World Champion One Championship in Muay Thai and Kick Boxing). She fought under the name of Wonder Girl Fairtex.
With the Fairtex Gym, Wonder Girl was able to join the One Championship circuit. She now fights for the Fairtex Gym in Muay Thai and will also fight in MMA rule as her training sparring Stamp Fairtex.
At the One Championship, Wonder Girl beat Australian Brooke Farrell by KO, Filipino KC Carlos by referee's stop and lost to points against American Jackie Buntan. Wonder Girl has 54 fights for 35 wins, 17 losses and 2 draws.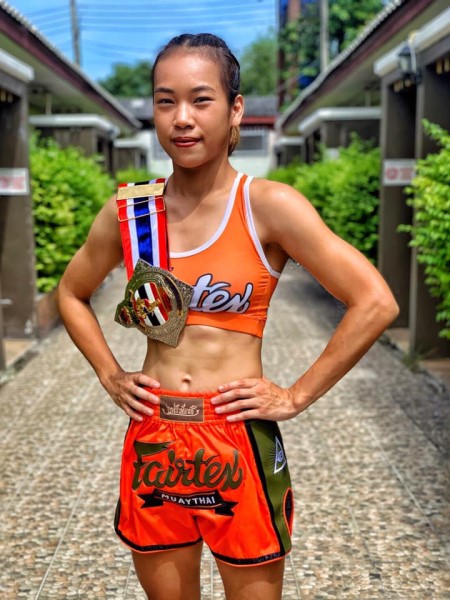 WONDER GIRL FAIRTEX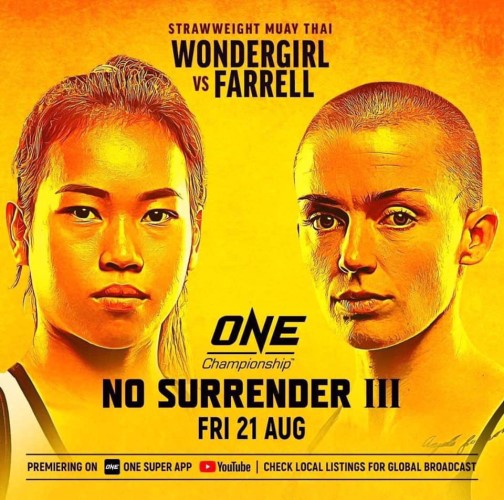 WONDER GIRL FAIRTEX IS PART OF THE GREAT FIGHTERS OF ONE CHAMPIONSHIP
Wonder Girl's younger sister is a real ring phenomenon. Anna Chanthasri at 18, her nickname as a fighter is « Super Girl ». She is also called "Jaomae Khao" (The Kneeling Goddess). Her kneeling techniques are spectacular. At the age of 3, she was already beating on her father's paos. At 10, Super Girl did her first fight which she won by knockout.

AT 3 YEARS OLD, SUPER GIRL ALREADY HAD BOXING IN THE BLOOD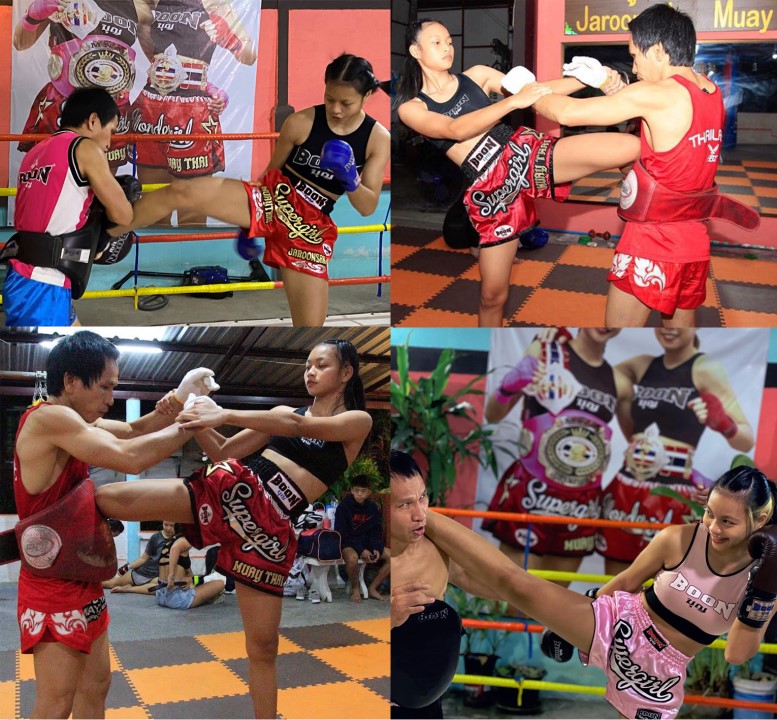 SUPER GIRL IS TRAINED DAILY BY HER FATHER. HE FULLY TRAINED IN THE ART OF MUAY THAI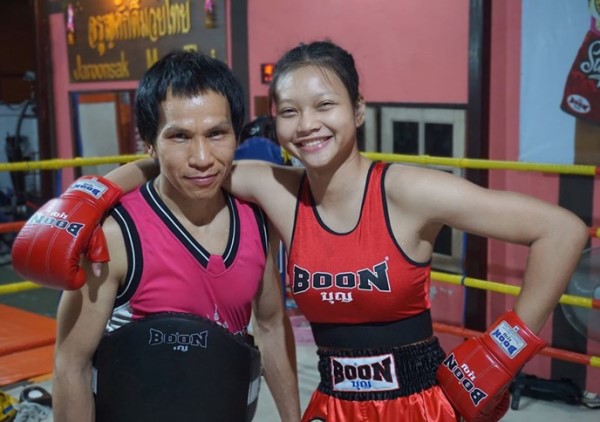 A BEAUTIFUL COMPLICITY REIGNS BETWEEN THE COACHING FATHER AND THE BOXING DAUGHTER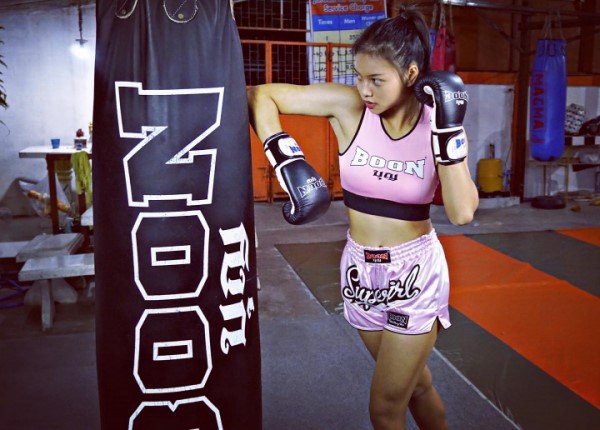 SUPER GIRL IS AS STRONG IN ELBOW TECHNIQUE AS IN KNEE KICK TECHNIQUE
In February 2019, Supergirl won the champion belt "Nai Khanom Tom", an event which was organized by the prestigious institution of the Sporting Authority of Thailand.
On April 1, 2019, Super Girl beat Khaiwan Sit Phanchoeng and won the Thai Champion Belt in 115 lbs. She successfully defended her belt against Nong Benz Sakchatri (Win by KO) in July 2019.
Like her sister, Super Girl joined the One Championship circuit where she won by KO in the first round the Argentine champion Milagros Lopez. On September 11, 2020, Super Girl became the youngest boxer in the history of the One Championship at the age of 16. Super Girl totals 43 fights for 37 wins, 5 losses and one draw.
After moving away from the rings to devote himself fully to his school studies (Super Girl studies the arts of the Japanese language in a High school), Super Girl will return to the ring on January 14, 2022. She will face the formidable Belarusian Ekaterina Vandaryeva (WKN World Champion, IFMA World Champion, WMF World Champion).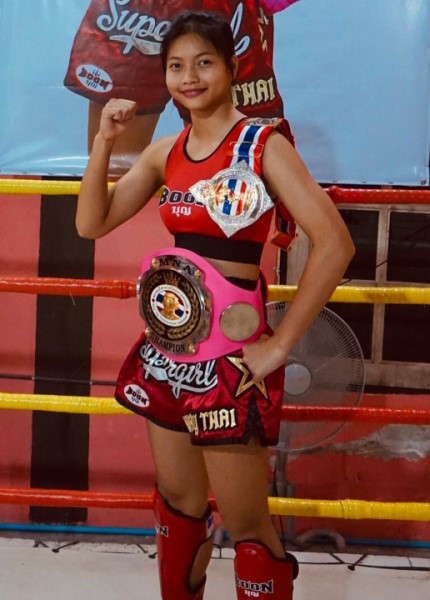 SUPER GIRL JAROONSAK
The Jaroonsak Muay Thai Gym is known today, the performances of the two champions Wonder Girl and Super Girl have had a significant media impact for this small camp.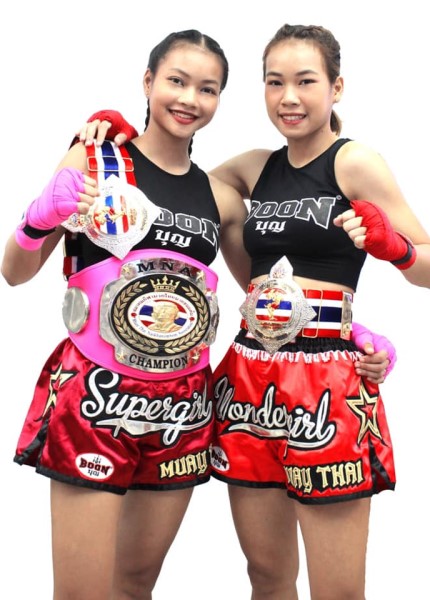 SUPER GIRL AND WONDER GIRL, THE TWO STARS OF JAROONSAK MUAY THAI GYM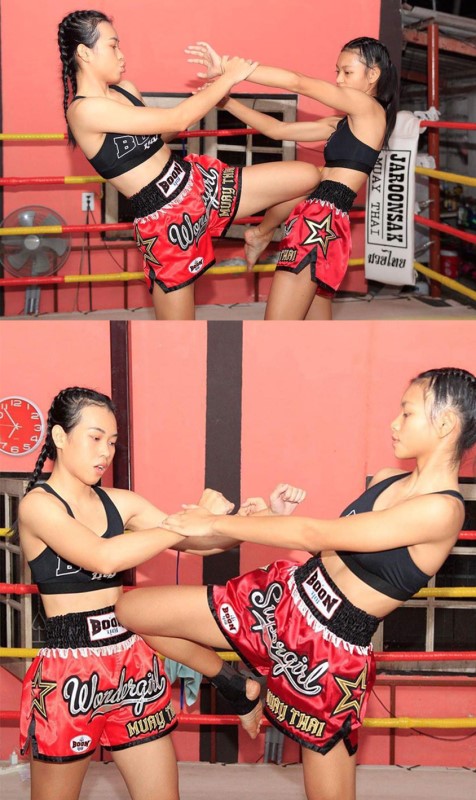 SUPER GIRL AND WONDER GIRL OFTEN TRAIN TOGETHER
There are now many students, Thai and foreigners who come to benefit from the animated lessons of the young prodigy Super Girl!
PRESENTATION OF SUPER GIRL AND WONDER GIRL BY THE ONE CHAMPIONSHIP