JONGSANAN FAIRTEX (Career 1990-2000)
Temps de lecture :
5
minutes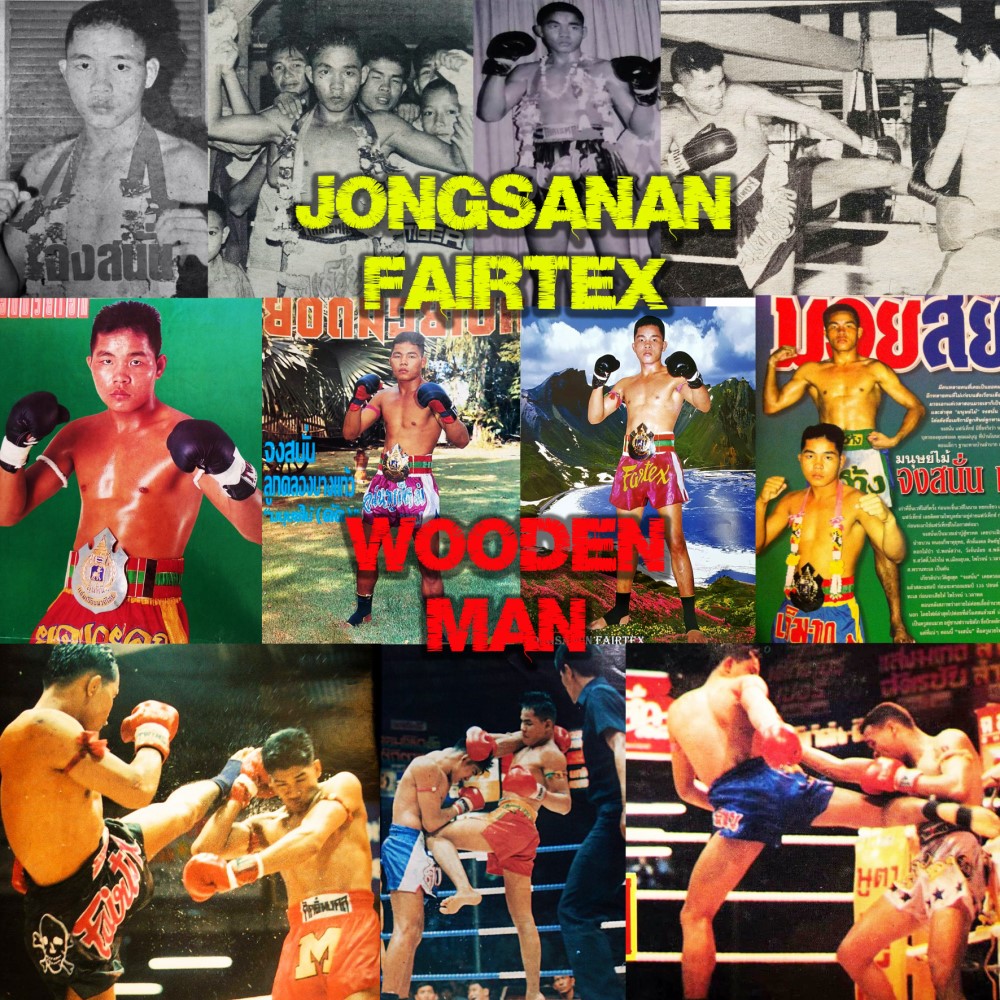 JONGSANAN FAIRTEX
« WOODEN MAN »
Jongsanan by his real name Anucha Chaiyasen was born on 24 July 1974 in Nong Bua Daeng in the province of Chaiyaphum (North-East Region).
The young Anucha's family was really very poor, his parents were farmers who farmed a small plot of land, they earned only a meagre income. The village in which Anucha grew up did not have running water or electricity. In the Chaiyasen house, there was not even a bathroom, a hole behind the house was used as a toilet…
Anucha worked with his parents and was unable to attend normal school. At the age of eleven, Anucha's father made him fight at village parties, he bet on his son to earn money. He called his son "Jongsanan" (which means a strong being). Jongsanan first fought under the name of «Jongsanan Luklongbangkaeo».
In the provinces, Jongsanan fought several victorious battles but he was not known enough to join a large boxing camp. So, a friend of his father's offered to send his son to Bangkok for a boxing camp. This person was called Paiboon, he was a famous former boxer of the time, he knew the owner of the famous Fairtex camp.
At 15, Jongsanan began fighting under the name of «Jongsanan Fairtex». The beginnings at the Fairtex camp were very difficult for the young Jongsanan because he had to work as a «handyman», he was busy cleaning the camp and the linen, he even held for a while the spitting bucket of the boxers.
The Fairtex camp opened in 1975 in Bangkok in the Bangplee district. In the 1980s and 1990s, it was one of the most luxurious camps in the country. Camp Fairtex was owned by the wealthy Mr. Bunjong Busarakamwong named Philippe Wong, a millionaire who owned several Rolls-Royce cars and parked them in a garage near Camp Fairtex. The Fairtex Gym included champions such as Boonkerd Fairtex (Lumpinee Champion, Radja Champion), Yoknoi Fairtex (Lumpinee Champion), Fahsritong Fairtex (Radja Champion), Neungsiam Fairtex (Lumpinee Champion).
One day, a Fairtex Gym fighter got sick, the camp manager offered Jongsanan to replace him for his fight at the Lumpinee stadium. Jongsanan took his chance, he destroyed his opponent named Saengpetch Sor Sakdisamla. Jongsanan fought and won. He beat in 1990, Erawan Puth Chalongkiat, Pujam Sakditwanthong, Panpetch Muangsurin, Ranbow Sor Prantalay.
Jongsanan became a durable boxer and powerful fighter, he was nicknamed «Manutmay» (The Wooden man), Jongsanan was also an excellent technician who mastered the techniques of sweeps perfectly.
In 1991, Jongsanan made a fight that propelled him into the top rankings of the big stadiums in Bangkok. Bunjong Busarakamwong organized a confrontation between his young boxer Jongsanan and the star of the time Dokmaipha Por Pongsawang (112 lbs Lumpinee champion, 115 lbs Lumpinee champion).
Nicknamed "Saytokop" (The extremely powerful left leg), Dokmaipha was a strong durable boxer who won his first Lumpinee belt in 1987 by defeating star Burlek Pinsinchai.
Jongsanan (17 year) received 60,000 baht of purse and Dokmaipha (24 year) had 100,000 baht of purse. Mr. Bunjong Busarakamwong offered 200,000 baht to Dokmaipha's manager. Jongsanan had to beat Dokmaipha, the honor of the owner of the Fairtex Gym was at stake!
Jongsanan has prepared as never before to be at the top of his form, he has made very hard sparrings in the famous Sasiprapa Gym camp.
On 16 July 1991, at the Lumpinee stadium, Jongsanan did a memorable match against Dokmaipha and beat him to the points!
After this fight, Jongsanan won huge purses of over 100,000 baht.
That same year, Jongsanan defeated another ring star, Cherry Sor Wanich (130 lbs Lumpinee Champion). Nicknamed "Khun Khao Chalamdam," Cherry was one of the most formidable Muay Khao (Strong in Knees) of the 1990s. Jongsanan beat Cherry twice, once in 1991 and once later in 1995.
In 1991, Jongsanan drew against two great technicians of the moment, Samranthong Kietbanchong and Boonlay Sor Thanikul (115 lbs and 122 lbs Lumpinee champion). He also played a great match against the terrible puncher Wangchanoi Sor Palangchai (118 lbs and 122 lbs Lumpinee Champion, Best Boxer of the Year 1993 ) who beat him to the points.
At the beginning of 1992, Jongsanan met the genius of the Namkabuan rings Nongkee Pahuyut (130 lbs Lumpinee champion, 130 lbs WMC world champion), he lost points against Namkabuan.
On 21 February 1992, at Lumpinee Stadium, Jongsanan challenged reigning Lumpinee champion Thedkiat Sitthepitak. Nicknamed «Rachanhaeng Lumpinee» (The King of Lumpinee), Thedkiat had just won the Lumpinee belt in 126 lbs against Sanit Wichitkriangkrai. Thedkiat was a star who conquered the belt of the Lumpinee stadium in 122 lbs and three times the belt of the Lumpinee stadium in 126 lbs.
Therdkiat lost the match on points. Jongsanan became the new champion of Lumpinee in 126 lbs, he won his first important belt!
Jongsanan faced Therdkiat again a few months later in a show in Nakhon Sawan province and Jongsanan again won on points.
The young Lumpinee champion flew abroad for the first time. Jongsanan fought in Australia for a WMTC world title against a local champion. Jongsanan became world champion in 130 lbs. At only 17 years old, Jongsanan held two belts, the Lumpinee belt and a world belt!
On April 17, at Lumpinee Stadium, Jongsanan defeated the star of the moment, Jaroenthong Kiatbanchong (115 lbs and 126 lbs Lumpinee champion). Nicknamed "Discreet Tiger from the South", Jaroenthong beat the best champions of the 90s like Denneua Denmolee, Paruhatlek Sitchunthong, Langsuan Phanyutaphum, Dokmaipa Por Pongsawang, Nampon Nong Kee Pahuyut, Chamophet Ha Phalang, Wangchannoi Sor Palangchai, Panomtuanlek Ha Phalang, Samransak Muangsurin, Therdkiet Sitepitak, Cherry Sor Wanich, Superlek Sor Isaan, Saencheng Pinsinchai, Rajasak Sor Vorapin, Chanchai Sor Tamrangsee.
On August 14, at Lumpinee Stadium, Jongsanan beat another Muay Thai monument, Sangtiennoi Sor Rungroj.
Sangtiennoi and Jongsanan have faced each other four times, they have always fought terrible battles. On August 16, 1995, at Lumpinee Stadium, they again had an exciting fight that ignited the stadium's punters and ended in a draw. The two champions met a month later at the Lumpinee stadium. On 29 September 1995, Jongsanan beat Sangtiennoi for the second time.
Finally, for their fourth confrontation, on January 19, 1996, in the stadium of Lumpinee, this time, again after a memorable match, Sangtiennoi managed to win on points against his old rival in the boxing rings!
In 1992, Jongsanan also fought two fabulous battles against Nuathoranee Thongraja with two losses in points and he beat the great champion Petchdam Lukborai by KO.
Nuathoranee was nicknamed by Muay Thai fans as "Ay Ret Dong" (The mighty rhinoceros). He was a steamroller who was very adept at pokes techniques. He often ended his fights with openings in his faces, as well as his opponents. Jongsanan found Ay Ret Dong in 1994 and beat him!
Petchdam Lukborai (118 lbs Lumpinee Champion) was nicknamed «Khun Khao Kin Kone» (The kneecap that eats the person), he was a very dangerous and feared Muay Khao. Jongsanan put KO Petchdam in the third round with a terrible combination of fists.
On July 13, Jongsanan fought abroad. In Morocco, he met the fantastic Moroccan-Dutch champion Hassan Kassrioui (Thai WMC Boxing World Champion, WPKL Kick Boxing World Champion). Hassan Kassrioui pulled out one of his unpredictable flipped kicks that hit Jongsanan's jaw hard. The Thai has fallen KO for more account…
On 6 April 1993, at Lumpinee Stadium, Jongsanan defended his Lumpinee title in 126 lbs against puncher Superlek Sor Isaan (122 lbs and 126 lbs Lumpinee champion). Jongsanan kept his belt against the fierce Superlek!
A month later, on May 4, at Lumpinee Stadium, Jongsanan met one of the biggest stars of the 1990s, Sakmongkol Sitchuchok.
Sakmongkol (Lumpinee Champion in 135 lbs in 1994), in the 90s, was considered one of the boxers with the most powerful "left leg" on the Thai circuit. He beat great champions like Orono Por Muang Ubon, Coban Lookchaomaesaitong, Cherry Sor Wanich, Chanchai Sor Tamarangsree, Namkabuan Nong Kee Pahuyut, Sangtiennoi Sor Rungroj.
Jongsanan had a great fight and he defeated Sakmongkol on points. Jongsanan and Sakmongkol have faced each other seven times. Jongsanan beat Sakmongkol four times including twice by knockout. And Sakmongkol won three matches including two by knockout. In 1993, their fight was elected "Best fight of the year" in the stadium of Lumpinee!
On June 18, 1994, in the stadium of Lumpinee, Jongsanan made a big performance by beating by KO Robert Kaennorasing (Radja champion in 105 lbs, Radja champion in 126 lbs, Radja champion in 130 lbs).
A month later, Jongsanan challenged the 135 lbs Lumpinee title holder, The Psychopath Chandej Sor Prantalay. Incredible technician, Chandej was nicknamed "Psycho" by promoter Songchai Ratanasuban after a fight where Chandej never seemed to be afraid of pain.
Chandej had just won his Lumpinee belt in February by beating the star Sakmongkol Sitchuchok, he had successfully defended his trophy in March by beating another great champion, Sangtiennoi Sor Rungroj. Chandej was at the top of his career, this great champion beat ring stars such as Orono Por Muang Ubon, Paruhatlek Sitchunthong, Toto Por Pongsawang, Superlek Sor Isaan, Jaroenthong Kiatbanchong, Cherry Sor Wanich, Jomhod Kiatadisak.
The title of the Chandej Lumpinee was at stake for the match against Jongsanan. Manutmay had a great fight, he won the match by points and took to Psycho his Lumpinee belt in 135 lbs!
Jongsanan left his Lumpinee belt vacant, he did only one fight at the end of the year against the powerful Nuathoranee Thongraja who he beat to points.
On 28 March 1995, Jongsanan again contested the Lumpinee title in 135 lbs. He faced the bull Orono Por Muang Ubon. Nicknamed «Sam O» (3 O), Orono was one of the toughest «Muay Bouk» (Forward Fighter) of the moment, he won the Lumpinee title in 135 lbs by beating, four months earlier, Pairot Wor Wolapon. Jongsanan had beaten Orono for their first encounter.
For this rematch, Orono beat Jongsanan by points, he kept his Lumpinee belt…
Jongsanan still had some great victorious battles in 1995 and in 1996, he beat in particular Sangtiennoi Sor Rungroj, Cherry Sor Wanich, Sakmongkol Sitchuchok and the lord of the rings Namkabuan Nongkee Pahuyut, Namkabuan who had beaten him in 1992 and in 1993.
Jongsanan is a ring legend who is part of the Golden Age of Muay Thai in Thailand!
In 1998, Jongsanan made a second career in the United States. Manutmay fought until 2005, he made fifteen fights without ever knowing the taste of defeat. Jongsanan won two world titles, the IKKC title in 140 lbs and the ISKA title in 147 lbs. He beat some foreign big names such as the French Morad Sari (Lumpinee Champion, World Champion), the Australian Daniel Dawson (World Champion), the American Danny Steele (World Champion) and the Dutch Marco Pique (World Champion), Imro Main (European Champion).
Jongsanan has long been a coach at the Fairtex gym in San Francisco. Then he opened his own boxing camp in San Francisco, the Woodenman Muay Thai Gym. Today, Jongsanan lives comfortably in one of the richest countries on the planet. A beautiful revenge on the life of the young Anucha Chaiyasen who grew up in a miserable wooden cabin…
BY SERGE TREFEU