KONGTHORANEE PAYAKAROON (Career 1970-1980)
Temps de lecture :
3
minutes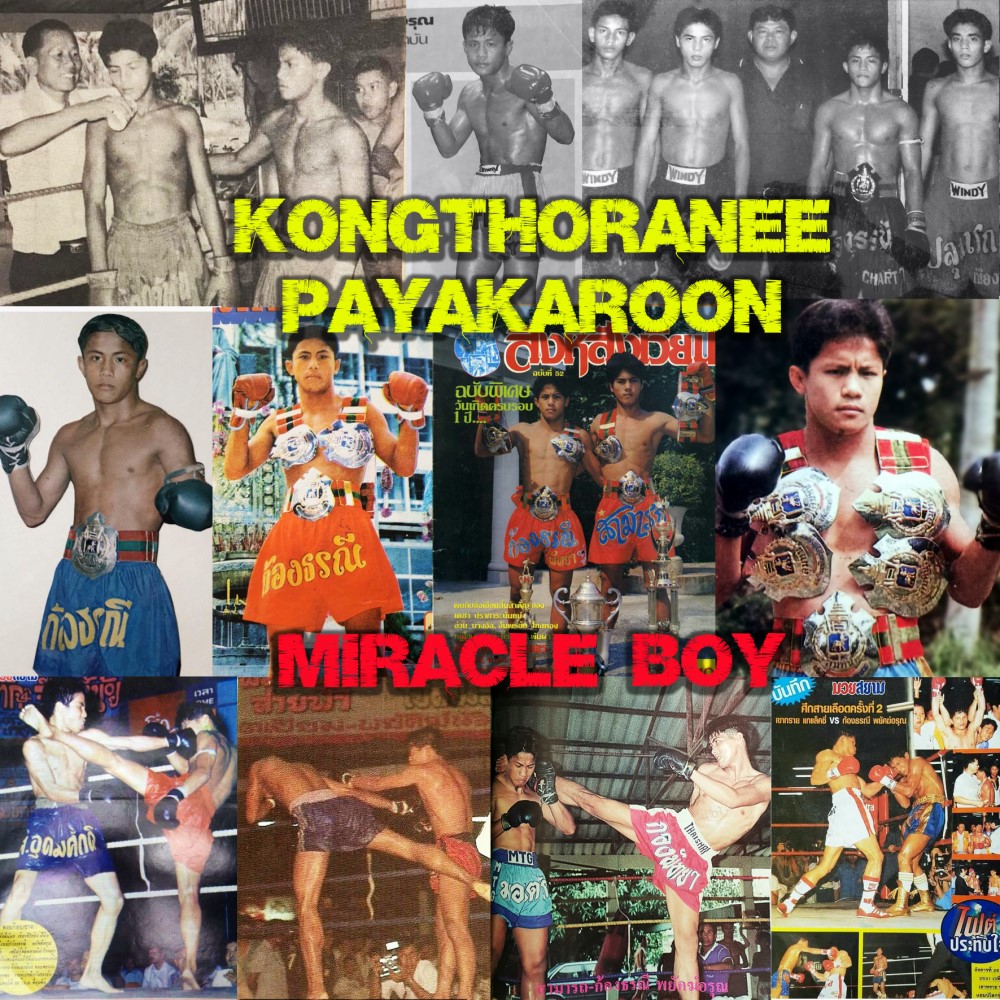 KONGTHORANEE PAYAKAROON
« MIRACLE BOY »
Kongthoranee Payakaroon by his real name Kongthoranee Thipthamai was born on 12 July 1960 in Bangpakhong in the region of Chachoengsao (Central Region). He's the older brother of the famous Samarth Payakaroon.
He came from a large family of which three of his brothers were boxers. The greatest of the brothers of the Thipthamai family was Manus, nicknamed Pee Toui. As a professional boxer, he taught boxing his younger brothers Sompong, Samart and Kongthoranee.
The Thipthamai brothers trained at home and fought in their province under the name of "Lookhlongkhet".
Kongthoranee started boxing at the age of 9, did his first fight at 11 at Khlong Dan Boxing Stadium in Samut Prakan (30 km from Bangkok) and beat Kai Kaew at points.
At the age of 12, when his mother died, to forget this terrible ordeal, he devoted himself to boxing. With his younger brother Samart, and his older brother Sompong, Kongthoranee went to the Chonburi area in Nakluea which was 2 km from the city of Pattaya, in a camp called «Payakaroon».
He fought under the name of «Kongthoranee Payakaroon» and did some fights for the Payakaroon Gym before joining the Sityodthong camp. This camp belonged to Master Yodthong Senanant. Kongthoranee spent his entire career in the famous Sityodthong camp alongside his younger brother Samart Payakaroon.
Samart became a legend of the rings, he was champion of the Lumpinee in 102 lbs, 108 lbs, 115 lbs and 126 lbs, world champion of Boxing WBC in 118 lbs. He was elected «Best boxer of the year» in 1981, 1983 and 1988!
Kongthoranee had a career as prestigious as his younger brother. He was a real ring bull, his fighting spirit was exceptional. He was also gifted in Boxing and he would have deserved to be a world champion.
Moreover, his fight in Boxing for the title of world champion against the destroyer Khaosai Galaxy is anthological (Victory at Khaosai Galaxy points). Nicknamed the «Tyson Thaï», Khaosai Galaxy made 48 professional fights, he won 47 victories including 41 by ko, he was WBA world champion of Super-Fly (52 kg), he defended 19 times his title with 16 victories by KO.
Kongthoranee did 14 fights in professional Boxing with 12 wins including 9 by KO. His two points losses were for World Champion titles, a defeat against Mexican Gilberto Roman (WBC World Champion) for the WBC title and a defeat against Khaosai Galaxy for the WBA title.
Kongthoranee fought in Muay Thai 274 fights with 200 wins and 74 losses.
He is one of the few boxers to have won 5 titles of Lumpinee champion in 5 different categories, Lumpinee champion in 102 lbs, Lumpinee champion in 108 lbs, Lumpinee champion in 112 lbs, Lumpinee champion in 115 lbs, Lumpinee champion in 118 lbs.
Kongthoranee won his first Lumpinee belt on December 15, 1978, becoming the 102 lbs Lumpinee champion against Bangklanoi Sor Thanikul a belt he then lost against Hanuman Sitpholuang.
Kongthoranee and the legendary Bangklanoi (Lumpinee Champion in 102 lbs, 108 lbs and 115 lbs) faced each other nine times, Kongthoranee won six times, he lost twice and they drew one match. Kongthoranee and Hanuman have met five times with three wins for Kongthoranee and two wins for Hanuman.
On February 22, 1980, Kongthoranee defeated Kheiyophet Chuwattana and won the Lumpinee title in 108 lbs.
On July 29, 1980, Kongthoranee retained his Lumpinee belt in 108 lbs against Fonluang Luksadejmaephuanthong (Lumpinee Champion in 118 lbs).
Tuesday, September 23, 1980, in the stadium of Lumpinee, he won the belt of Lumpinee in 112 lbs against Singthong Prasopchai.
Two months later, he fought for the Lumpinee title in 118 lbs against Mafueng Weerapol on December 2. Kongthoranee lost on points.
Friday, September 4, 1981 in the stadium of Lumpinee, Kongthoranee successfully defended his Lumpinee belt in 112 lbs against Fakwamram Lookprabat. On the same evening his brother Samart defeated the legendary Paruhat Lohngern!
On June 22, 1982, Kongthoranee was challenged by prodigy Chamophet Ha Phalang (5 Radja belts, 4 Lumpinee belts, 1985 Best Boxer of the Year). The 112 lbs Kongthoranee Lumpinee title was in play and Chamophet took his trophy to Kongthoranee. Chamophet and Kongthoranee faced off three times with two wins for Kongthoranee and one win for Chamophet.
At the beginning of 1983, Kongthoranee beat Prasaknoi Sitchang and won the Lumpinee title in 115 lbs.
On Tuesday 31 January 1984, at the Lumpinee stadium, Kongthoranee found Chamophet Ha Phalang. The Lumpinee 118 lbs Chamophet title was at stake and Kongthoranee beat the Chamophet points. Kongthoranee won his fifth Lumpinee belt!
Kongthoranee also won, in England, a European champion belt in 140 lbs against the French champion Dida Diafat.
Nicknamed "Miracle Boy" and "Chalam Ray Jaak Fang Talae Tawan Ook" (The East Coast Demon Shark), he beat the greatest champions such as Chamophet Ha Phalang (2 times), Samransak Muangsurin ( 2 times), Sakmongkol Sitchuchoke (KO), Grandprixnoi Muangchaiyapoom (KO), Palannoi Kietanan (KO), Man Sor Jitpattan (KO), Bangklanoi Sor Thanikul (6 times), Hanuman Sitpholuang (3 times), Dokmaipa Por Pongsawang, Maewnoi Sitchang, Boonnam Sor Jarunee, Phetdam Lukborai, Phadam Lukbangnoi, Samingnoi Kietikamchai, Fonluang Luksadejmaephuanthong, Panmongkol Hor Mahachai, Samingnoom Sitthibuntham, Chakravak Kiatsakthewan, Wisanupon Saksamut!
Kongtoranee fought a lot in Europe, three times in France, three times in Holland, twice in Germany, in Italy, and in England, he never lost his fights abroad.
Kongthoranee is part of the Top 10 Legends of Muay Thai along with his illustrious brother Samart Payakaroon.
Kongthoranee won the "Best Boxer of the Year" trophy twice in 1978 and 1984. Trophy awarded by the famous institution "The Sport Writers Association of Thailand".
Kongthoranee was a coach for many years at the Sityodtong Gym in Pattaya, he was also a coach in Baku, Azerbaijan. Today, he is a coach in the Poptheeratham camp in Bangkok, the camp of his brother, the legend of the Samart Payakaroon rings.
BY SERGE TREFEU