MATHIAS GALLO CASSARINO (Italy)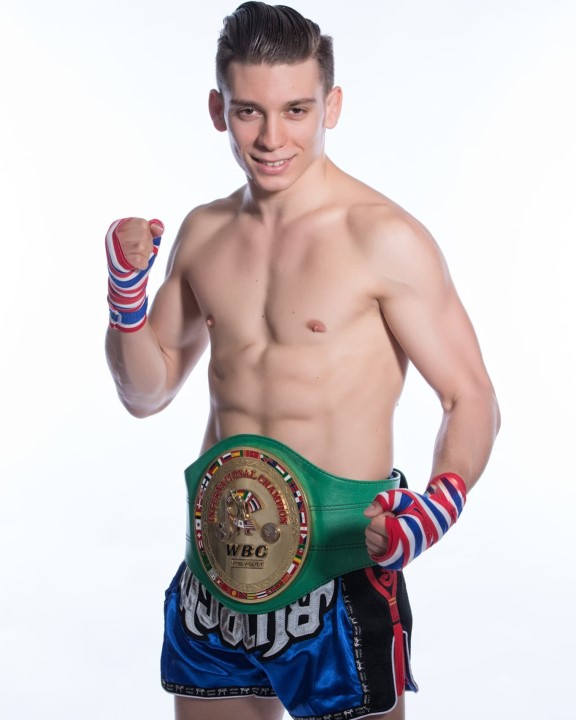 INTERVIEW OF MATHIAS GALLO CASSARINO
By Serge TREFEU (2021)
SERGE TREFEU : Hello Mathias, how are you?
MATHIAS : Hi Serge, I'm well and thanks a lot for this interview
What city were you born and raised in?
I was born and raised in the province of Torino (Italy)
How old are you?
I just turned 29 years old on 19th december
You discovered boxing with your father who is a coach?
My father used to be a fighter but he never considered himself as a coach. After a few years of living in Thailand, he started by managing some European fighters, for whom he would find fights in Asia. Nowadays, since we have our own camp (7 Muay Thai Gym), he only manages and supervises the training of the fighters of the gym
Your father was a boxer before?
He was a Full Contact fighter when he was young, he became Italian champion and then retired to concentrate on his business career, successfully. He never had a gym in Italy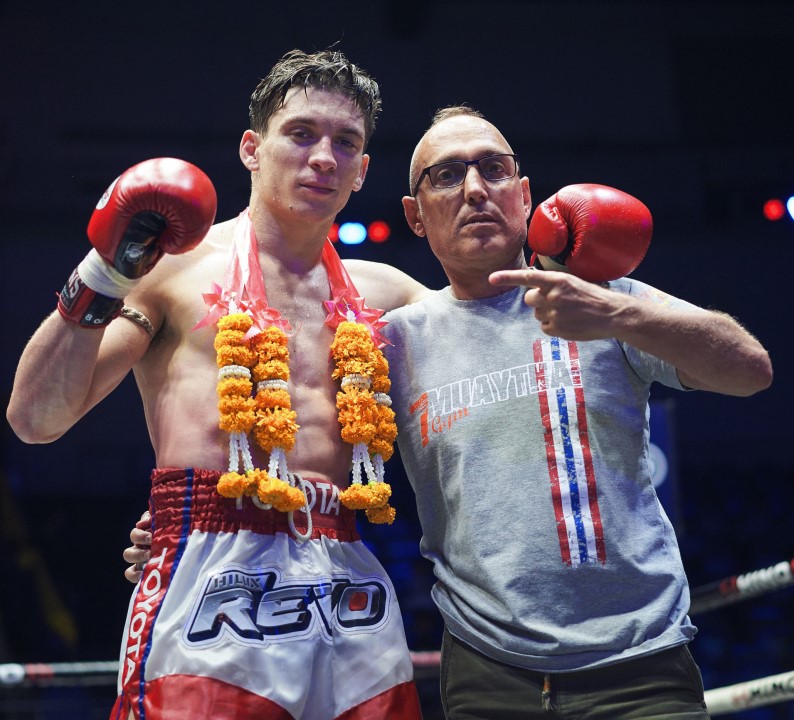 Do you have any brothers and sisters who do boxing, too?
I'm an only child
You live in Thailand, are you married to a Thai woman?
My wife is half Thai and half French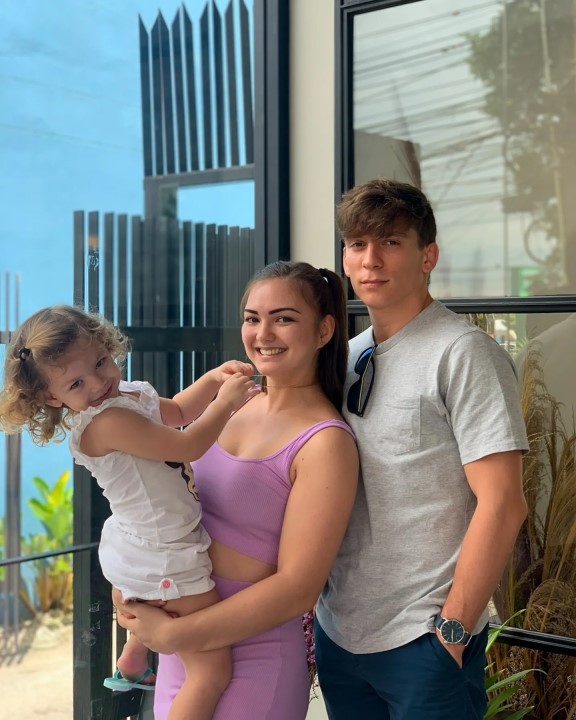 How old were you when you fought your first fight?
First time I fought in a temple I was 8 years old, but it was not an official fight, it was more like a game because they blindfolded us, we still fought without any protection. My first official fight happened when I was 12 years old, in Koh Samui, Thailand. 5×2 rounds Muay Thai with elbows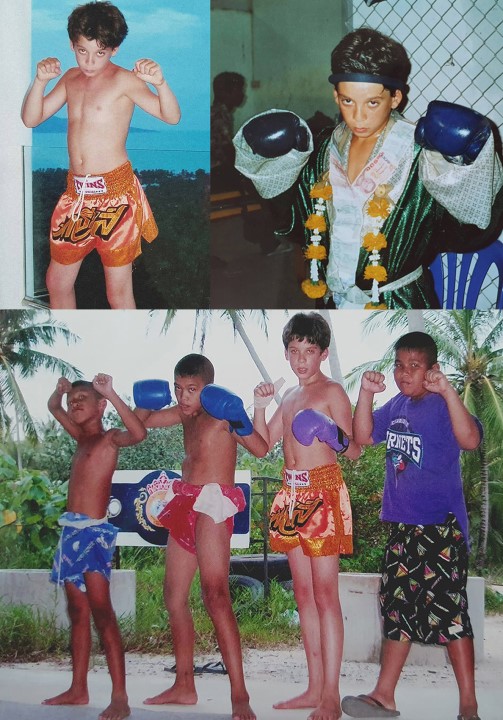 Muay Thai is well known in Italy, there are many great Italian champions of Muay Thai, are there any Italian champions who inspired you at the beginning of your career?
I started Muay Thai in Thailand when I was a kid and I haven't really followed Italian Muay Thai. But an Italian fighter who inspired me is Christian Daghio (Deceased Italian Fighter) who had his own camp in Pattaya, the Kombat Group Gym. My inspiration mainly came from Thai fighters like Buakaw, Saenchai, Sudsakorn, Rungravee etc…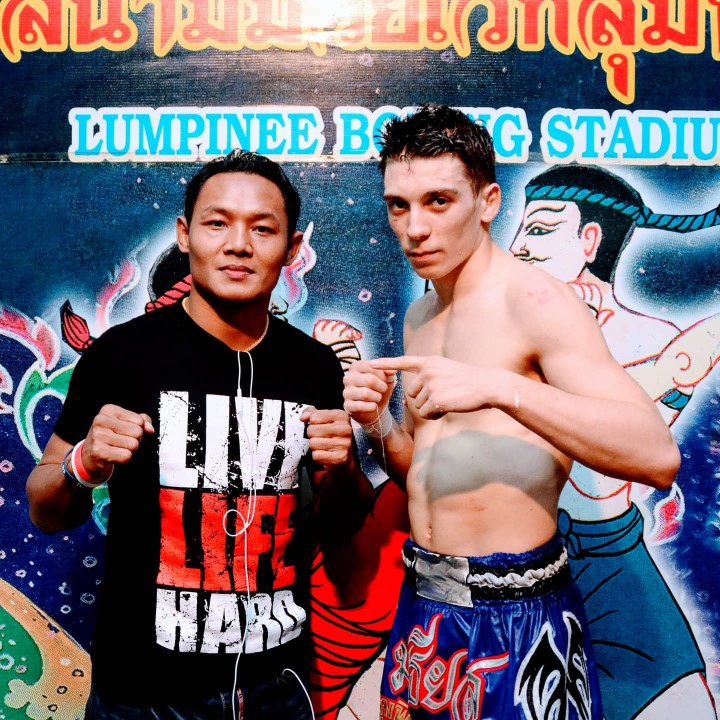 You came to Thailand very young, what year was it?
My first time in Thailand I was 1 years old, and after that we came very often for holidays. I came to live in Thailand when I was around 14 years old, in 2006
Your family moved to Thailand to work in boxing?
We moved to Thailand so I could train and fight Muay Thai, as well as study in international schools. My father was still running his business in Italy
What camp did you start training at in Thailand?
Sit Phu Yai Nao camp, a very small and rural style gym, was where I trained for my first fight when I was 12. But I trained in many other camps during my holidays in Thailand
You slept in the camp with the Thai boxers?
Yes, when I finished high school and decided to concentrate 100% of my time to Muay Thai, I moved to Sitsongpeenong Gym in Bangkok and I slept with the fighters for 6 months, after that I rented my own room. It was a great experience but I realized the difference in culture and habits was very different and i needed my own space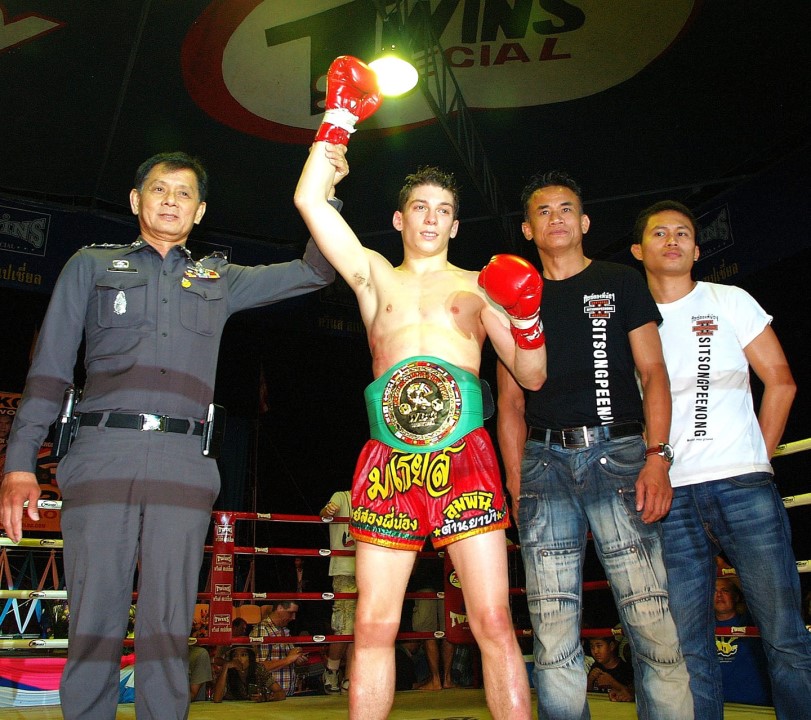 How was your first training in the camp and your relationship with the Thai boxers?
It was more like playing with other Thai kids/ fighters, when I was very young.
When I started training in Bangkok with high level fighters, the relationship was good but it was quite hard to relate with the Thai fighters, the conversation stayed very basic and I didn't develop real relationships or friendships…
You were to several camps in Thailand?
Yes, during my life in Thailand I have been to quite many camps around Thailand for short periods of time. I've only been to very few camps for long term.
I stay in Pattaya in Kombat Goup Gym with Christian Daghio (Italian fighter that passed away) he was my first coach when I come to live in Thailand.
I stayed at Sitsongpeenong Gym 3 years.
This 2 gym I stay long time, after I stay short time in many gym like Por Pramuk Gym, Kem Muay Thai Gym, Samart Payakaroon Gym, Sityodtong, Siangboxing, WMC Lamai, Nature Gym, Pinyo and Sakcharonchai gym. I also train a few times in the Singpatong camp
What gym are you in today? What are your sparring partners?
I train at my own gym, 7 Muay Thai Gym in Rayong province Thailand. I have regular sparring partners like Carlos Coello Canales, 3 times world champion and many other good fighters than come to the camp
What does the name of your camp "7 Muay Thai" mean?
My dad decided this name, 7 is a reccurrent number in our family and also is easy to remember for thai people like 7/11 (7-Eleven is a local retail store established mainly in Asia, North America and Australia)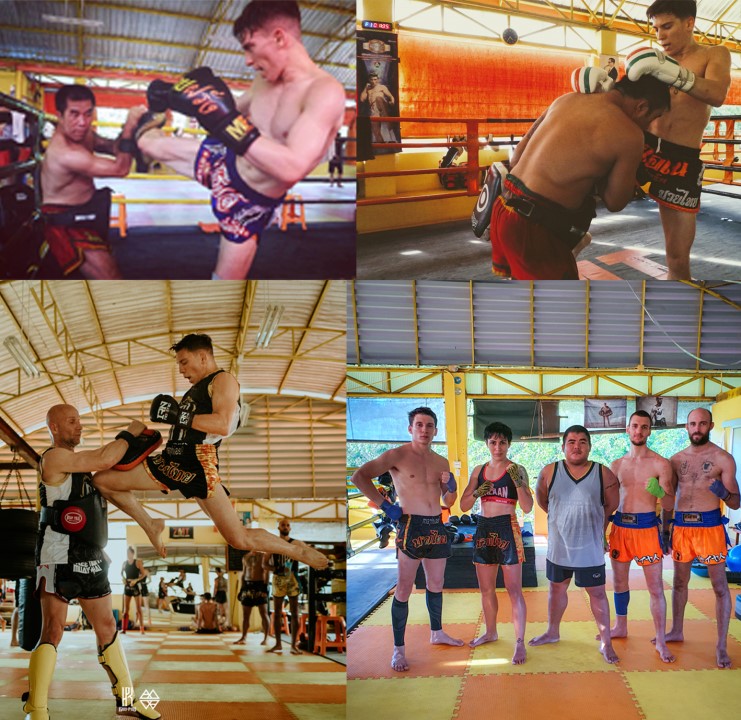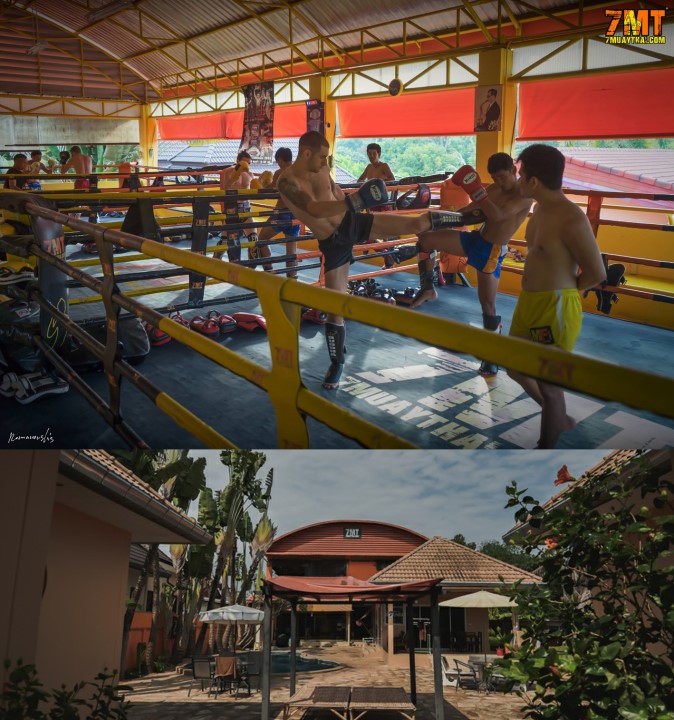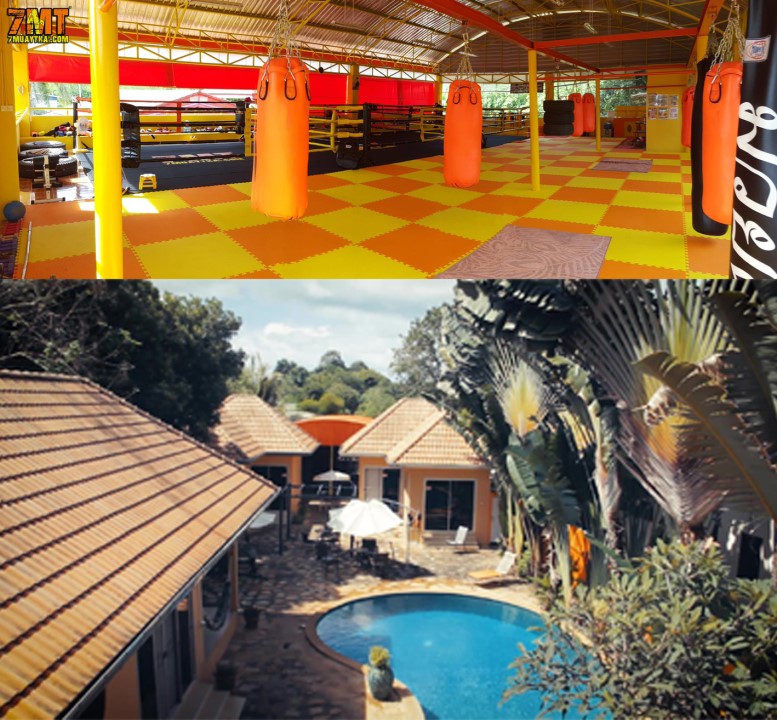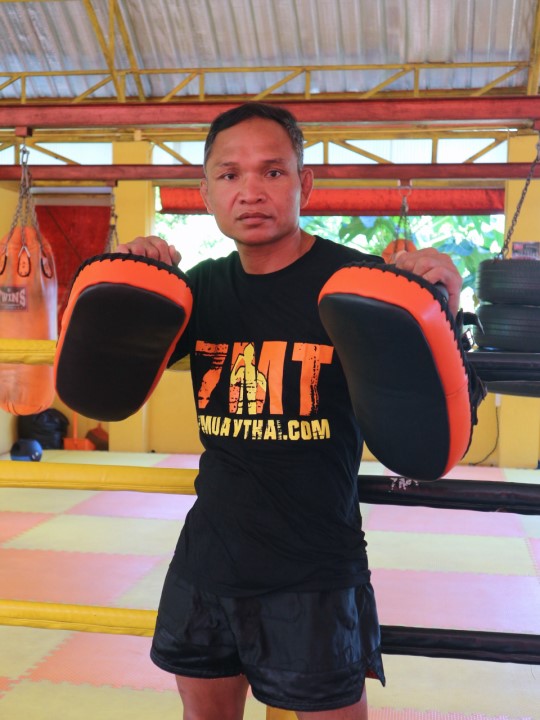 How many fights did you do in Thailand?
Around 90 fights in Thailand
How was your first fight at a big stadium in Bangkok?
I won by TKO and it was in the old Lumpinee Stadium when I was 18 years old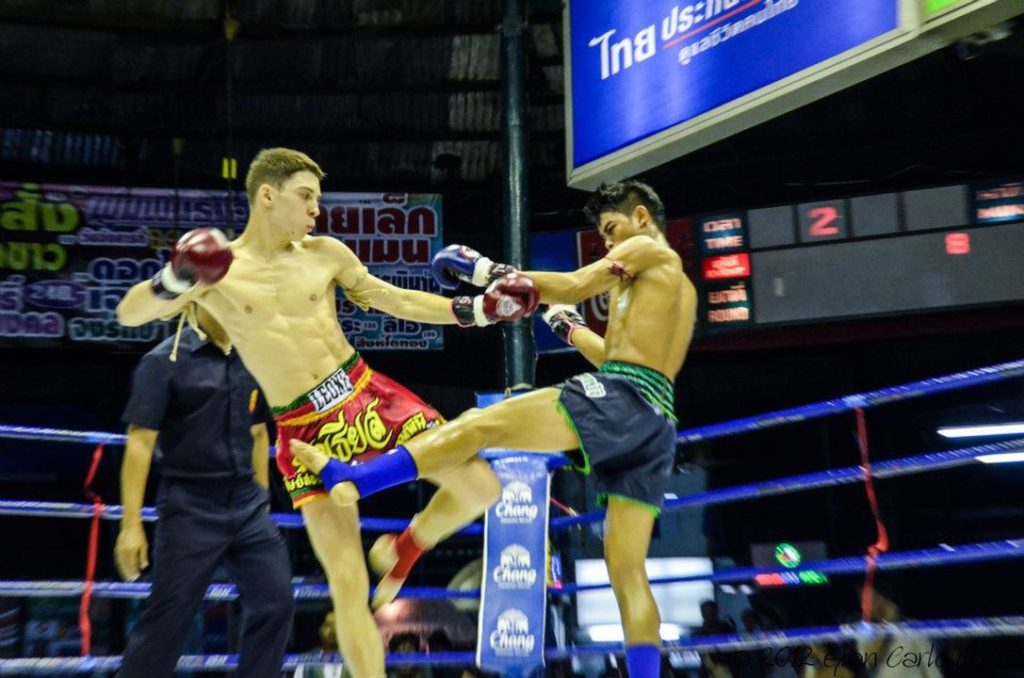 How many fights did you do at the Radja and Lumpinee stadiums?
Rajadamnern only 3 times, Lumpinee maybe 15 or more, I don't remember exactly
Have you ever fought in the stadiums of Omnoi and TV7?
Channel 7 does not accept farang fighters at the moment, and I'm waiting for the opportunity to fight at Omnoi
What is the Thai stadium where you prefer to fight?
I always used to say Lumpinee Stadium, but now a lot of things have changed so I don't really have a favorite at this moment in time
For which promoter are you fighting?
Petchnumnoi and Kiatpetch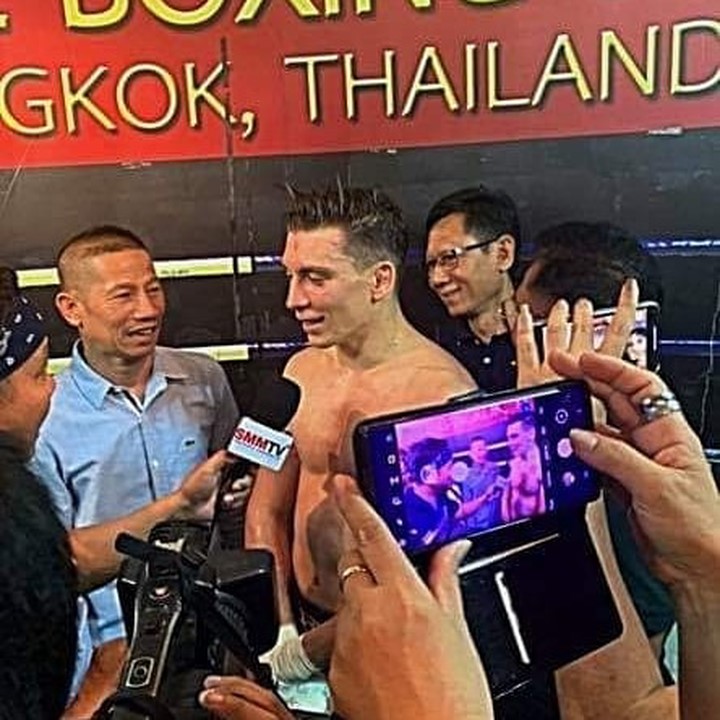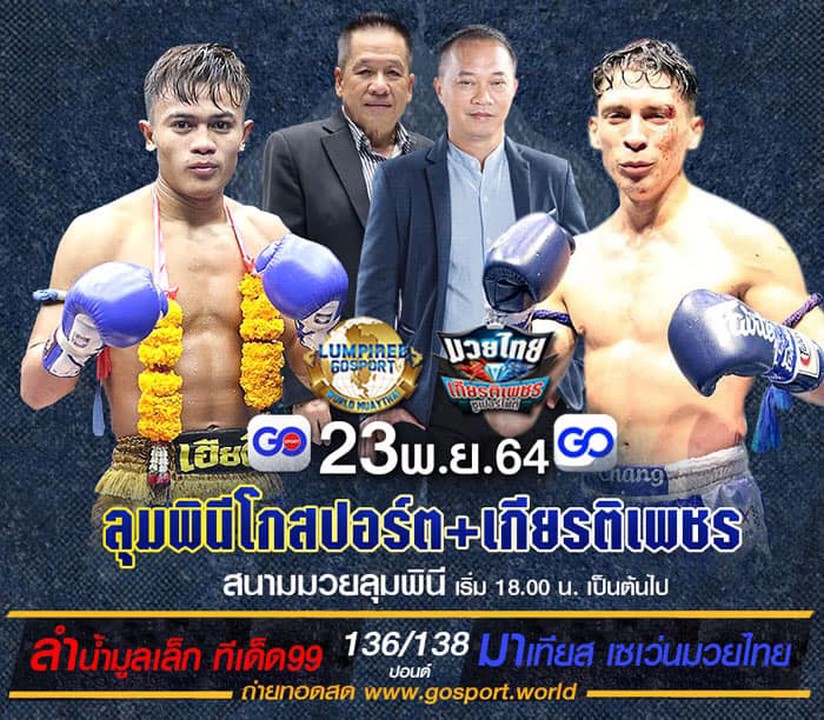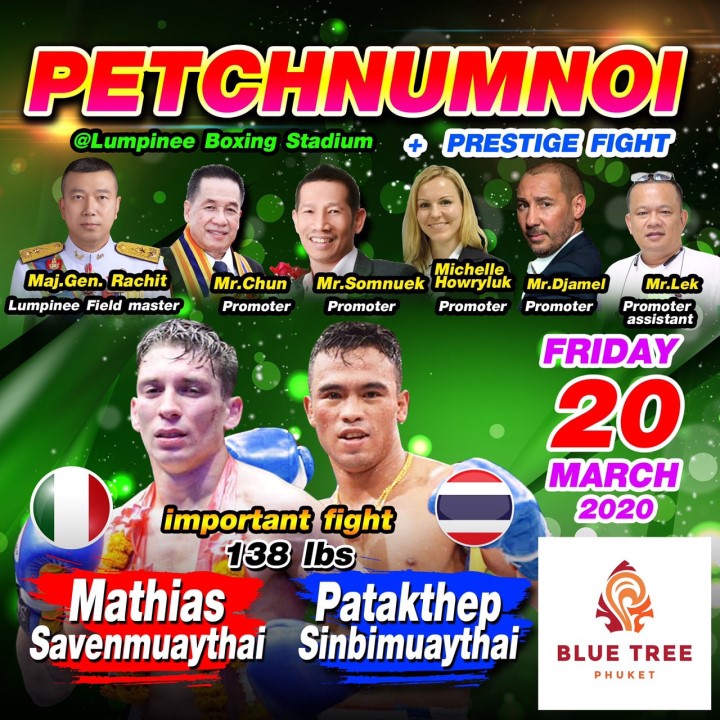 What is your fighting rhythm in Thailand?
In normal times around 1 time every 1 or 2 month, but since Covid happend many things have changed also. It was hard to fight often in the last 2 years…
So far, how many fights, how many victories, how many defeats?
I did 97 fights for 58 wins (19 by knockout), 34 losses and 5 draws
What do you think of the Thai fighters?
Their body is made to fight Muay Thai, they have a lot of experience and have strong and flexible body, even the ones that don't train that much or look after their their health
Who are for you the best fighters in your category today?
Rodtang, Lamnamoonlek, Nakrob, Gaonar, Nuatoranee, just to name a few
Would you rather face Thai fighters or foreign fighters?
It's a very different type of fight, hard to choose one. I have more experience with Thai fighters
What titles did you win?
I don't like to talk about my titles and stuff like that. So I will just put the list from wikipedia:
2015 Max Muay Thai Silver Tournament Champion (-62 kg)
2013 WPMF World Champion (135 lbs)
2013 WBC Muay Thai International Champion (130 lbs)
2012 Revolution Australian Champion (59 kg)
2011 Prachuap Kirikan Province Champion (125 lbs)
2010 WMC Muay Thai Against Drugs (58 kg) – Queen's Cup
2010 WMF Gold Medal (57 kg)
2009 IFMA Bronze Medal (60 kg)
What category you're fighting currently?
135 – 138 pounds
What techniques do you like to use in the ring?
Depending on the opponent and game plan, personally I like low kicks, left middle kicks, punches, elbows in the clinch
Do you have a nickname fighter in Thailand?
I use my real name, Mathias and my gym name 7 Muay Thai Gym. At first Mathias was a bit hard for Thais to pronounce but with time they are pretty good and pronouncing it and remembering it
You beat great Thai champions like Denkiri Sor Sommai, Rungravee Sasiprapa, Diesellek M.U.Den, Prabsuek Si-Opal, Ronnachai Parnsomboon, Jaknaronglek Sor Julsen, Darky Lookmakhamwan, who gave you the most difficulty?
I think maybe recently the most difficult was the fight against Prabsuek at Rajadamnern stadium
You are ranked at the Radja and Lumpinee stadium, there are not many foreign fighters who are in the ranking of the big stadiums of Bangkok, do you wish one day to have the opportunity to fight for a belt of a big stadium of Bangkok?
Yes of course I wish for a title fight
Would you like to fight in the One Championship organization?
I like how they promote their superstar fighters, but for now ONE is not in my plans
What do you think of the three-round Muay Thai fight?
It can be very entertaining. I like it but I love 5 rounds
Have you ever fought in the Thai Fight organization?
Yes, once in one of the biggest Thai fight events in 2011
Is there a specific opponent you would like to fight?
Right now i would like to fight the new Thailand champion Patakthep. We were scheduled to fight before Covid hit, but it got canceled when they closed Lumpinee Stadium…
You have been living in Thailand for several years, do you manage to live well with the purses of your fights?
Depends on the lifestyle, but no it's not easy for a foreigner to live only with fight purses
Are you interested in Thai culture?
Yes, it's very different from european way of thinking, but once you understand then it gets easier to relate with thai people. I learn something new everyday by living here
What do you like most about Thailand after Muay Thai?
The food! I always say food is my first passion and Muay Thai the second (Laugh)
Do you have a particular anecdote to tell us that happened to you in Thailand?
Yes I have many. One I tell you that is not too long is this:
When I was training in a big gym in Bangkok and started fighting at a higher level, the head trainer of the camp told me: "at your weight class, you will never beat the top Thai fighters, you should lift weights and go up to 70 Kg ". A few months later when I fought and won in the main event at Lumpinee Stadium, and started beating fighters that had some name, he became a fan and wanted to take photos with me…
You were able to continue fighting in Thailand in 2020 and 2021 despite the problems of the pandemic?
We had 3 main covid waves in Thailand, each of around 3/4 month break. So in the last 2 years I was only able to fight 2/3 times per year. A Lot of things changed during covid with a lot of new restrictions, we had to fight in empty stadiums, take tests and go to fights with only 1 or 2 people in our corner, and most important the fight purses were cut by almost 50%…
Do you know French champions from now and from the older generation?
Yes, I have trained and have a good relationship with French Lumpinee champions Damien Alamos and Rafi Bohic. I'm a fan of Fabio Pinca (Radaj champion) as well, he had a lot of success in Thailand, as well. I don't know many fighters of the older generation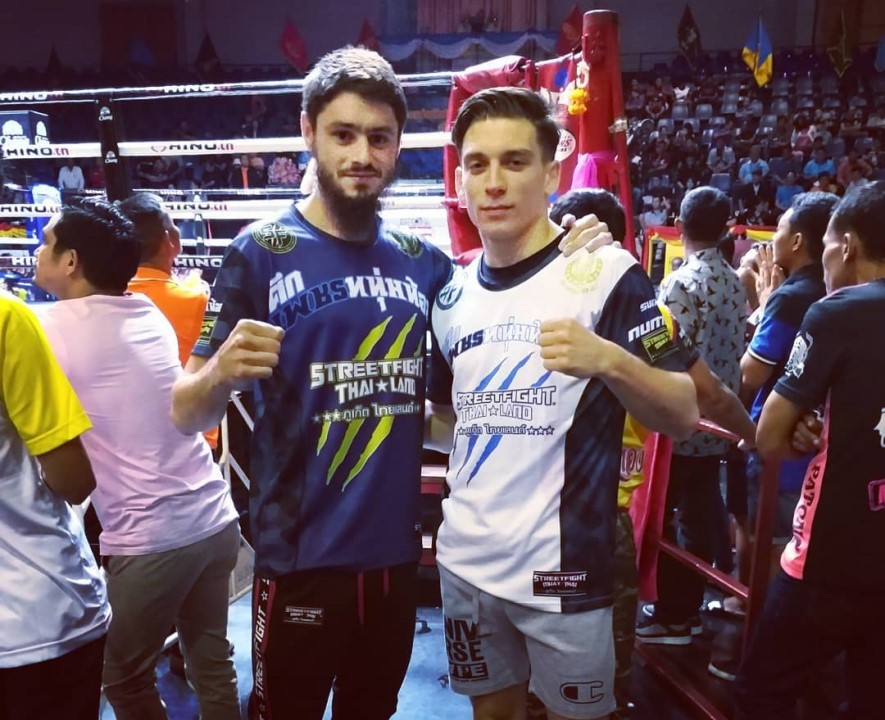 What do you think of French fighters?
After Thailand, I think France is the 2nd country for Muay Thai in the world
Have you ever fought in France?
Yes I fought once in Tours, La Nuit Des Titans. I fought against Ayoub El Khaidar, and even if I knocked him down in the 4th round, I lost on points. It was funny because all the french audience in the stadium was cheering for me instead of their local fighter
What is your best memory of boxing so far?
Lumpinee Stadium for the first time! I'm lucky because Muay Thai gave me (and is still giving me) alot of good memories in the ring like winning the WPMF world title at 19 years old, winning a 4 man tournament or winning by crazy knockout, but also alot of memories of traveling to many cities and countries to fight and experiencing many different lifestyles
And the worst ?
I've had many lows in my career as well, but I think the worst memory is when I lost 3 fights high level fights in a raw and I was questioning if I should keep fighting or not (I ask myself that many times). Luckly, the night I lost the 3rd fight in raw, which was in a very big event at Lumpinee, I met my current manager and promoter, Numnoi, so from then on I had more and better opportunity and my motivation came back!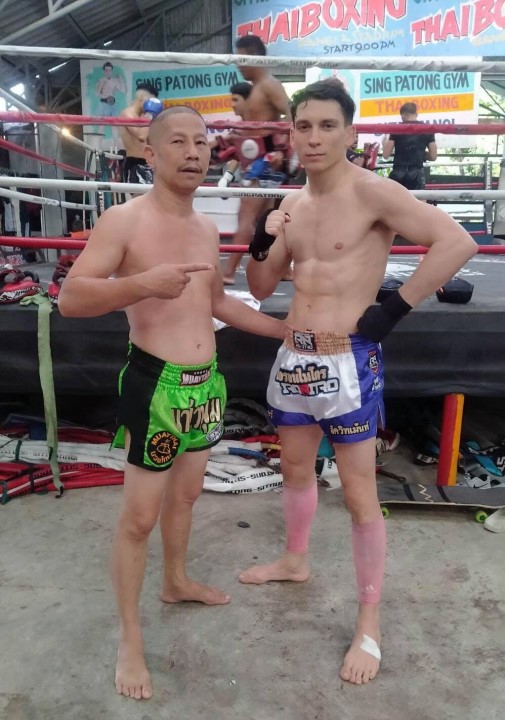 Your hardest fight of your career?
The first fight against Ronachai, which was awarded fighter of the month by Lumpinee Stadium and fight of the year by SMM Sport. Because I was not well prepared, my first daughter was born 3 weeks before and I did not train enough and also I underestimated my opponent, I thought I would win by KO, but it ended up being a very hard fought 5 rounds
What are your plans for 2022?
Keep improving my level and keep fighting higher level opponents and try to get a title fight
Your next fight?
I suffered a big cut on my shin once again in the last fight against Lamnamoonlek (Sports Authority of Thailand's fighter of the year 2021), so I have to take a small break once again
Do you want to add something?
I really appreciate your concern, Thank you!
Thank you very much for this interview and Chookdee for your fights!
Thank you!
Mathias Gallo Cassarino is a formidable fighter, powerful and technical, a hard to evil fighter who has been evolving on the Thai rings for many years.
In 2012, in the stadium of Lumpinee (Old stadium), Mathias Gallo beat the Japanese champion Yukiya Nakamura (WBC and WPMF world champion).
The Italian champion fought and won seven times in a row in the former and mythical stadium of Lumpinee (Stadium which closed in 2014). He fights today regularly in main fight in the new stadium of Lumpinee.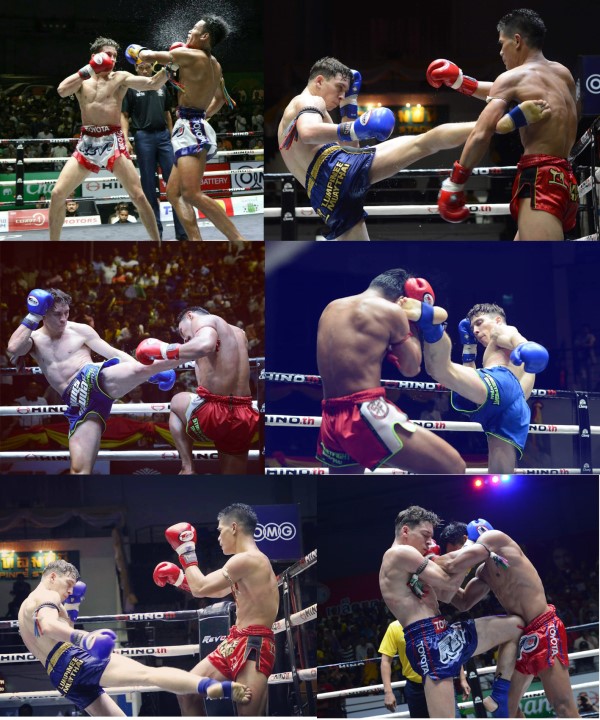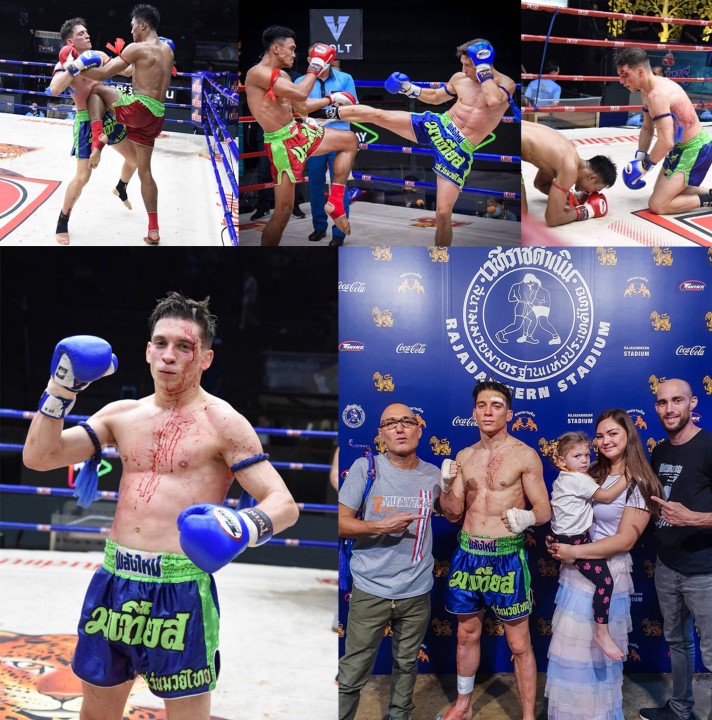 In 2013, Mathias defeated the great Spanish champion Juan Mario Kaewsamrit for the title of WPMF world champion in 135 lbs. Juan Mario Kaewsamrit who lives in Thailand is one of the most feared Spanish fighters (9 times WPMF world champion).
Mathias also defeated, in the Super Muay Thai organization, champions such as Seuadam Khongsittha (brother of star Singdam Kiatmuu9) and Markleak Sititisukato.
In 2017, Mathias fought a terrible battle against tank Ronnachai Parnsomboon. The match was voted «Best Match of the Year» by SMM Sport magazine. The Italian ended with a bloody head. But he won the match by points.
Revenge between the two fighters took place six months later at the Lumpinee stadium. The fight was even more violent. In the fourth round, Mathias Gallo struck the Thai with a beautiful right elbow. Ronnachai was evacuated from the ring on a stretcher!
Mathias has already defeated great Thai champions such as Jaknaronglek Sor Julsen (Omnoi Stadium Champion in 140 lbs) who he beat once by KO and once in points, Darky Lookmakhamwan (IBF Muay Thai World Champion in 135 lbs) who he defeated in points.
He made three matches against the solid Rungravee Sasiprapa (TV7 Champion in 126 lbs, Top King World Champion in 140 lbs) with one win, one loss and one draw. Mathias won two points wins against star Denkiri Sor Sommai (Lumpinee champion in 122 lbs, TV7 champion in 126 lbs)!
Mathias also carried out hard fights against formidable foreign champions against whom he lost in points like the rough Uzbekistan Anvar Boynazarov (Winner by KO of the great French champion Fabio Pinca) and the young prodigy of the rings, the French Brice Delval ( S1 World Champion).
In 2019, Mathias had a great fight against Inseethong Por Peenapath who is the current Thailand champion in 140 lbs. The Italian lost honorably on points against the Thai champion.
On October 3, 2021, in Buriram, in the Northeast region, Mathias had a great match and beat Nakrob Fairtex in points. A great performance because only Mathias beat Nakrob in 2021. A month after his defeat against the Italian, in the famous TV7 stadium, the young Thai put KO Kingsanglek Tor Laksong (Current champion of the Omnoi stadium in 135 lbs). Thanks to this victory, Nakrob Fairtex will fight in January 2022 against Neuathorranee Samchaivisetsuk for the TV7 belt in 135 lbs. Neuathorranee is the holder of the TV7 title in 135 lbs, he won the vacant belt of the TV7 stadium in 135 lbs in March 2021.
Mathias made his last fight on Tuesday, November 23, 2021 at the stadium of Lumpinee. He faced the young Lamnamoonlek Or Atchariya (23 years) who is a rising star. Lamnamoonlek is ranked N°1 at the Radja Stadium and N°2 at the Lumpinee Stadium in 130 lbs. Lamnamoonlek has just been awarded the prestigious "Best Boxer of the Year 2021" by The Sports Authority of Thailand!
Lamnamoonlek came into the 138 lbs category to challenge Mathias Gallo. The match was very close and Mathias lost on points.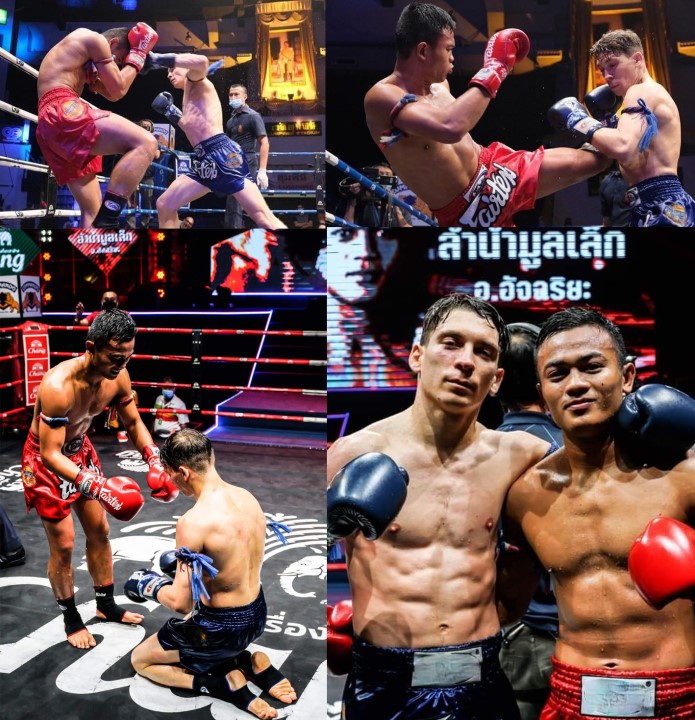 Mathias is now ranked N°2 in 140 lbs in the ranking of the famous stadium of Bangkok Lumpinee.
In 2018 and 2019, the Italian champion was awarded the Fighter of the Month Trophy at the Lumpinee Stadium. Very few foreign fighters have had the honour of receiving this award. The Italian champion really deserves to compete for a title at a big stadium in Bangkok!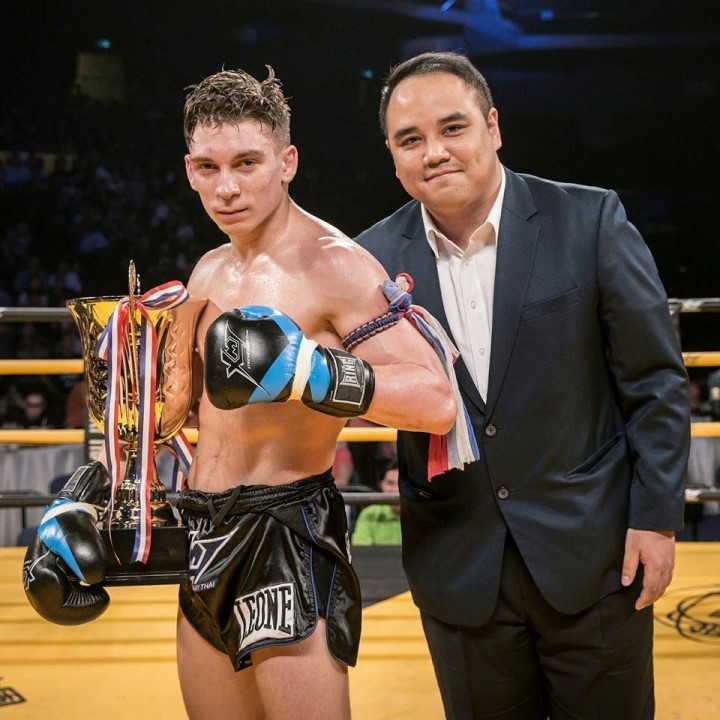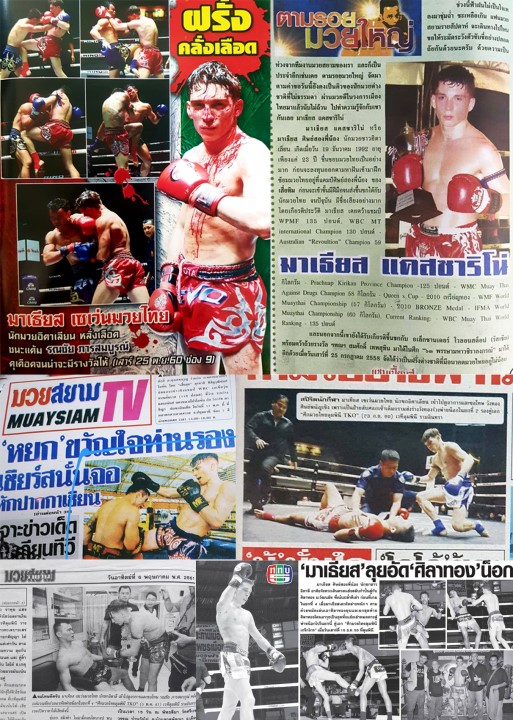 Mathias's last matches at the stadiums of Lumpinee and Ratchadamnoen:
In 2017 (2 wins, 1 loss):
June 8, in the stadium of Lumpinee, defeat by points against Petchdamlek Sor Yingjaroenkanchang
September 23, in the stadium of Lumpinee, victory by KO against Wangtong Sitpanancherng
November 25, in the stadium of Lumpinee, victory by points against Ronnachai Parnsomboon
In 2018 (3 wins, 2 losses):
February 24, in the stadium of Lumpinee, victory in points against Mongkolpetch Dabpong 191
May 8, in the stadium of Lumpinee, victory by KO against Ronnachai Parnsomboon
June 30, in the stadium of Lumpinee, defeat by points against Pinpetch Sitjaedang
August 28, in the stadium of Lumpinee, victory in points against Diesellek M.U.
November 30, in the stadium of Lumpinee, defeat by points against Paedsaenlek Rachanon
In 2019 (2 wins, 2 losses):
June 15, in the stadium of Lumpinee, victory by points against Jaknaronglek Sor Jullasen
July 20, in the stadium of Lumpinee, defeat by points against Inseethong Por Peenapath
August 23, in the stadium of Lumpinee, defeat on points against Darky Lookmakhamwan
October 12, in the stadium of Lumpinee, victory in points against Darky Lookmakhamwan
In 2020 (2 wins, 2 losses):
February 14, in the stadium of Lumpinee, victory by KO against Chalamsuek Sitanothai
August 6, in the stadium of Radja, defeat by points against Phetmanee Phor Lakboon
October 1, in the stadium of Radja, defeat by points against Petchlamsin Chor Haypayak
November 20, in the stadium of Radja, victory by KO against Prabsuek Si-Opal
In 2021 (1 defeat):
December 23, in the stadium of Lumpinee, defeat by points against Lamnamoonlek Or Atchariya
MATHIAS GALLO CASSARINO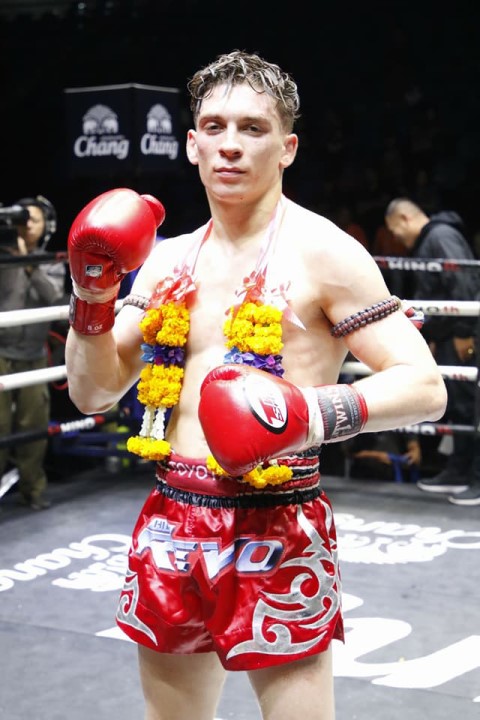 Date of Birth : 19/12/1992
Weight : 135 lbs
Height : 175 cm
Number of fights: 97. 58 wins (19 by knockout), 34 losses, 5 draws
Title : 2015 Max Muay Thai Silver Tournament Champion (-62 kg), 2013 WPMF World Champion (135 lbs), 2013 WBC Muay Thai International Champion (130 lbs), 2012 Revolution Australian Champion (59 kg), 2011 Prachuap Kirikan Province Champion (125 lbs), 2010 WMC Muay Thai Against Drugs (58 kg) – Queen's Cup, 2010 WMF Gold Medal (57 kg), 2009 IFMA Bronze Medal (60 kg)
Team: 7 Muay Thai Gym
Website :