Temps de lecture :
5
minutes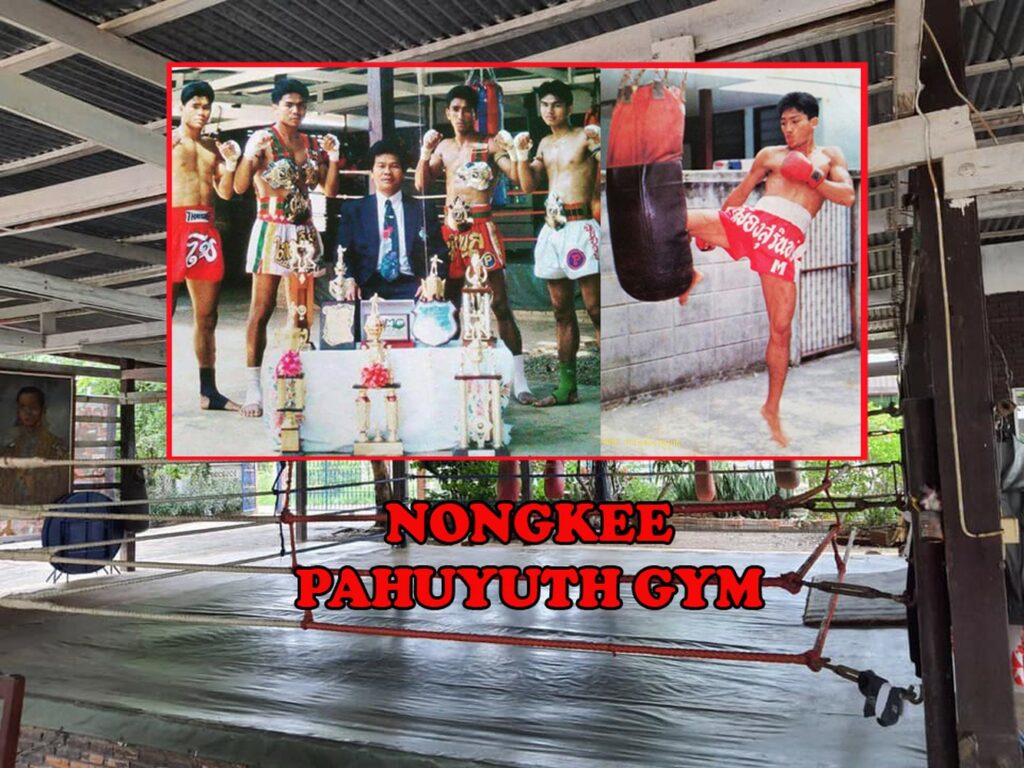 NONGKEE PAHUYUTH GYM
by Serge TREFEU (2022)
This historic camp is located in the village of Don Arang in Nong Kee (Pronounced Nong Ki), a village that is 50 km south of the town of Buriram.
This camp belongs to Master Pramote Hamook and has existed for 50 years, it was one of the most prestigious camps in the country in the 80s and 90s. Nongkee Pahuyuth has produced legends such as the two brothers Namkabuan and Nampon, Therkiat, Hansuk and many other champions.
The Nongkee Pahuyuth Gym doesn't have as many champions as in his heyday but it still has good girls fighters including a few champions who make a lot of talk about them.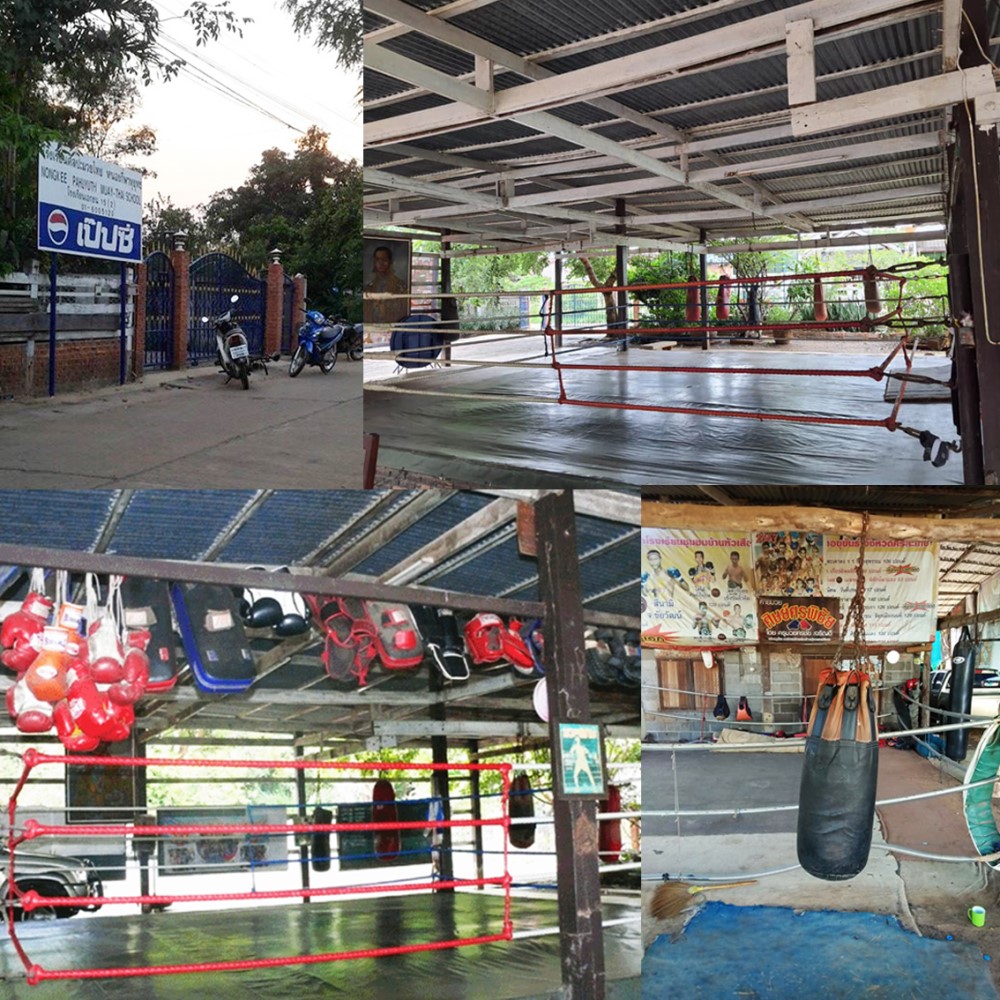 This camp was formerly known as the Nong Kee Sports Center and was established in 1972. The camp manager was «Toemsak Pitthanasarnsombat» who became an important promoter.
The first champions were Ronnachai Nong Kee Sports Center and Kraisuwit Nong Kee Sports Center.
The camp was later renamed "Nongkee Pahuyuth Gym" and was led by Ajahn Pramote Hamook.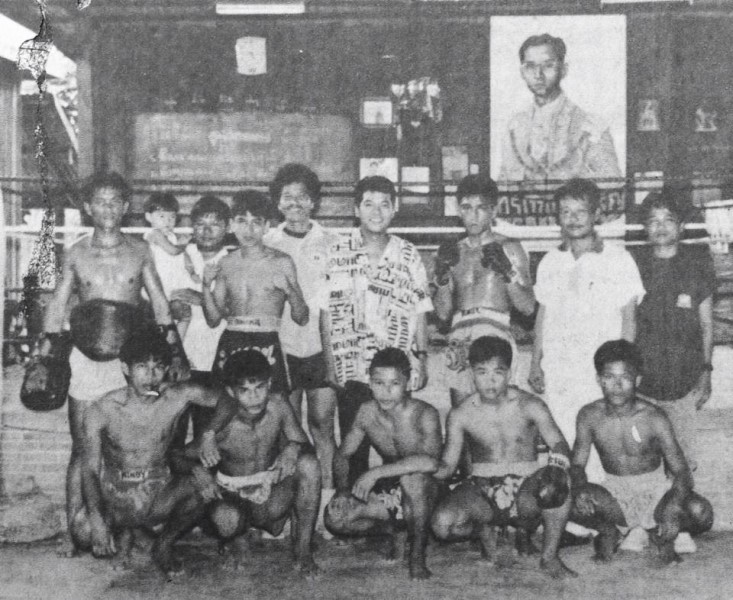 Master Pramote Hamook was born on November 26, 1945 in Nang Rong, Buriram province. He learned Muay Thai in high school and did some fighting in this discipline. He also practiced other sports such as football. When he graduated as a college teacher, he had a career as a teacher.
Master Pramote Hamook first taught boxing to give the children of his region a taste for sports. This true lover of Muay Thai has always been a true lover of this Thai National Sports Art. At 77 years, he still teaches Muay Thai to children…
Pramote Hamook was one of Muay Thai's first coaches to wear a suit like a big boss when he introduced his fighters to boxing shows. He was nicknamed "Jomnekthai" (The Elegant Man in the Tie).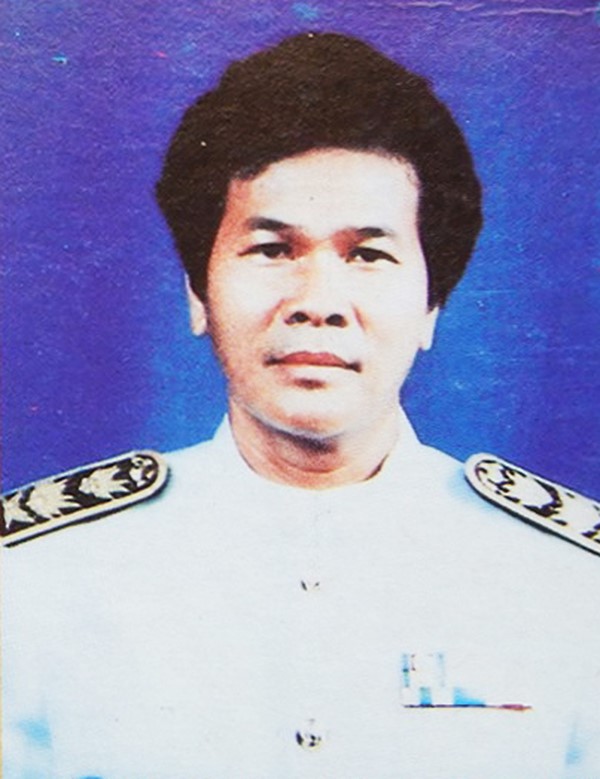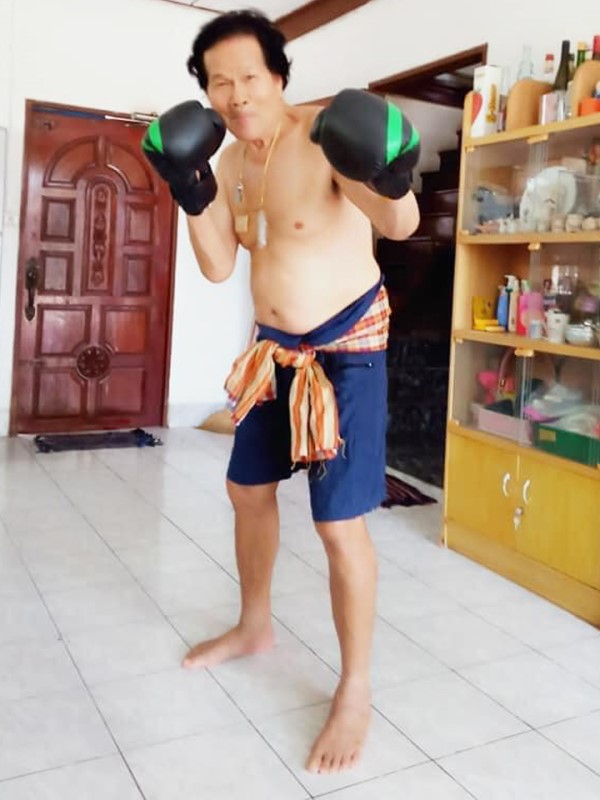 In his heyday, Nongkee Pahuyuth Gym had many professional boxers fighting all over Thailand and even abroad.
When they went to fight in the big stadiums of Bangkok, the boxers of Nongkhee Pahuyut finished their preparation in the famous Muangsurin camp, a camp which was located in the suburbs of Bangkok and which included boxing stars such as Samransak, Den, Khaosot, Chainoi.
The two pearls that Master Pramote Hamook formed are Nampon Nongkee Pahuyuth and Namkabuan Nongkee Pahuyuth. He also formed great champions Hansuk Prasathinpanomrung and Surasingh Nongkee Phahuyuth. Finally, ring superstar Thedkiat Sitthepitak prepared for many years with Master Pramote Hamook.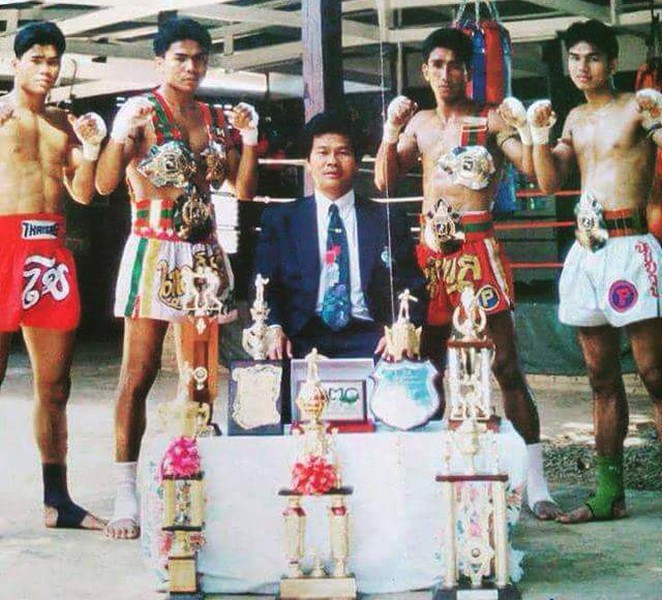 Nampon, who was four years older than his younger brother Namkabuan, was a huge champion, he did not have the same fighting style as his younger brother. Nampon was a durable boxer who advanced on his opponents by sending knee shots and terrible low kick. Nampon has done a lot of hard fighting, too many, matches where he was often open to the face, so much so that Muay Thai fans had nicknamed him «Khun Khao Nay Peuaiye» (The Rebuilt Knee Stroke). Because during his career, he had 72 stitches, in addition, Nampon had had a serious car accident which earned him extra stitches!
Nampon won the Lumpinee belt in 108 lbs against Phetchan Sakwicha and the Lumpine belt in 126 lbs against Jaroenthong Kietbanchong.
Nampon met the legendary Samart Payakaroon twice (2 losses), the great Ramon Dekkers twice (1 win, 1 loss), the formidable Jaroenthong Kietbanchong seven times (3 wins, 3 losses, 1 draw), twice the bull Nuathoranee Thongraja (1 win, 1 draw).
He beat terrible puncher Coban Lookchaomaesaitong, ring stars Kongtoranee Payakaroon, Chanchai Sor Tamrangsee, Orono Por Muang Ubon, Panomrunglek Chor Sawat, Manasak Sor Ploenchit, Therdkiat Sithepitak (KO), Nongmoon Chumpethong, Samranthong Kietbanchong (KO)!
This legendary champion unfortunately died on September 19, 2016 at the age of 47 following a long lung disease…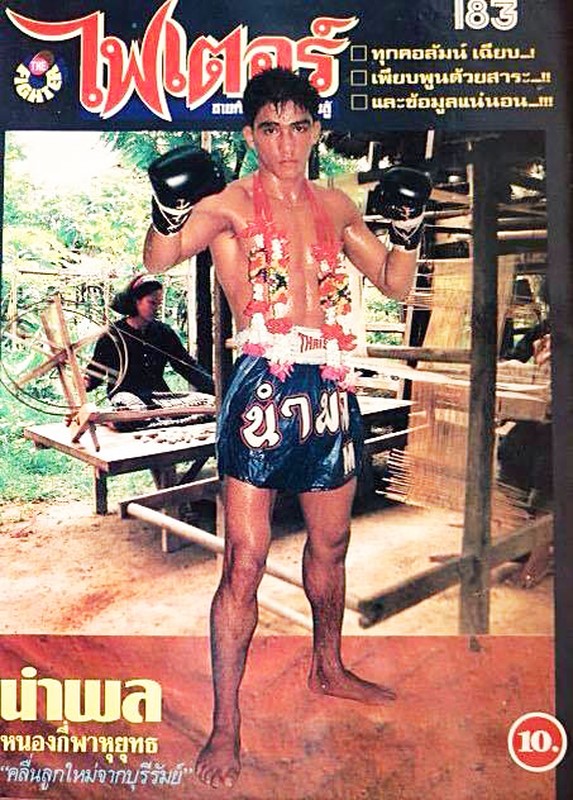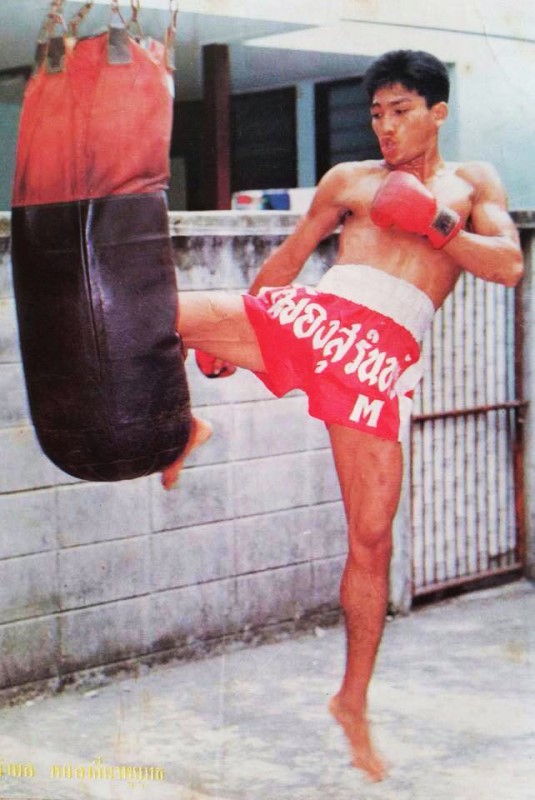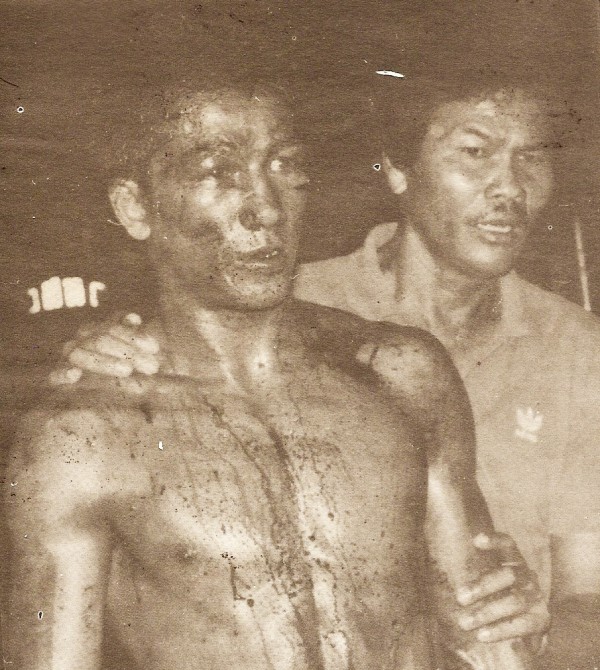 Namkabuan was, in the 90s, the undisputed star of all Lumpinee aficionados because he ignited the stadium with his breathtaking techniques. Namkabuan was a phenomenal technician who managed to defeat fighters far more powerful than him thanks to his exceptional technical mastery.
His ring science and his way of fighting earned him many nicknames, one of the best known is undoubtedly «The Ring Genius» but he was also called «Khun Khao Phanom Rung» (The knee stroke of Phanom Rung) from the famous Phanom Rung temple in the Buriram region. And the fans of Muay Thai had nicknamed him Djomkaynaa (The Labourer) because his specialty was the techniques of grasping the legs, he grabbed the leg of his opponent and raised it to unbalance his opponent and make him fall. This technique made one think of a farmer who pushes his plow and plows his field, Namkabuan was the peasant and the legs of his opponents, the handles of the plow.
Namkabuan won the Lumpinee belt in 130 lbs against the formidable «Muay Khao» Cherry Sor Wanich in the early 90s and kept it for six years, he kept his trophy against many opponents, including against great champions like Pairot Wor Wolapon, Prapramlek Sisamtat et Nuathoranee Thongraja. For lack of an opponent, he left his Lumpinee title vacant and won a 130 lbs WMC World Champion belt, a belt he also kept for several years.
Namkabuan beat top champions of his generation such as Samranthong Kietbanchong, Dedouang Por Pongsawan, Dokmaypha Por Pongsawan, Toto Por Pongsawan, Paruhatlek Sitchunthong, Hippy Singmanee, Nuathoranee Thongraja (4 times), Superlek Sor Isaan, Noppadej Sor Rewadee, Pairot Wor Wolapon , Wangchannoi Sor Palangchai (4 times), Lamnamoon Sor Sumalee (2 times), Oley Kiat Oneway (3 times), Matee Jedeeptak (2 times on points, 1 time by KO), Cherry Sor Wanich, Chatchai Phaiseethong (2 times), Robert Kaennorasing, Jomrak Lookprabat, Boonlai Sor Thanikul, Therdkiat Sittepitak, Samkor Kietmontep (2 times), Sangtiennoi Sor Rungroj (2 times), Jongsanan Fairtex (2 times), Sakmongkol Sitchuchoke (3 times)!
Bone cancer unfortunately struck down this immense champion, he died at the age of 48 years, on April 7, 2021, four years after the death of his big brother..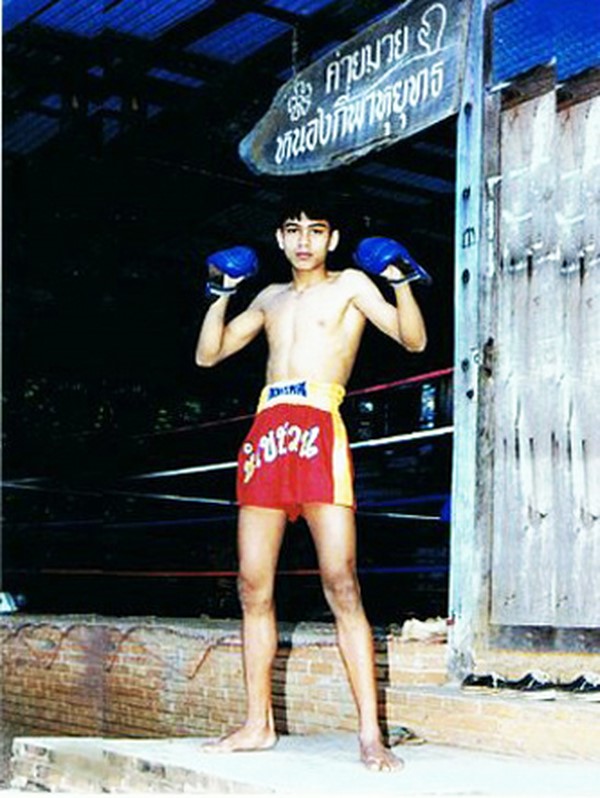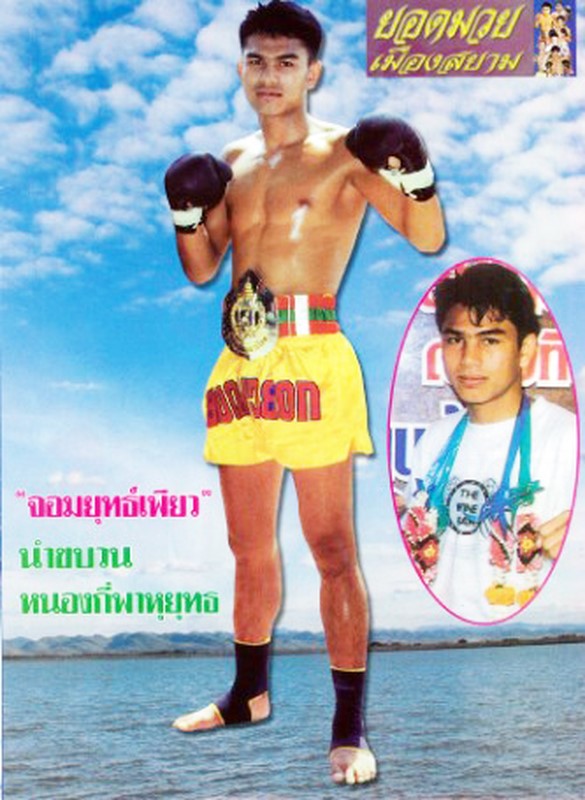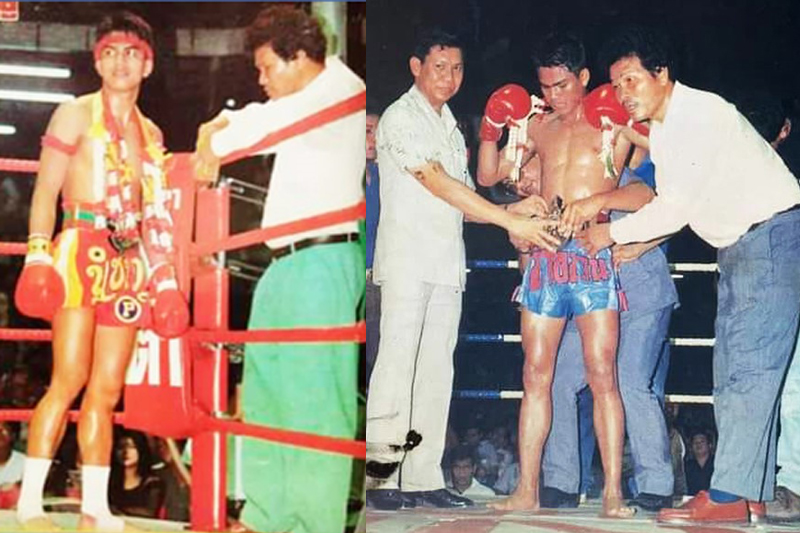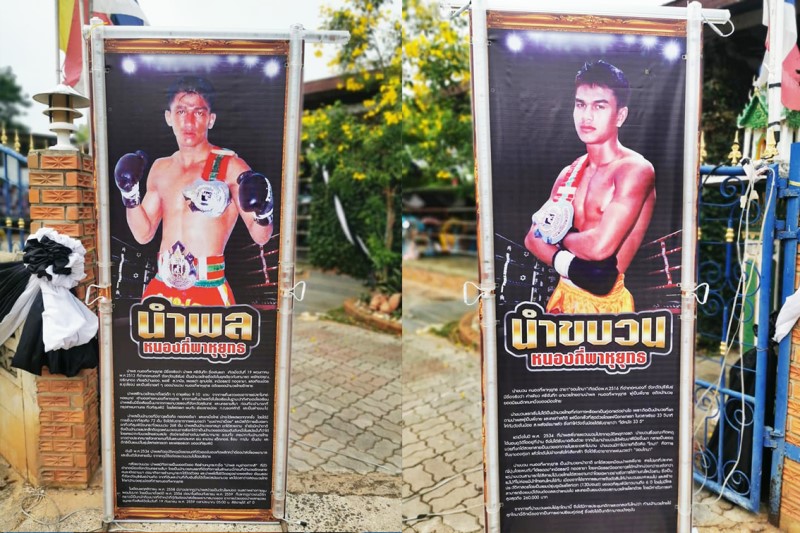 Hansuk Prasathinpanomrung was one of the best fighters on the Thai circuit, a formidable opponent who beat a lot of champions. The list of great fighters who have lost to him is impressive. Hansuk beat big names such as Wangchainnoi Sor Palangchai, Kaensak Sor Ploenchit, Nungubon Sitlerchai, Lamnamoon Sor Sumalee, Karuhat Sor Supawan, Matee Djedipitak, Olé Kiatoway, Jaroensap Kiatbangchong, Khaoponglek Luksuratam, Jomponlek Sor Sumalee, Daosuk Por Yotnan, Dao Udon, Hippy Singmanee, Kunpinit Kiatawan!
He won the belt of the Lumpinee in 122 lbs in 1994 beating the terrible Wangchainnoi Sor Palangchai.
His fighting name «Prasathinpanomrung» refers to the most famous temple in the northeast, the «Prasat Hin Phanom Rung». This temple occupied a strategic location during the Khmer kingdom as well as the memorable Angkor Wat Temple in Cambodia.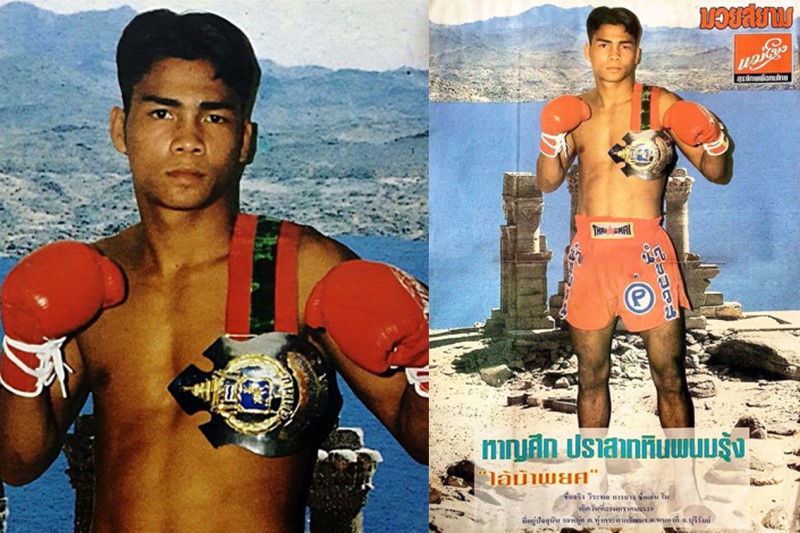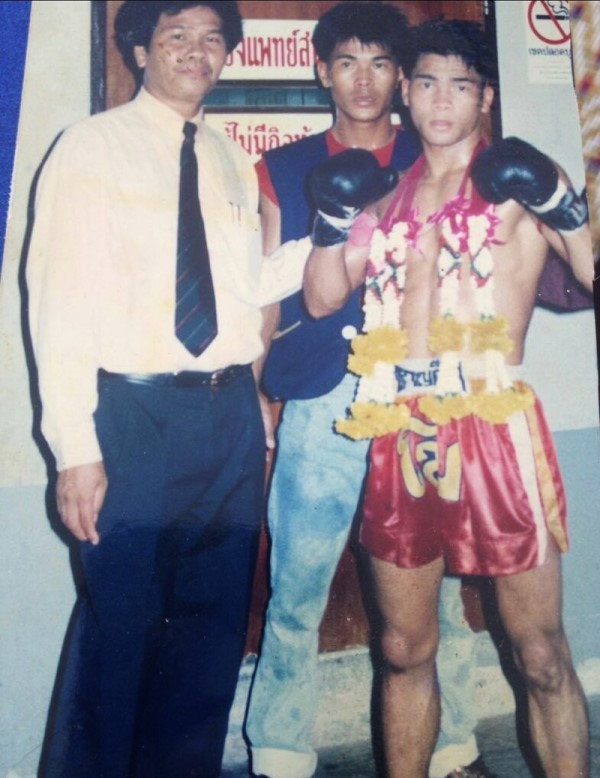 Surasingh Nongkee Phahuyuth was born in Phlaphlachai village, Buriram province.
This great champion was a solid boxer, he was powerful and technical. Surasingh was Omnoi champion in 126 lbs. In 2005, he won the famous Isuzu tournament by defeating Sittisak Sit Or in the final.
After winning the 15th Isuzu tournament, he was nicknamed «Maamud» (The Dark Horse). The dark horse refers to a horse that can win a race without anyone expecting it to win. Because Surasingh was not at all a favorite for the Isuzu N° 15 tournament and yet, he defeated all the best boxers of this tournament.
Surasingh died, during a street fight, he was stabbed to death…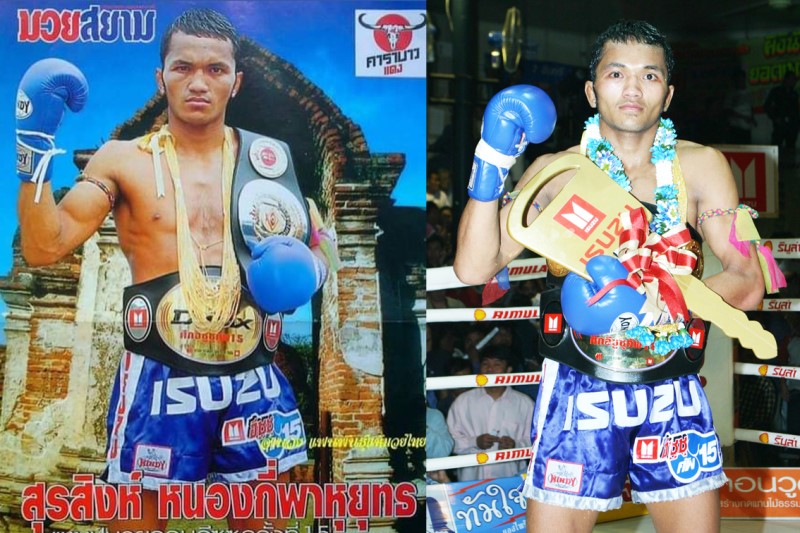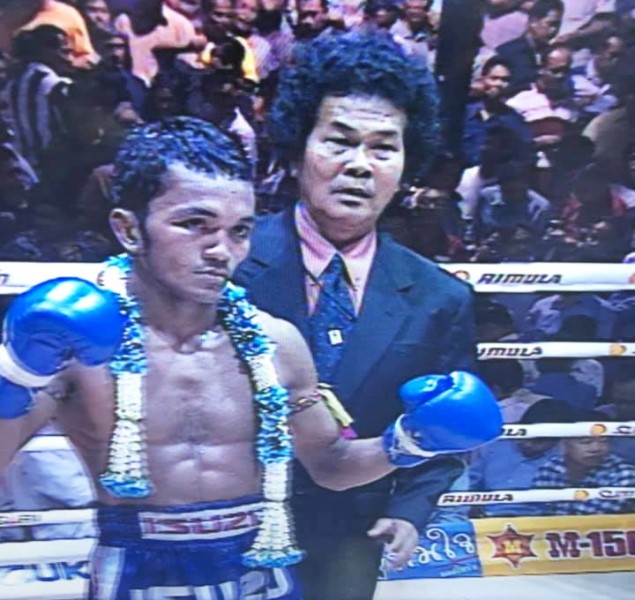 Thedkiat Sitthepitak was a superb Fimeuu (Technician) who delighted the punters with his tactical and technical fights. Thedkiat was known as "Rachanheang Lumpinee" (The King of Lumpinee).
In 1992, Thedkiat joined the Nongkhee Pahuyut camp, he fought for Master Pramote Hamook until the end of his career.
Before fighting for Nongkhee Pahuyut Gym, Thedkiat had faced the two stars of Camp Nampon (Defeat by KO) and Namkabuan (Defeat by points). Then, for years, Thedkiat trained with his former opponents.
Therdkiat has been the Lumpinee stadium champion in the 122 lbs category (Victory over Superlek Sor Isaan ) and three-time Lumpinee stadium champion in the 126 lbs category (Against Petchdam Lukborai, Sanit Wichitkriangkrai and Oley Kiatoneway). In 1988, he also won the Nissan Big M tournament by defeating KO in the fourth round, Khingdaeng Sor Ratanachingchay.
This immense champion registered his name among the champions of the golden age of Muay Thai in Thailand, he beat the most technical and the toughest fighters of the 90s like Yodkhunpol Sittraipum, Den Muangsurin, Samransak Muangsurin, Panomrunglek Chor Sawad, Phetdam Lukborai, Jaroenthong Kietbanchong, Rajasak Sor Worapin, Jack Kiatniwat, Sangtiennoi Sor Rungroj, Cherry Sor Wanich, Nuathoranee Thongraja, Superlek Sor Isaan, Oley Kiatoneway, Robert Kaennorasing, Orono Por Muang Ubon, Rainbow Sor Prantalee, Charndet Sor Plantalay, Jongsanan Fairtex (KO), Samkor Kietmontep!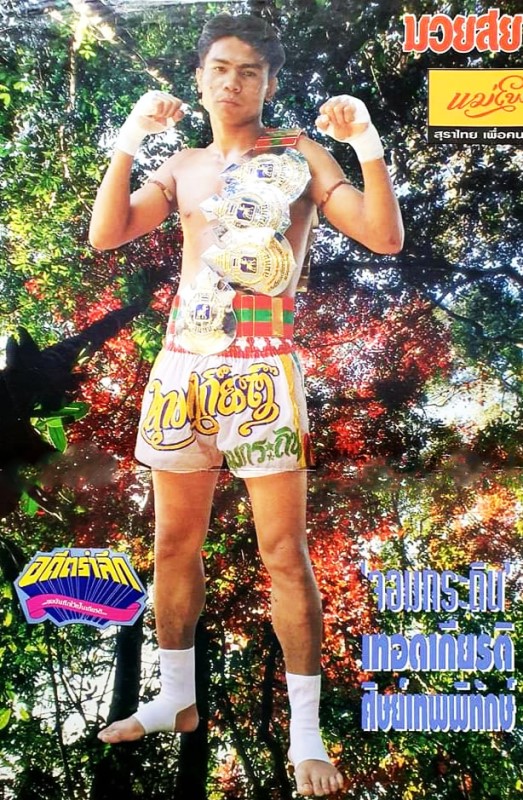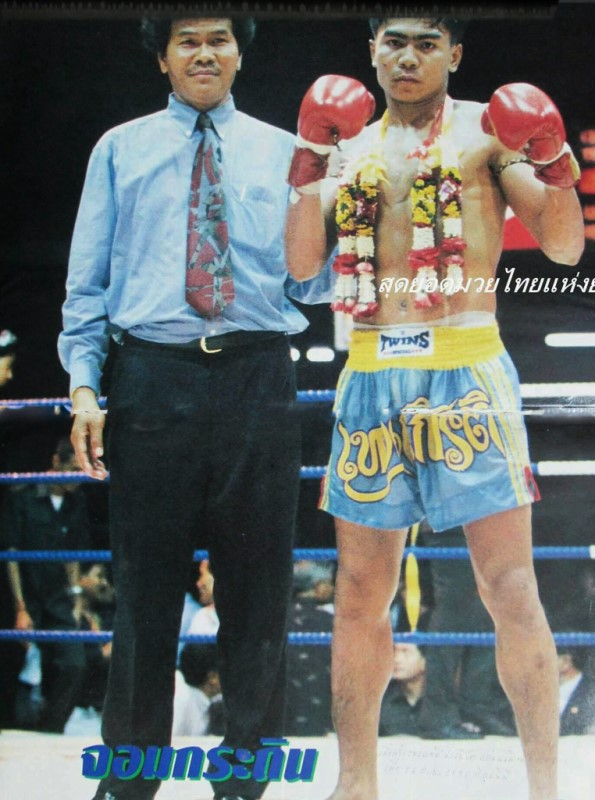 Namponlek Nongkee Pahuyuth and Namkabuanlek Nongkee Pahuyuth, the nephews of stars Nampon and Namkabuan, have also contributed to the fine reputation of this illustrious camp.
Namponlek won the renowned Mitsubishi tournament in 1999 and Namkabuanlek ignited Bangkok stadiums in the 2000s.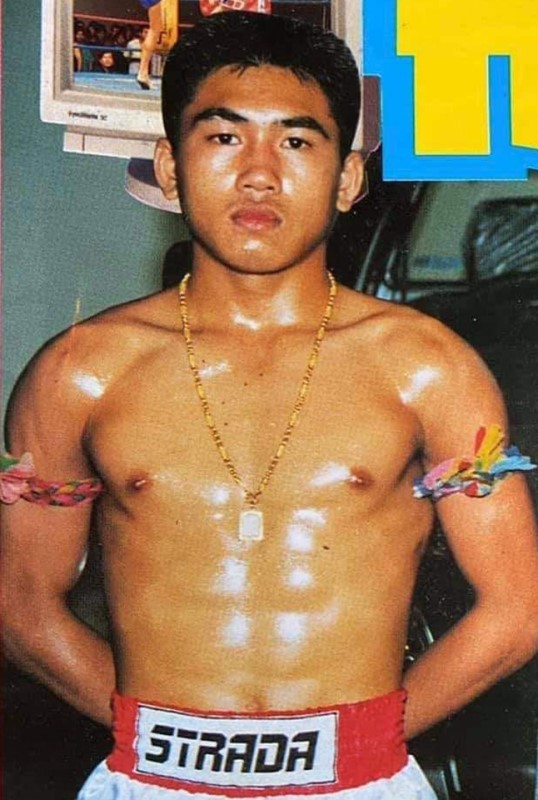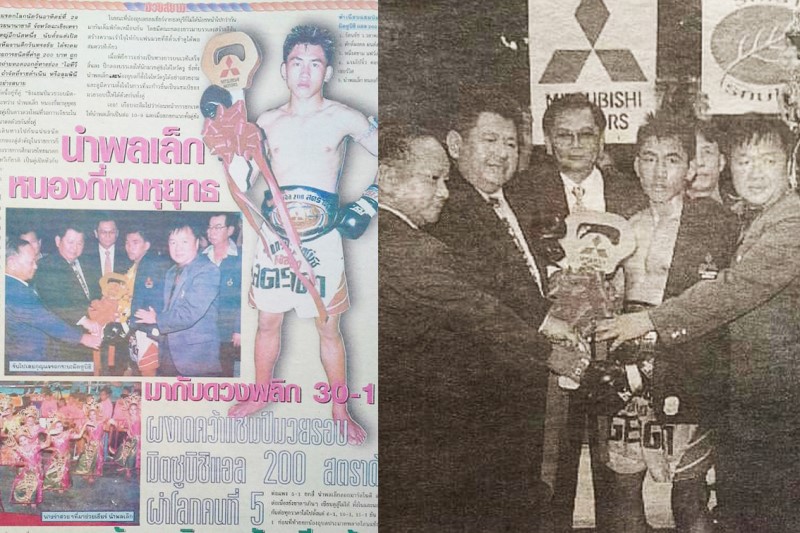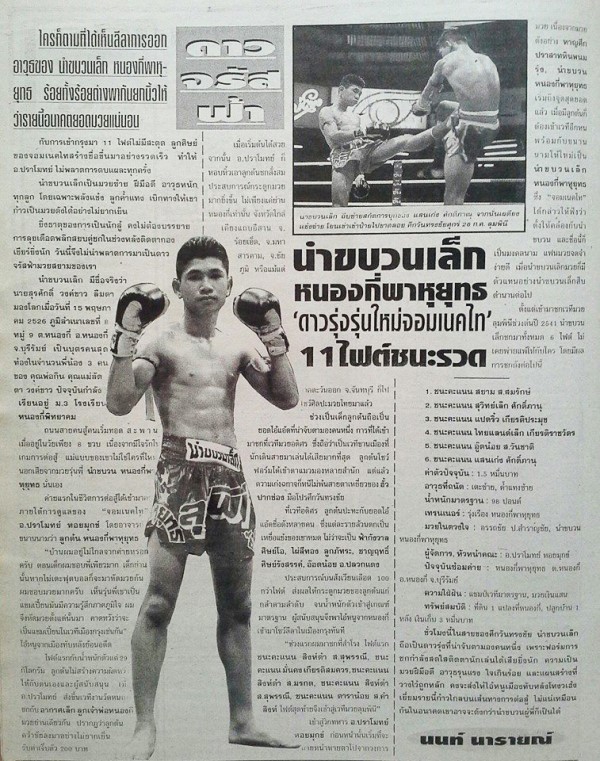 A few great foreign fighters came to train and fought for Nongkee Pahuyuth Gym in the 2000s. The best known are English champions Dean White (4 times World Champion) and Dale White (5 times World Champion).
A gym "Nongkee Pahuyuth Gym" opened in Manchester, England.
Also, Australian fighters trained at Nongkee Pahuyuth in Thailand and a gym "Nongkee Pahuyuth Gym" was established in Perth, Australia.