PONGSIRI AND PETCHSIRI POR SIRIPONG (CAREER 2010-2020)
Temps de lecture :
4
minutes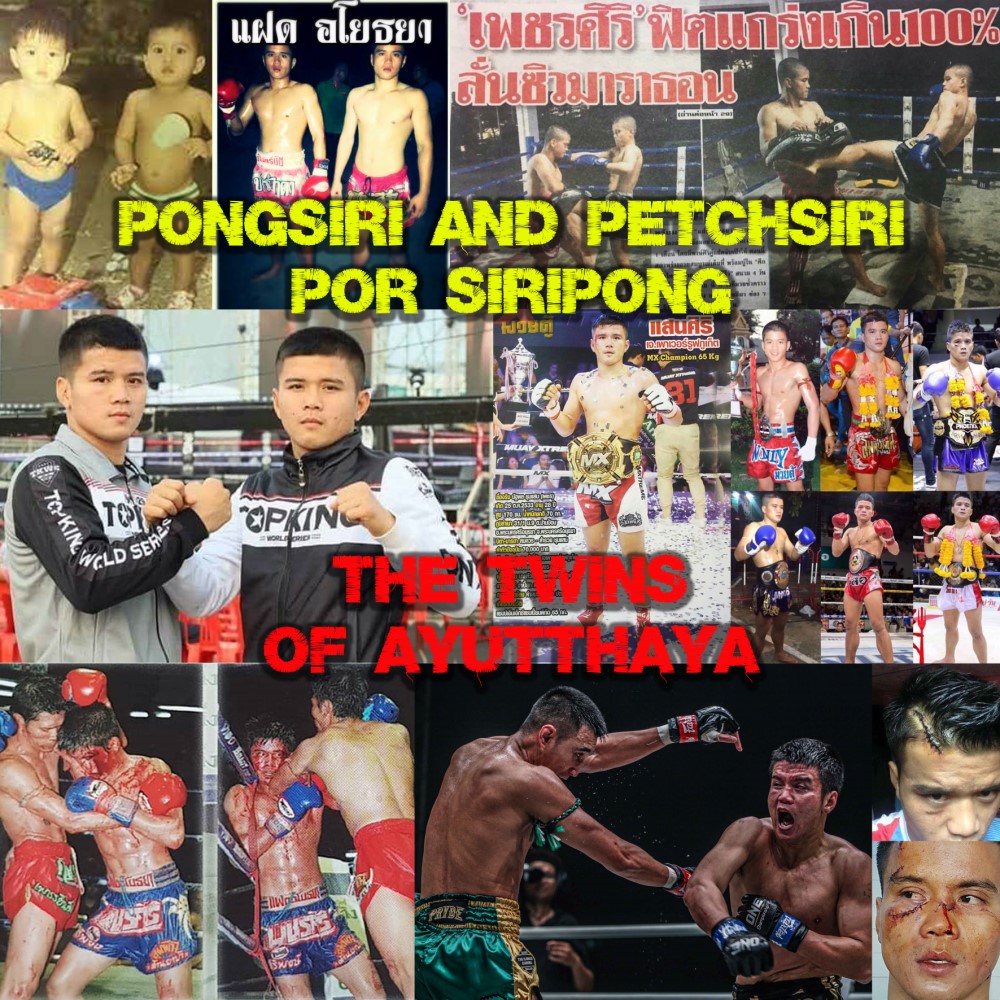 PONGSIRI AND PETCHSIRI POR SIRIPONG
« THE TWINS OF AYUTTHAYA »
These twins were born on 25 October 1990 in the town of Chaloem Phrakiat in the province of Nakhon Ratchassima (Northeast Region). Their real names were Nattapong Chumsaen and Napon Chumsaen, who later grew up in the province of Phra Nakhon Si Ayutthaya (Central Region).
At the age of 8, they started boxing with their father who is a boxing fan. Then they were formed in the Por Siripong camp which is located in the Ban Pom district in the city of Ayutthaya. The Por Siripong was created by Ajahn Siripong Harunsong who unfortunately passed away in 2015. His daughter, Alisla Harunsong, has taken over his father's camp.
Nattapong took the name of fighter Pongsiri Por Siripong and Napon, that of Petchsiri Por Siripong.
At 12 years, the twins fought in the same evening in Saraburi. The speaker of the evening introduced them by naming them "Faid Ayutthaya" (The Ayutthaya Twins). Since this boxing night, they have worn this nickname of fighter during all their careers!
Pongsiri and Petchsiri also often trained at the famous Lukprabat camp in Saraburi. But they fought for a long time under the colours of the Por Siripong Gym.
Then, the twins joined the Petch Por Tor Or camp, the camp of the great champion Rambo Petch Por Tor Or (135 lbs TV7 champion). They fought for the Petch Por Tor Or Gym. The boxing camp is in the Battalion 6 military base in the northeast suburb of Bangkok, next to the former Don Muang Airport. It is headed by Lieutenant Wirayut Kongsuk
Petchsiri enlisted in the army, he remained in the camp Petch Por Tor Or Gym which belongs to the army. Petchsiri changed his fighting name to Sansiri J. Power Roof Phuket (Sponsor name).
Pongsiri has joined the champion factory, the P.K. Saenchai Gym in Bang Kho Laem, south of Bangkok. A camp for which he now fights under the name of Pongsiri P.K. Saenchai Gym.
Pongsiri and Petchsiri are hard-core fighters, fierce fighters who have fought many bloody battles.
One of Petchsiri's bloodiest matches was undoubtedly his clash with Kangwanlek Petchyindee in 2009 at the Lumpinee stadium. The two boxers had broken teeth, openings on their foreheads and the arcades exploded after their terrible elbow battle that ended in a draw.
Petchsiri made 134 fights for 92 wins, 41 losses, 1 draw, he defeated champions such as Kaewkangwan Sitlekphet, Natthapon Phor Pheuanchuaeng, Kriengkrai Thor Silachai, Nopakrit Kor Kampanat, Saksongkhram Phopteeratham, Rajasingh Petchyindee Academy, Nawi Phuket Fight Club, Yodkompadak Sinbee Muay Thai, Rungrat Phumphanmuang, Yodthuanthong Petchyindee Academy!
Petchsiri was Royal Thai Army Sports Insider Silver Medalist in 2017, Royal Thai Army Sports Insider Gold Medalist in 2018, he also reached the final of CP Fresh and Toyota Marathon tournaments.
On July 6, 2018, Petchsiri won the belt in – 65 Kg of MX MUAY XTREME champion by beating the Korean Kim Dong Hwan!
Pongsiri had a more prestigious career than his brother. Because he beat big names in Muay Thai and got seven major belts, the Thailand belt in 112 lbs, the Lumpinee stadium belts in 112 lbs and 147 lbs, the TV7 stadium belt in 147 lbs, Omnoi stadium belt in 147 lbs and WPMF and Phoenix FC world champion belts in 154 lbs!
Pongsiri played 202 matches for 155 wins, 36 losses and 11 draws. He is a fighter who takes a lot of blows because he advances without backing up against his opponents. Pongsiri has been very marked on his face during his long career. He has had about forty stitches on his face and skull. His face bears the scars of his hard fighting. At each of his matches, Pongsiri offers to the public wild games. It honors the name it carries. A name of fighter that refers to the incredible champion of the 90s, Pongsiri Por Ruamrudee. A ring legend nicknamed Rambo for his valour in battle.
On September 28, 2007, in the stadium of Lumpinee, Pongsiri beat the star of the rings, the bull Seksan Or Kwanmuang (Champion of Radja, Omnoi champion, TV7 champion, WBC and IBF world champion, Best boxer of the year 2015 Sports Authority of Thailand) for the title of champion of Thailand in 112 lbs. A nice revenge on the terrible Seksan who had beaten him twice on points, in April and June of the same year.
Three months later, on December 7, 2007, Pongsiri challenged another boxing star, Norasing Lukbanyai (Lumpinee champion in 108 lbs and 112 lbs, Thailand champion in 112 lbs, S1 world champion in 108 lbs, Best boxer in the year 2006 Sports Authority of Thailand).
Pongsiri had a great match and defeated Norasing who held the Lumpinee title in 112 lbs. Pongsiri won his first belt from the Lumpinee stadium.
In 2008, Pongsiri tried to steal his Lumpinee belt in 115 lbs from the great champion Panomrunglek Kiatmuu9 (Lumpinee champion in 108 lbs and 115 lbs, Thailand champion in 115 lbs) but he failed by losing on points.
On March 20, 2016, Pongsiri won the belt of the famous TV7 stadium. He met Simanut Sor Surinya (WPMF World Champion) for the TV7 title in 147 lbs. Pongsiri successfully defended his TV7 belt in 147 lbs on July 24, 2016 against Nontakit Tor Morsri. For the rematch, on March 19, 2017, Nontakit defeated Pongsiri and won his TV7 title in 147 lbs.
On September 2, 2016, Pongsiri won the Lumpinee title in 147 lbs against French star Rafi Singpatong (Lumpinee Champion in 147 lbs, WMC and WBC world champion). These two champions have faced each other five times in terrible bloody fights, Rafi was one of the toughest opponents of Pongsiri.
Their first confrontation for the belt of Lumpinee was dantesque with the victory on points of Pongsiri who ended the match with a bloody head. Pongsiri won the rematch a month later, his head still bleeding from a large opening in his forehead following a violent elbow from Rafi Singpatong.
On June 17, 2017, Pongsiri defended his Lumpinee belt in 147 lbs against Rafi Singpatong who robbed him of his title. During this breathtaking match, Pongsiri had his nose broken, Rafi smashed his face with his murderous elbow strikes. Pongsiri had 9 stitches. Three months later, for their fourth confrontation, in the stadium of Lumpinee, Pongsiri again beat the French champion on points.
On May 22, 2018, they met for the fifth time for the Phoenix FC world title in 154 lbs. Pongsiri beat Rafi on points and hung the world belt on his waist!
In October 2017, Pongsiri lost by KO in England against English puncher Jordan Watson, the Yokkao world title in 154 lbs was at stake…
But two months later, in December 2017, on the King's birthday in Bangkok, Pongsiri beat the Swedish Sam Bark for the WPMF world title in 154 lbs!
On March 7, 2020, Pongsiri won his seventh belt. In the stadium of Omnoi, he beat Pon Ek Or Kwanmuang (Champion Omnoi in 2018) by points for the title of Omnoi in 147 lbs!
Pongsiri has now entered the circuit of the prestigious One Championship organization. He beat Irishman Sean Clancy and lost to Sorgraw Petchyindee and Russian Alaverdi Ramazanov (KO). On December 7, 2020, he fought for the One Championship world title against the formidable Petchmorakot Petchyindee Academy (Lumpinee Champion, Thailand Champion, WBC World Champion) who beat him on points.
BY SERGE TREFEU