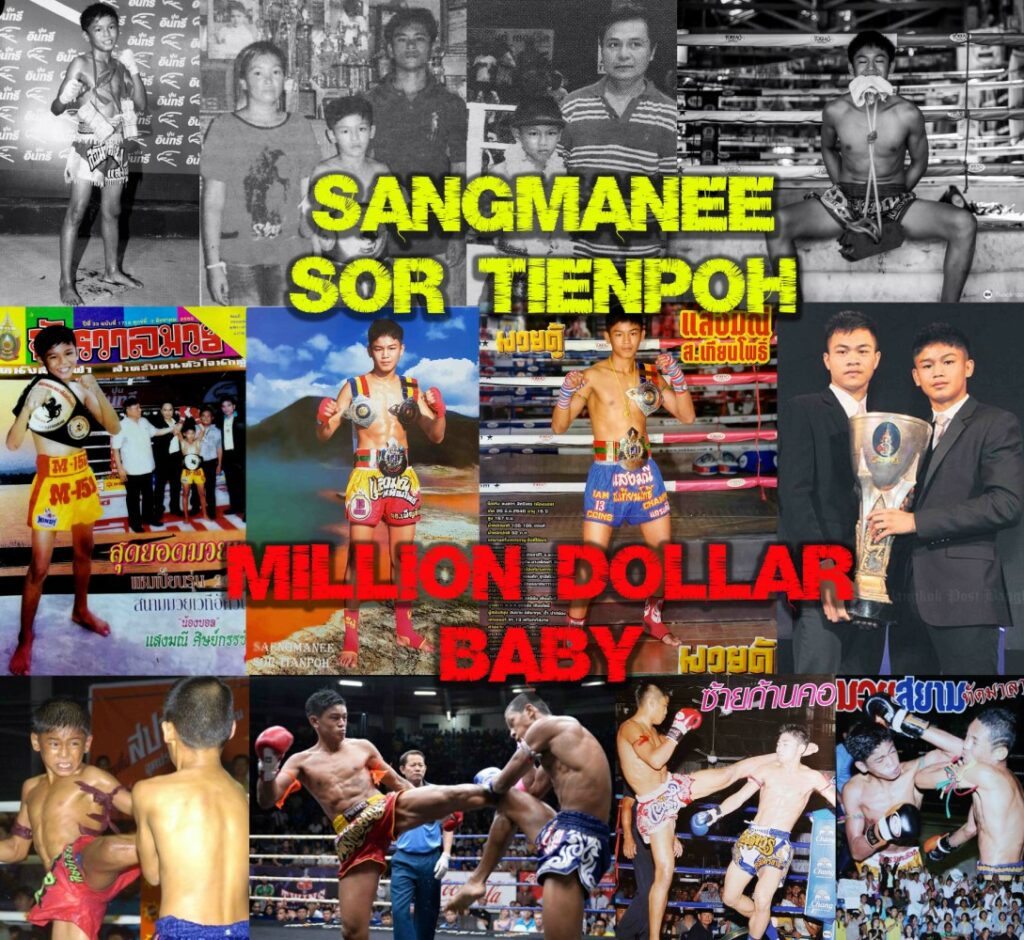 SANGMANEE SOR TIENPOH
« MILLION DOLLAR BABY »
Sangmanee Sor Tienpoh whose real name is Pongsakon Sittidech was born on March 20, 1997 in the city of Mancha Khiri in the province of Khon Kaen in the North-East of Thailand.
The parents of the young Pongsakon were very poor farmers. The head of the family, Mr. Nookan Sittidech, could neither read nor write.
Pongsakon, the only son, began boxing very early on. His father, a former boxer, trained him and took him home in the courtyard of his house. He gave him the name of fighter «Sangmanee Sitkanchai». Sangmanee means "The Sparkling Gem" and Sit (The Student) of Kanchai (Father's Boxer Nickname, Mr. Nookan).
Sangmanee made his first fight at only six years old. He won the match and won the sum of 200 baht (5 €). A sum of money that seems ridiculous but was important for the Sittidech family. They were so poor that they had no electricity in their house, no bathroom. Sangmanee was obliged to make his intimate toilet at the neighbors…
Sangmanee was born to fight. His first fighter nickname was "Nong Bône" (Baby Ball). He made several victorious fights and was spotted at the age of 10 by the promoter Sawet Pinsinchai nicknamed "Asawindam" (The black knight), the owner of the Pinsinchai camp and the Asawindam stadium in Bangkok.
In 2007, this wonder boy ringing man faced another star seed, Worawut Sor Aree (Worawut then became Lumpinee champion and Thailand champion in 122 lbs). Previously, on July 15, 2007, in the stadium Asawindam, Sangmanee had beaten the young prodigy Phanpayak Jitmuangnon (11 years old).
Phanpayak Jitmuangnon became a big star of the rings, years later, he conquered the title of Radja in 105 lbs and in 108 lbs, the title of Lumpinee in 118 lbs and in 126 lbs, he was elected three years in a row "Best boxer of the year" in 2013, 2014 and 2015.
Sangmanee and Phanpayak met in 2016 and in 2017. The two champions faced each other three times, Sangmanee won in the stadium of Radja, Phanpayak won on the island of Samui and they made a draw in the stadium of Radja.
Sangmanee (10 years) and Worawut (11 years) clashed in Asawindam Stadium. This match was organized by promoter Sawet Pinsinchai. It was broadcast live on TV Channel 9 with a Dumpan bet of 1 million 200,000 baht. Sangmanee beat Worawut points and won the Asawindam Stadium belt. Boxing fans discovered the phenomenal Sangmanee and gave him the nickname «Tharok Nung Laan» (Million dollar Baby).
But for three years, the prodigy Sangmanee disappeared from the boxing circuit, he did only a few fights in the provinces…
His father decided to send him to live in a camp in Bangkok so that he could fight in the big stadiums of the capital. Around the age of 14 years, Sangmanee was taken in charge by Lieutenant Colonel Sutthichai Tienpoh who integrated him into the famous Camp 13 Coins Resort. Sangmanee adopted the fighter name of "Sangmanee Sor Tienpoh".
Camp 13 Coins Resort was owned by millionaire Mr. Somchai Nitivangue (Deceased 2020) nicknamed "Mister Coke". This luxurious camp included the magician of the rings Saenchai Sor Kingstar who unveiled to the young Sangmanee his secret techniques. Sangmanee had the best sparring partner to progress quickly.
Sangmanee signed a contract with the biggest promoter of the moment, Mr. Songchai Ratanasuban. The promoter Songchai very quickly made him fight in the big stadiums of Bangkok.
In parallel with his career as a professional boxer, Sangmanee attended serious studies until obtaining a university degree. This earned him another fighter nickname, "The students favourite". Sangmanee is as proud of his career as he is of his studies. His son's academic success is an honour for Sangmanee's father who has long been illiterate…
On April 6, 2012, at age 15 years, Sangmanee won his first belt, he won the title of Lumpinee champion in 105 lbs against Phet Lukmakhamwan.
A month later, on June 6, he beat Dekdad Por Pongsawan and won the Radja stadium belt in 108 lbs.
On October 11, in the stadium of Radja, Sangmanee fought for the title of world champion S1 in 110 lbs and he beat Kudsakornnoi Sor Junlasen.
On November 9, he won the Radja champion title in 112 lbs against Prajanchai P.K. Saenchai Gym (Lumpinee Champion in 118 lbs and 122 lbs).
On February 21, 2013, Sangmanee defeated Insee Kao Rachanon (TV7 Champion in 108 lbs, Omnoi champion in 108 lbs) and hung a fifth belt on his record, the Radja belt in 115 lbs.
At 16 years, Sangmanee touched the biggest purses of the professional boxers circuit, purses of 100,000 baht, which is huge for a 16-year-old!
In 2013 Sangmanee successfully fought in Boxing. He won the gold medal at the Thailand Youth Amateur Boxing Championship.
In February 2014, in the new stadium of Lumpinee, Sangmanee participated in the tournament of stars of the category in 126 lbs, a tournament with 4 fighters with Superbank, Sam-A and Superlek. Sangmanee beat Superlek first and then the phenomenal Superbank final. Sangmanee won the tournament and the sum of 300,000 baht.
On Friday, August 7, 2015, in France, in Lacanau Océan, Sangmanee came for the first time to fight in Europe. He faced champion Ayoub El Khaidar and beat him in the points.
In 2016, Sangmanee changed the name from "Sor Tienpoh" to that of Sangmanee "Aum Katong Chiangmai". He fought for a while under these colors.
Then, at the age of 21 years, the genius ringing man opened his own camp, the "Sathian Muay Thai Gym" which is located at Soi Ramkhamhaeng 52 in the Bang Kapi district of Bangkok. Sangmanee fights under his own colors as "Sangmanee Sathian Muay Thai Gym".
On August 4, 2017, Sangmanee defeated champion Kaimukkaw Chuwattana (Radja Champion in 126 lbs and 130 lbs) by knockout and won the True4U Champion Belt in 135 lbs.
In 2019, Sangmanee joined the circuit of the famous One Championship where he fought between 140 lbs and 147 lbs, he beat at the One Championship, the French Azize Hlali, the Japanese Kenta Yamada and he lost by KO against puncher Kulabdam Sor Jor Piek-U-Thai (Lumpinee Champion in 135 lbs and 140 lbs, Best Boxer of the Year 2017).
In November 2020, Sangmanee fought for the True4U belt in 140 lbs against the Lumpinee champion in 154 lbs Capitan Petchyindee Academy (Diesellek Aoodonmuang). Capitan won the match on points.
In 2020, Sangmanee signed a three-year promotional contract with businessman Mr. Saman Bunyor. Mr. Saman Bunyor is the boss of the textile company Saman Garment and the owner of the famous Camp Sor Samangarment Gym. Mr. Saman Bunyor created a commercial coffee chain called "Kafè Muay Thai". Sangmanee fights today under the name of «Sangmanee Sor Kafè Muay Thai».
Sangmanee has totaled 136 fights to date, with 102 victories, 28 defeats and 6 draws.
Sangmanee beat the best Thai fighters of the moment such as Prajanchay Por Phetnamtong, Cherry Sitdarpauan, Kanongsuek Sor Sritong, Ruengsak Sitniwat (KO), Nikhomlek Tor Tawat, Phet Lukmakhamwan, Dedkad Por Pongsawan, Kudsakornnoi Sor Junlasen, Insee Kao Rachanon, Lamnammoon Sakchaichote, Superlek Kiatmuu9, Superbank Mor Ratanabandit, Petmorakot Teedet 99, Phet U-Thong Or Kwanmuang, Muangthai PK Saenchai, Thanonchai Thanakorn Gym, Seksun Or Kwanmuang, Panpayak Jitmuangnon, Kongsak Sitboonmee, Nuenglanlek Jitmuangnon, Chujaroen Dabransarakarm, Tawanchai P.K. Saenchai Gym, Yodlekpet Or Pitisak, Yodpanomrung Jitmuangnon!
His terrible clashes against the terror Thanonchai are among the best fights of the year in 2014 and 2015. Sangmanee has met Thanonchai nine times (2 wins for Sangmanee, 5 wins for Thanonchai, 2 draws). Also, his fights against Seksan, Muangthai (2 wins, 1 loss) and Phanpayak became cult matches.
This ring technician also defeated the great French champions Rafi Bohic (Lumpinee Champion in 147 lbs, WMC World Champion and WBC in 140 lbs) and Azize Hlali (WPMF European Champion).
Sangmanee was awarded the Best Boxer of the Year award in 2012, which was also awarded to champion Yodvichai Por Boonsit the same year by the Association of Sports Journalists of Thailand.
In 2015, Sangmanee was also named "Best Boxer of the Year" by the "Thai Sports Authority".
In 2019, Sangmanee was awarded the "Best Professional Athlete" award by the "Thai Sports Authority".
Sangmanee is a real phenomenon, because unlike many other fighters, he did important studies while making his career as a professional boxer.
Sangmanee is also Top Model for different Thai magazines.
This «pretty boy» is a real star in Thailand, he is constantly followed by fans, especially young girls, who support him in all his fights.
Sangmanee became one of Thailand's highest-paid Thai champions with 300,000 Baht purses. It is a beautiful revenge on the miserable life of this little child of the countryside who had to go to wash at his neighbors for lack of bathroom!
BY SERGE TREFEU