SEKSAN OR KWANMUANG (Career 2010-2020)
Temps de lecture :
4
minutes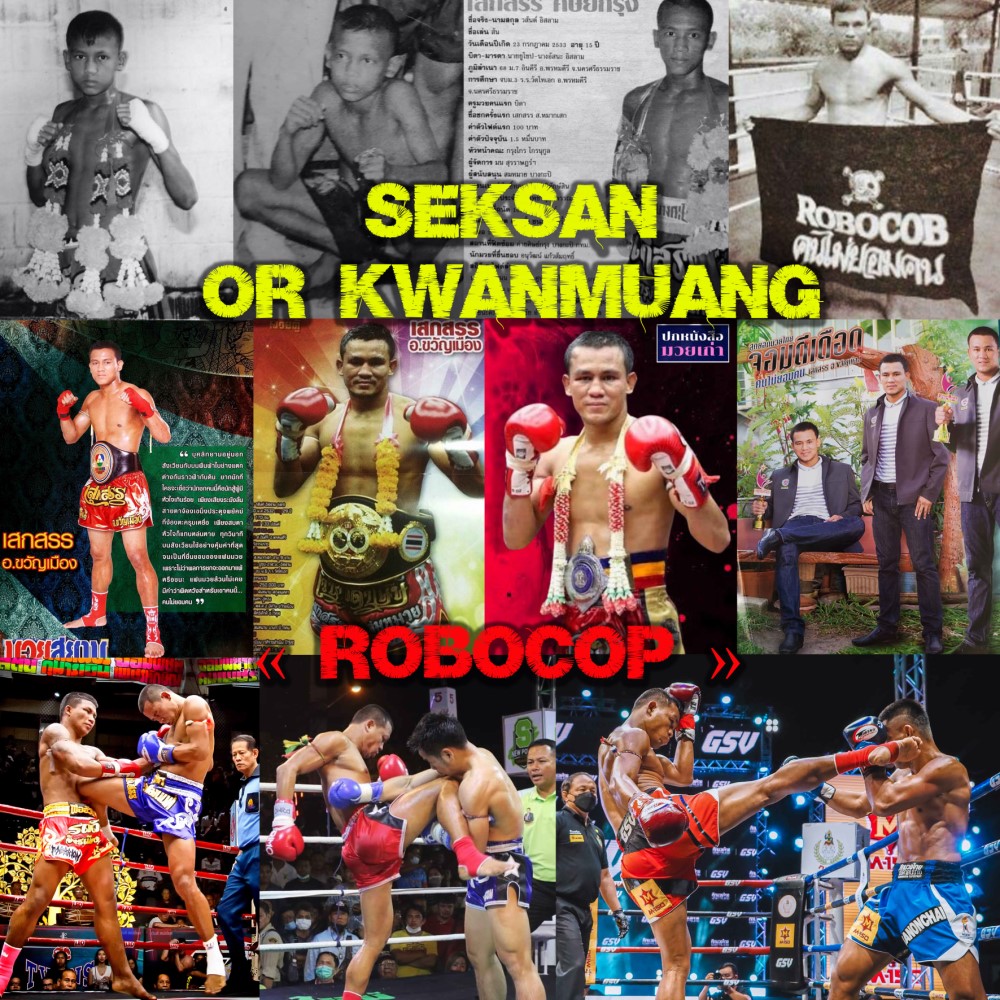 SEKSAN OR KWANMUANG
« ROBOCOP »
Seksan of his real name Wasan Islam was born on January 20, 1989 in the city of Phrom Khiri in the province of Nakhon Si Thammarat, a region of southern Thailand.
Wasan Islam is the second child in the Islam family with seven children, five boys and two girls.
Wasan was a very shy and reserved child. At school, he never fought and was regularly jostled by his schoolmates. Young Wasan often came home crying. His father, who practised boxing, decided to introduce his offspring to Muay Thai to harden him.
At the age of nine, Wasan began boxing at a small camp near his home, the Ood Monthapanich Gym. A camp that was known for his rigorous training. Wasan took the name of Seksan Ood Monthapanich fighter.
Seksan made his first fight at ten years old, he quickly became a formidable little warrior of the rings. The child who was bullied at school was never harassed again…
Seksan made a name for himself in the southern provinces, a reputation that allowed him to join the famous Sor Sommai camp in Bangkok at a very young age. His older brother and younger brother, who were also good fighters, joined Seksan at the Sor Sommai Gym. His older brother was called Denwathot Sor Sommai fighter and his younger brother was called Kunponoy Sor Sommai.
The Sor Sommai camp belongs to one of the biggest promoters of the Radja stadium, Mr. Sommai Sakulmetta. He created this camp in the early 2000s. Mr. Sakulmetta is an influential promoter in the Radjadamnoen circuit, he often organises big events in the Radja stadium.
Many great champions have represented this prestigious camp such as Lomtalai Sor Sommai (Lumpinee Champion in 108 lbs), Trakunpet Sor Sommai (Radja Champion in 112 lbs), Rungrath Thor Pithakonlakarn (Radja Champion in 108 lbs, TV7 champion in 118 lbs), Denkiri Sor Sommai (Lumpinee Champion in 122 lbs, TV7 champion in 126 lbs), Phettaksin Sor Sommai (Radja Champion in 126 lbs), Phetbankek Sor Sommai (Radja Champion in 118 lbs), Sakmongkol Or Kwanmuang (Champion of Radja in 135 lbs), Phet Utong Or Kwanmuang (Champion of Radja in 135 lbs, Best boxer of the year 2016)!
Seksan adopted the fighter name "Seksan Or Kwanmuang". Kwanmuang is the name of Mr. Sommai Sakulmetta's business associate, Police Lieutenant General Asawin Kwanmuang, a prominent police officer in Bangkok.
Seksan has spent his entire career at Sor Sommai Gym.
Seksan (Sometimes pronounced Seksun) became one of the most terrible Muay Bouk (Advancing Fighter) of his generation. This extraordinary durable boxer is a warrior who never backs down, like a robot, he advances on his opponents to destroy them with his powerful strikes. The fans of Muay Thai have nicknamed it «Kon Mayom Kon» (The one who refuses nobody). His other fighter nickname that fits him wonderfully is "Robocop"!
Seksan won his first major stadium belt at the age of 21. In 2010, at the TV7 stadium, he beat Metawee Wor Sungprapai for the TV7 belt in 122 lbs.
Two years later, in China, Seksan conquered the title of world champion "Muay Thai Warriors" in 135 lbs. He knocked out the tough Dutch fighter, Sergio Wielzen (It's Show Time World Champion). A belt that he successfully defended twice against the tough Irishman Stephen Meleady (Victory by KO in the 4th round) and against the Chinese Kuan Shunping (Victory by KO in the 1st round).
On November 5, 2017, in China, Seksan participated in the famous Kunlun Fight tournament, a tournament in – 61 Kg 500 which he easily won.
The same year, on December 21, 2017, in Radja stadium, Seksan met the great champion Panpayak Sitchefboontham (Radja champion, WBC world champion). Panpayak was the reigning WBC world champion. The two champions clashed for the title of IBF world champion in 135 lbs. Seksan won the match and won a new belt.
Seksan and Panpayak met two months later for the WBC title held by Panpayak. After a fierce fight, Panpayak retained his belt. The following month, they played again a match in the stadium of Radja. Seksan won on points.
On November 15, 2018, the two fighters made a fourth clash with the Radja stadium title in 135 lbs at stake. Seksan beat Panpayak again and won the Radja belt in 135 lbs!
On April 28, 2018, Seksan became WBC world champion in 140 lbs. Kon Mayom Kon was challenged by puncher Rodlek P.K. Saenchai (TV7 Champion, WPMF World Champion). Rodlek beat by KO champions like Pornsanae Sitmonchai, Sirimongkol PK.Saenchai, Nuenglanlek Jitmuangnon. Seksan defeated Rodlek and won his third World Championship title!
On May 29, 2019, Seksan brilliantly defended his Radja title against the technical Kaonar P.K. Saenchai (Lumpinee Champion).
On March 5, 2020, Seksan won the Radja title for the second time in 135 lbs. Robocop defeated by KO his most formidable opponent Thanonchai Thanakorngym.
Four months later, on July 18, 2020, Seksan won another important belt, again against Thanonchai Thanakorngym. Seksan captured the Omnoi Stadium title at 140 lbs!
Seksan and Thanonchai had seven epic duels, seven bloody battles, with three wins for Seksan, three wins for Thanonchai and one draw. Their last fight was on November 26, 2021 with the victory of Thanonchai.
Seksan has done a lot of very hard fighting since the beginning of his career, he was often scored physically during his matches. Because he's a boxer who gives himself without counting on the ring. Punters love it because with this fierce fighter, there are often reversals of situation during his intensive matches.
This bull of the rings has already carried out terrible battles that have marked the minds of the public of the stadiums of Bangkok, including his clashes against Kaimookhao Chuwattana and Pakorn Sakyotin.
In 2011, in September, at Radja Stadium, Seksan beat Radja champion Kaimookhao Chuwattana by KO after a memorable fight that was voted "Radja Best Fight of the Year"!
His fight in May 2014 against the formidable Pakorn (Lumpinee champion, Radja champion, Thailand champion, WMC World champion, "Best Boxer of the Year 2013") was one of the most violent matches of the year, a bloody match that made the crowd of the stadium of Lumpinee rise!
The two hitters Seksan and Pakorn faced each other twice with two stunning matches, Seksan won the first fight and Pakorn won the rematch.
Seksan has also already beaten twice the solid Thongchai Sitthongsak (Thongchai Sitsongpeenong, Lumpinee champion), after his two clashes against Seksan, Thongchai said that Seksan was his toughest opponent he met in his career…
"Robocop" also beat by KO star Penaik Sitnumnoi (Lumpinee champion, TV7 champion, Omnoi champion, Thailand champion, WPMF World champion, Best Boxer of the Year 2011), and in points the young prodigy Yodvicha Por Boonsit (Lumpinee champion, Thailand champion, Omnoi champion, Best Fighter of the Year 2012), the talented Kongsak Sitboonmee (Lumpinee champion, Thailand champion, WMC World champion, Best Boxer of the Year 2010 ), also Phetmorakot Wor Sangprapai (Lumpinee champion in 130 lbs), Muangthai PK Saenchai (Lumpinee champion, TV7 champion), Yodlekpet Or Pitisak (Lumpinee champion, Radja champion), Superbank Mor Ratanabandit (Lumpinee champion, Radja champion, Best Boxer of the Year 2014)!
Seksan totals 236 fights for 188 victories, 42 defeats and 6 draws.
In 2015, Seksan was voted "Best Boxer of the Year" by The Sports Authority of Thailand.
This sensational fighter also received the "Best Match of the Year at Radja Stadium" trophy four times in 2011 against Kaimookhao Chuwattana, in 2012 against Singtongnoi Por Telakun, in 2015 against Thanonchai Thanakorngym and in 2019 against Rodtang Jitmuangnon!
BY SERGE TRÉFEU