Temps de lecture :
2
minutes
THE CAMP SOR KLINMEE
Special report by Serge TREFEU (2012)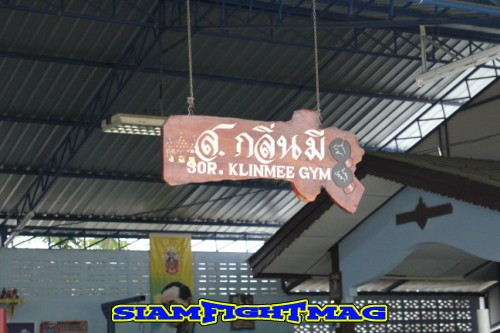 Sor Klinmee is a small camp which is in the suburb of Pattaya, to Chonburi in the district of Nongprue. The camp is opened since 2009 and was created by Mit Klinmee more known under the name of "Tappaya Sit Or". Tappaya was a very great champion of the 90s who fought for the famous camp Sit Or Gym. His career was full well, he made 236 fights with 200 victories and he gained, in 140 lbs, 3 prestigious belts, the belt of Radja which he kept during 3 years, the belt TV7 and world champion WMC's belt!
Tappaya is a figure to Pattaya because he come from a known family, Klinmee. And the boxing to Klinmee, it is really a history of family…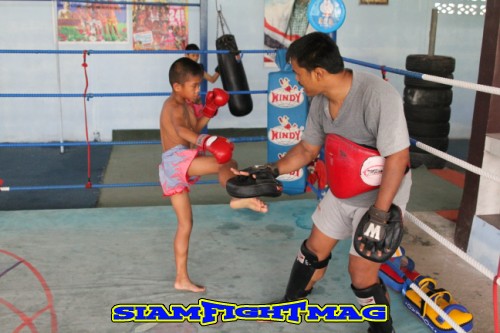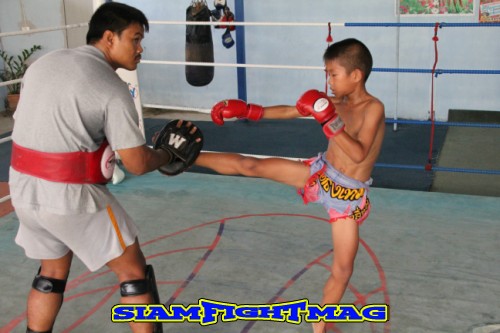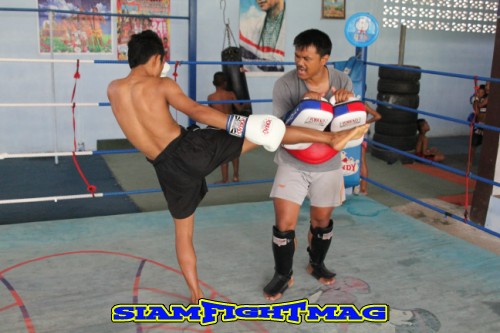 The older brother of Tappaya, Manit Klinmee was too a great champion and a formidable puncheur which made a beautiful career in Boxing. His fighter's name was Yokthai Sit Or, in Thai Boxing it has to gain the belt of the stadium Lumpinee in 115 lbs. And in Boxing he gained the championship of the World WBA in Super Fly-Weight, title which he defended four times successfully!
Tappaya also has two famous boxing nephews, Ramba Somdet and Sudsakorn Sor Klinmee. Ramba Somdet nicknamed "M 16" was a fiery fighter of the 90s who won a world championship belt in Muay Thai. Then, in the 2000s, Ramba also made a career in Free Fight where he made 16 fights for 13 victories and won a world champion belt in MMA (WOrld Shooto Boxing)!
When to Sudsakorn Sor Klinmee (World Champion WPMF, S1 Champion) it is at present one of the most known Thai fighters abroad. Sudsakorn beat the best thais champions of his category such as Kongfah Uddonmuang, Khaosanit Sopanpai, Noppadet Chensimewgym, Attachai Fairtex, Kem Sitsonpeenong, Big Ben Keza Gym and Kongjak Sor Tuantong. He also beat great foreign champions as Cédric Muller, Soren Monkontong, Farid Khider, Andrei Kulebin, Chalid Oulad El Hadj, Wilfried Montagne, Houcine Benoui, Djimé Coulibaly, Abdallah Mabel and Marco Pique!
The own son of Tappaya, Kongtappay Sor Klinmee, in only six years, has already fought in the stadium of Pattaya. And the son of Yokthai, Fasai Sor Klinmee is when to him Champion of the Stadium Thepprasit to Pattaya!
Other boxers of the camp Sor Klinmee are Ekapop Sor Klinmee, a robust boxer who in more than 150 fights to his credit, he fights henceforth a lot abroad because he evolves now in 72 kg, Chanachai Sor Klinmee who is Champion of the Stadium Theprasit in 42 kg and Robert Sor Klinmee who is also Champion of the Stadium Theprasit but in 46 kg!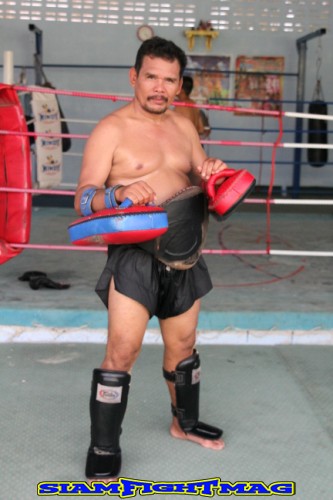 The camp counts about fifteen boxers whose majority are children. They do not sleep to the camp but live all near Sor Klinmee. The star here it is of course phenomenal Sudsakorn who trains every day in this small familly camp. Sudsakorn also gives lessons to the numerous foreigners of passages in Sor Klinmee. Tappaya, the boss of places, is the chief trainer, he is assisted by two other trainers Thepnimit Sit Samnow and Yak the father of Sudsakorn (Yak train now in Nikiéma's camp).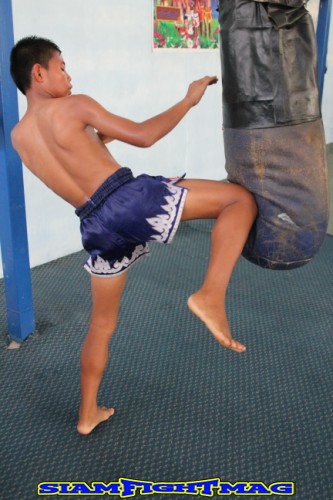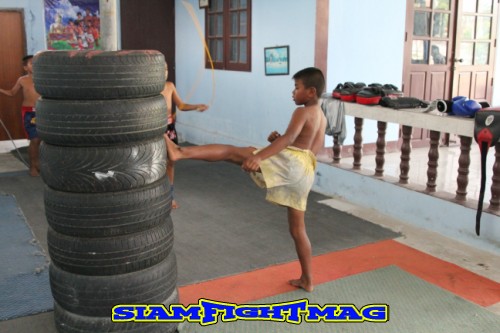 The training is twice made a day, the morning the boxers make a 13 km jogging then dedicates itself essentially to technical lessons in paos or in sparring. After noon they run 6 km and make 30 minutes of punch bags, 20 minutes of paos and end with 30 minutes of clinch.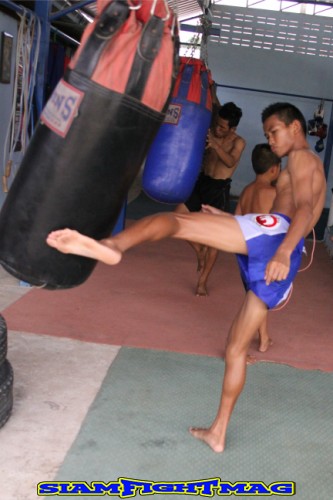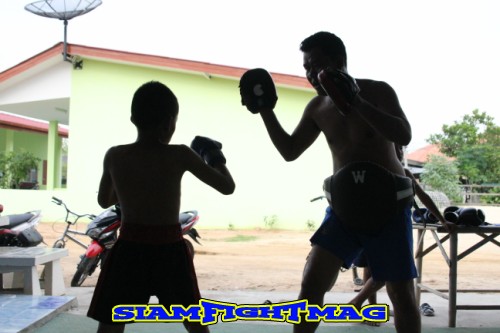 Even if Sor Klinmee is far from the center of Pattaya, many " farangs " (foreigners) come to train here. The most numerous are of origins Italian because the camp works in close collaboration with Italian promoters, in particular for the fights of Sudsakorn. Indeed, Sudsakorn fights enormously in Italy since a few years and furthermore he has just got married to an Italian…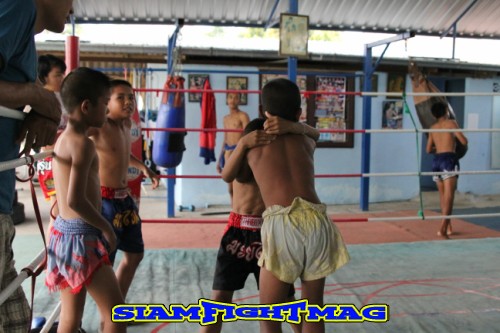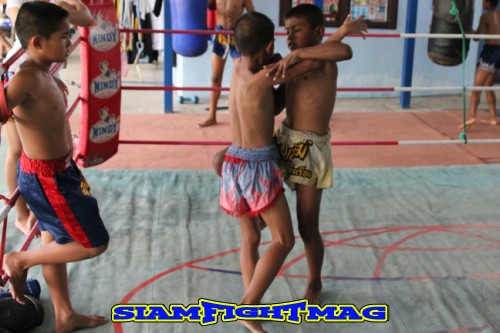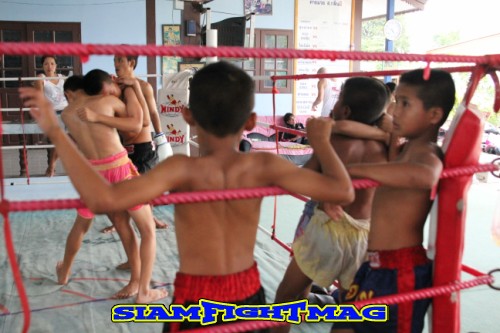 Price here, for the region of Pattaya, are not very expensive, it is necessary to count between 200 and 300 bahts for a training. This camp welcomes all the levels, from the simple beginner to the confirmed fighter, each can evolve and progress in his boxing in Sor Klinmee. Finally the "best" it is to be lucky to make a sparring with the immense champion Sudsakorn!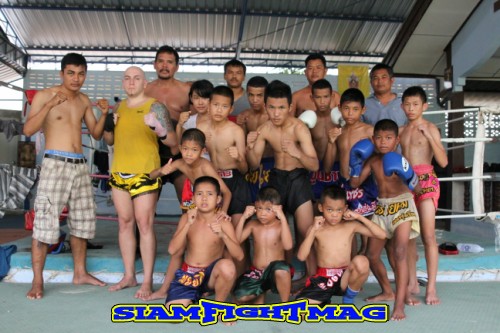 SOR KLINMEE
155/9 Moo 6
NONGPRUE
BANGLAMONG
CHONBURI