Temps de lecture :
3
minutes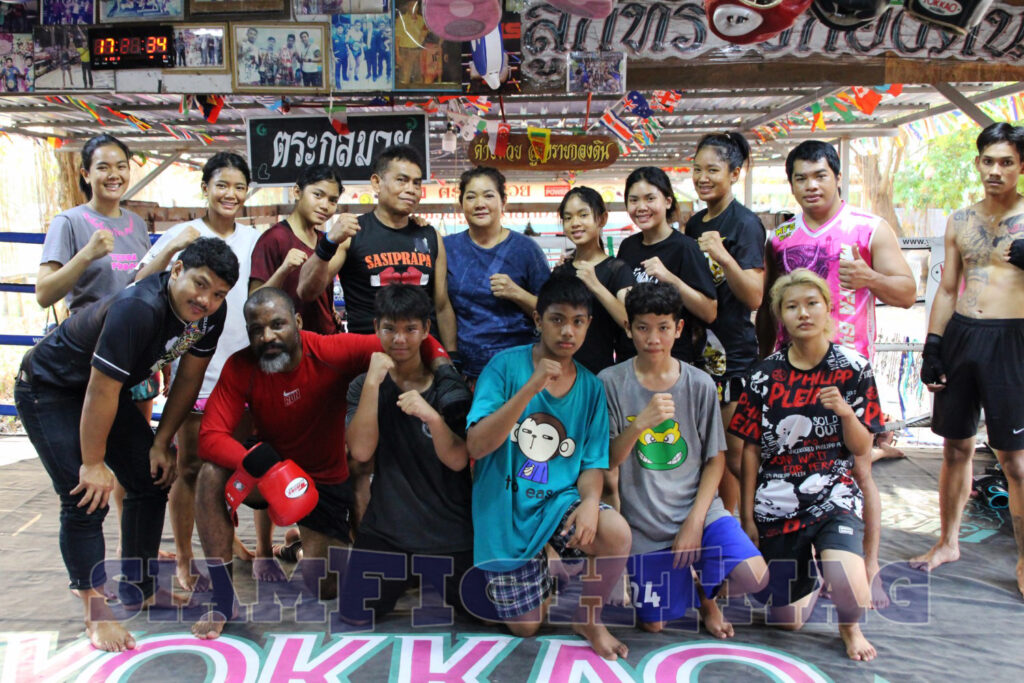 THE LOOKSAYKONGDIN GYM
by Serge TREFEU (2015)
Looksaykongdin Gym was created in 2007 by Noparit Yoohanngo, a former professional boxer. Before building his camp, Noparit was a small seller of chicken, he did not have the means thus too much to invest a lot of money in his camp…
KRU NOPARIT YOOHANNGO!
At the beginning, his camp of boxing just included a punch bag in a shed and Noparit trained his own children in particular his daughters Petchouma (Waranya Yoohanngo), Petcharocha (Sarocha Yoohanngo), Dwangdawnoi (Nangsamsam Yoohanngo), Petchsayrung (Nousaring Yoohanngo) and his sons Daratong, Petchsuriya and Manfaa.
But this enthusiast of boxing, especially Boxing, managed in a few years only to build a team of professional boxers of top level!
Nopparit is now a trainer, a manager and the same promoter. And in the family Yoohanngo which is a large family (7 girls and 4 boys) most became champions, great success for this small shopkeeper!
THE FAMILY YOOHANNGO, A FAMILY OF CHAMPION!
THE SISTERS YOOHANNGO HAVE BOXING IN BLOOD!
The Looksaykongdin Gym camp is situated in the suburb of Bangkok, in the North of Bangkok, in the district of Min Buri, at the end of the small Soï (alley) 20 of the avenue Pracha Ruam Chai. The district Min Buri is one of the biggest Muslim districts of Bangkok where is the big Mosque Madanee. Noparit Yuhanngo and his wife, as well as all the fighters of the camp are Muslim.!
NOPARIT YOOHANNGO WITH HIS WIFE!
The camp contains so many boxers as boxers who train in perfect harmony. The Looksaykongdin Gym camp is a camp " Muay Mat " (Work of fists)!
The infrastructure of the camp is summary and the conditions of trainings in the camp are very rough, in Looksaykongdin Gym we are far from the luxurious camps which does not stop developing in the Thai capital…
THE LOOKSAYKONGDINGYM IS A MODEST CAMP BUT WITH GREAT CHAMPIONS!
But it's these testing conditions which forged a team of hardened boxers, champions and champions who became from now on very renowned on the Thai circuit!
One of the big specialities of the camp is the work of fists, for proof, Looksaykongdin counts at present several professional champions in the Noble Art, among which the star Denkaosan, as well as Petchsuriya, Manfaa, Petchouma and Petchsayrung!
Denkaosan Kaovichit who made his formation in the camp Galaxy Gym took away world champion WBA's belt in – 52 Kg in 2008 against Japanese Takefumi Sakata, victory by KO. Denkaosan kept twice his title and lost it in 2010 against Japanese Daiki Kameda, lose by points. In 2013, he gained the Interim WBA world title against Japanese Nobuo Nashiro and in 2014 he failed for the WBA World title in front of Japanese Kohei Kono. Denkaosan adds up 69 professional fights for 63 victories among which 26 by KO!
DENKAOSAN KAOVICHIT!
Petchsuriya Singwangcha has 23 years old, he won WBC Youth World Champion belt – 70 Kg in 2013 and in 2015, he made 22 professionals fights for 13 wins in Boxing!
PETCHSURIYA LOOKSAYKONGDINGYM!
Manfaa Looksaykongdingym gained him the belt of Radja in Boxing and champion PABA's belt in 2007, he has 21 fights professionals for 13 victories!
MANFAA LOOKSAYKONGDINGYM!
Petchouma (Fapratan) Looksaykongdingym is a great champion in Boxing which gained a belt OPBF. She fought in Manille), in the Philippines, for world champion WIBA's belt in 108 lbs in Boxing against terrible South Korean Kim Joo Hee who holds the title, Petchouma lost in points in front of the Korean. In Muay Thai, she gained world champion's belt S1!
PETCHOUMA LOOKSAYKONGDINGYM!
PETCHOUMA WITH THE MEGA STAR MANNY PACQUIAO!
Petchsayrung Looksaikongdingym who is the elder of the family is also a great girl fighter in Boxing, she was Vice World Champion WBA!
PETCHSAYRUNG LOOKSAYKONGDINGYM!
But Looksaykongdingym also counts very good champions in Muay Thai with Daratong, Ningmongkon, Dwangdawnoi, and Petcharocha!
Daratong Looksaykongdingym who is 20 years old is a World champion WPMF in 168 lbs, he conquered his title at the age of 17, he also took away the belt of "King of Fighter" in Hong-Kong!
DARATONG LOOKSAYKONGDINGYM!
Ningmongkon Kaennorasing was Champion TV7 in 130 lbs in 2007, he was the pearl of the camp of Somrak Kamsing, Ningmongkon made his fighter's career in the camp of the legendary Somrak Kamsing. Ningmongkon is married with the champion Petchouma today, he holds paos to his wife when she gets ready for her fights, a couple in symbiosis with the same passion, the boxing!
NINGMONGKON KAENNORASING!
NINGMONGKON WITH HIS FATHER-IN-LAW!
Dwangdawnoi Looksaykongdingym who is the sister of Petchouma and Petcharocha, won, in 2014, World champion WPMF's belt in 105 lbs, she beat Petchrat Mor Krungtepthonburi.Dwangdawnoi already made 30 fights for 21 victories, 7 defeats and 2 draws! !
DWANGDAWNOI LOOKSAYKONGDINGYM!
Petcharocha Looksaikongdin is an excellent boxer which fought for the belt of World champion WPMF but which lost by points!
PETCHAROCHA LOOKSAYKONGDINGYM!
Looksaykongdin Gym is really a family camp where the trainings are very hard with a friendly atmosphere, an authentic camp. The foreigners are welcome in Looksaykongdin but they have to possess a very good levels in Muay Thai, the beginners have no their place in this small camp of hardened professionals!
WARM-UP IN THE ROPE!
SESSION OF CLINCH!
SESSION IN PAOS!
THE TRAINING IS ROUGH IN THE LOOKSAYKONGDINGYM!
THE SPARRINGS IN ENGLISH TAKES PLACE EVERY DAY!
THE TEAM LOOKSAYKONGDINGYM!
THE LEGENDS SOMRAK KAMSING, KAOSAY GALAXY AND SAMART PAYAKAROON IN THE LOOKSAYKONGDINGYM!
LEGENDARY DIESELNOI ALREADY CAME TO TRAIN TO LOOKSAYKONGDINGYM!
DARATONG, PETCHSURIYA, MANFAA AND NINGMONGKON, FOUR GREAT CHAMPIONS OF THE FAMILY YOOHANNGO!
THE LOOKSAYKONGDINGYM IS OFTEN IN THE SPECIALIZED MAGAZINES!